---
"For me, creating an image is like creating a place. A place that feels familiar, but with a twist that causes the viewer to stop short." ~ Erik Johansson
Place connection is something I feature fairly often as it applies to nature journaling and connection. It's something we as humans long for, but can seem just out of reach in the modern life. Place connection is complicated. It embodies mystery, fear, peace, and comfort, all rolled into one.
My personal relationship to place is very complex, not uncommon in a global world culture. Growing up and living in the southeastern US, I love the landscape and feel deep ties to this region. But culturally I've never "fit." It makes life uncomfortable. I hide it well, but inside I'm a hexagon forcing itself into the place of a circle.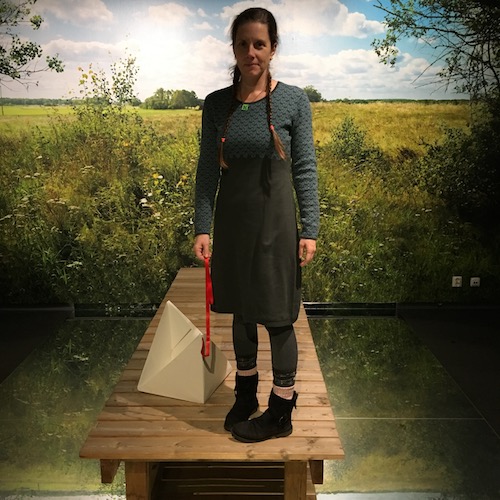 (Yep! That's me inside one of the artists's images at the museum Fotografiska…)
Some feel a strong physical and emotional connection to their birth place. It's where they fit. They know every rock and tree; perhaps many generations of their family still surround them in that place.
Some feel a strong connection to place far from their birth that offers a cultural geography in line with their inner self.
Others seek a physical landscape that swells their sense of belonging and peace. Each of these scenarios, and many more, are ways that humans connect to place.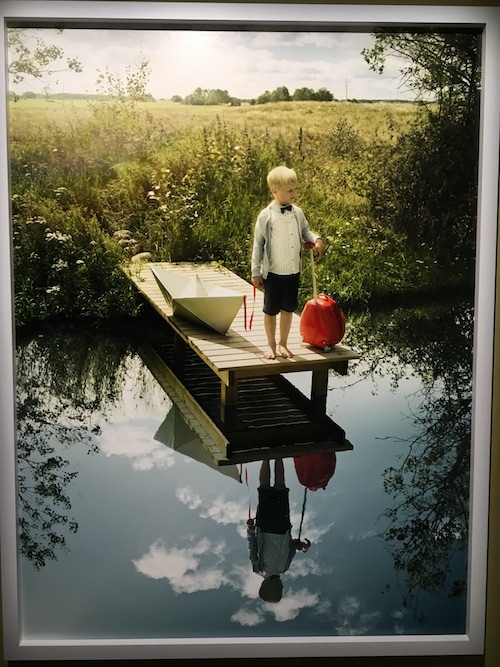 (…and here's the actual image, "Boy of Hope")
But what about connecting to places in our imagination? Couldn't making connections over the internet be akin to this? Finding place within online communities is increasingly valuable for those who feel disconnected from physical place due to cultural and/or geographic isolation.
In my youth, pre-internet days, connecting with place though imagination (not that these words were used) was considered a bad thing. "Oh they're a daydreamer" or "they have their heads in the clouds," people would say about a person.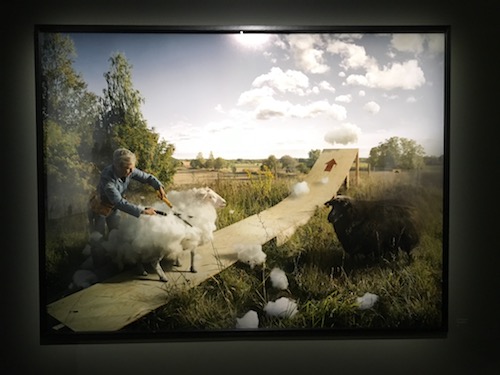 "Cumulus & Thunder"
Of course, too much retreating into non physical place can have it's effects too, but when we strike that balance between geographical, cultural, and inward place connection, we just might find that creative magic.
Therein, "outside the bounds of time and space" lies the…
…magic of Erik Johansson's photographs.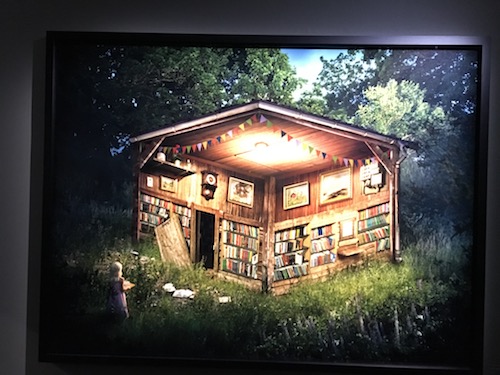 "The Forest Library"
"There are no limits to our imagination. My images are an attempt to capture the impossible." ~Erik Johansson
In the welcome description to his exhibition, "Places Beyond", at the museum Fotografiska in Stockholm, Johansson offers,
"In a child's world, imagination is reality. What we grown-ups call magical realism encases the world. It makes everything possible and is not controlled by the restraints of impossibility. Magic and truth are not yet opposites."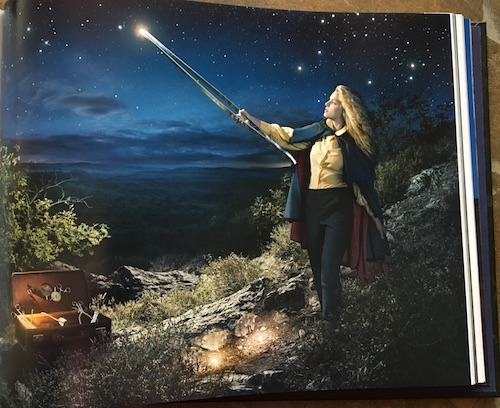 "Stellantis"
Erik grew up in the south of Sweden on a 6 generation family farm. Always a creative child, he spent much time in the places within his imagination, but also within the expansive nature of his physical place.
At 15, his parents gave him a digital camera to play around with, but it wasn't until university (where he was studying to be a computer programmer), that Erik discovered the way photography can connect the places of imagination and concrete life.

"Each one [photograph] takes the viewer on a journey into a fantasy-like world."
Each one of his "worlds" begins as a question or musing, brought to life in a drawing. Then, once he has the question (and world in which it lives) in his mind, Erik plans the image – for sometimes up to a year. He creates the actual photographs using models and props within physical landscapes he knows well surrounding his family home.
Finally, in Photoshop, he combines these scenarios with imagery from his personal photographic archive of natural landscapes. Erik uses anywhere from 2-200 of his own images to create the final photograph.
It's in this compilation stage that Johansson adds the twist, the little something that catches the viewer and draws them into the place to explore the question or muse along.
---
Let's Explore with the Artist:

"Full Moon Service"
"Does the moon have to be a big rock that orbits the Earth? What if the moon was something that was replaced every evening by a moon service team?
They'd probably need a van to transport the different moons, along with tools and protective gear to avoid contaminating them. All these little details take a long time to consider, but they often contribute to the narrative I want to communicate in my images."

"Before Sunrise"
"What happens before the sun comes up? What if the sun was not a huge ball of fire the Earth orbits around? Imagine it was jus hovering below the edge of the horizon, waiting to rise."

"Impact"
"The concept of "Impact" emerged from the ideas that a calm lake resembles a mirror, and that nature is fragile…. a reflection on the fragility of nature and our lack of care for it."
---
What do you think?
His questions are both serious and playful – again striking that balance. (So very Swedish lagom:)
The images are stunning small, so you can imagine what an impact they make dramatically lit at their actual size averaging 4×6 FEET! And some were even bigger!
I think Erik Johansson sums up the complexity of place connection's dimensions very well when he says about his work and this exhibition specifically…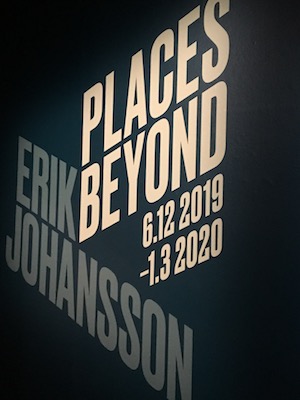 …"Places Beyond" is an homage to both the places that influence us during our lives, and the ones located beyond the obvious – the ones we create ourselves.
It's an ode to the physical places we experience with our senses, but also the places we carry within us, that only we can reach."
Take these wise words and the inspiration of the worlds around you and within you, natural, built, and imagined, to find your place in whatever worlds fit, and know I am trying to do the same.
---
Where do you feel most "in place" and what aspects do you think make your connections so strong?
Share in the comments below!
Share pictures of your places (physical, cultural, & creative) on Instagram #wingswormsandwonder
---
Seeds to Sprout:
Discover more of Erik Johansson's photography at his website.
Wouldn't these photographs make excellent journaling prompts? Click here to subscribe to my Wonder Wednesday Email and get monthly journal prompts delivered right to you inbox along with activities, subscriber specials, creative connection inspiration and more!
Remember – The Great Backyard Bird Count is this coming weekend, February 14-17, 2020! Click to check out the Wonder Wednesday 89 activity to get all the info on participating in a global citizen science event and having some weekend fun counting birds!
All images and quotes from the exhibition, or the exhibition catalogue, "Erik Johansson Places Beyond", 6.12 2019-1.3 2020, Museum Fotografiska, Stockholm, Sweden.