It looks like this week is shaping up to be all about hearts. So its time to make some valentines and what better way than to use nature's hearts. This could be a little tricky if the trees are all bare in your neck of the woods, but never fear, houseplants to the rescue!
To make your nature valentines, use heart shaped leaves to make rubbings. Gather the kids and go outside (or around the house) to hunt down some heart shaped leaves!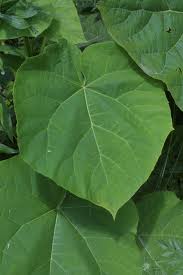 Princess tree leaves
Some trees that have heart shaped leaves include: the catalpa (or catawba as in my good friend's site catawbabean), the lilac, the redbud, the princess, the ficus, and the basswood.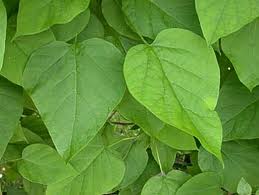 The Catalpa tree's leaves
Common houseplants with heart shaped leaves include: anthurium, pothos, cyclamen, some ivy, and many philodendron. You probably have some of these leaves at your fingers as we speak!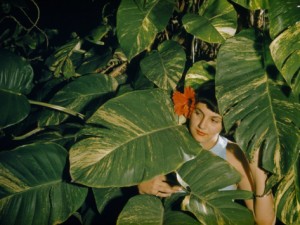 Super cool vintage shot I found of pothos. They can get this big when growing outside, but the average houseplant's leaves are usually not too much larger than your hand.
If it's been a while, here's a reminder of how to make a leaf rubbing
Peel the wrapper off a crayon or crayons of colors you like. Sometimes a light rubbing of black overtop of a color rubbing can add pop, but be careful not to overpower the color.
Place your leaf under the area where you want it (I think thinner paper works better than say construction paper, but too thin and the paper will tear.)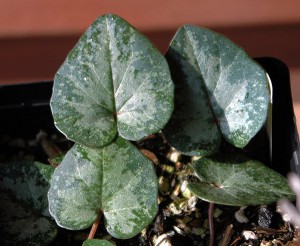 Cyclamen leaves
Hold down the paper and leaf tightly and rub the crayon over the surface of the paper over the leaf vary your pressure to achieve an effect you like. You may also want to use multiple colors for rubbing.
Voila! You have a rubbing!
You may want to cut your rubbing paper in a nice pattern or even a heart shape- around the rubbing design or with a stylish crop.
Then glue it onto another piece of paper folded into a card shape of your liking and write a love note inside!
Seeds to Sprout:
Learn more about tree leaves here and here.
Gather some leaf lessons here.
AAAS leaf lessons here