---
This Gift Guide will help you discover which Wings, Worms, and Wonder nature inspired gifts suit the people on your list – for whatever winter holidays you like to celebrate!
All you have to do is click each item's clickable link. It's shopping made easy so you can get back outside!
Be sure to check out all the categories because many of the ideas can be swapped around for sure. Especially items like the Pouches, Books, and Sketchbook Journals.
Okay!
Let's put this shopping guide to work!
---
Wings, Worms, and Wonder
Winter Holiday Gift Guide!
Children ages 0-6
* Wonder and Wander: An Early Childhood Nature Connection Guide – While the child can't read it, they will enjoy the pictures and LOVE the activities their grown-ups prepare for them! (Amazon)
* Flora of Fun Coloring Pillow – They will have a blast coloring or painting in the flowers on this cozy pillow! (S6)
* Tote Bags – Life with young children = lots of stuff. So give them (or their grown-up) a stylish and durable tote to help keep life organized so they're ready for anything a young child can throw at them. (Literally and figuratively!)
Children ages 6-12
* Pressed: An Herbarium Inspired Art Journal – This coloring and flower pressing workbook is perfect for the budding naturalist (Amazon)
* Carry All Zipper Pouches – In 3 handy sizes, each with interior pockets, these are great for kids to keep everything from art supplies and pencils, to nature bits and bobs, to iPads, & just about anything! (S6)
* Nature Journal Prompt Cards for Children –  They're here!! Hooray! And with a custom box and idea guide, they make an awesome gift! Combine a card deck with a large Carry All Zipper Pouch and a Blank Sketchbook/Journal, then pop in a set of color pencils and a magnifying lens and you will win for best gift for sure!
Adolescents & Young Adults ages 12-21
* Phone Cases & Laptop/iPad Skins – This is a tough age to gift, but we know they love tech, so why not give 'em what they like – with a nature twist! (S6)
* Drawstring Travel Festival Pouches – Travel and social gatherings are the name of the game for this age group, so help them stay organized, but also sneak nature to the front of their minds – and make them the #OOAK envy of their group – with these hand sewn and custom illustrated fabric pouches. (Etsy)
* Wall-Art – Botanical Illustration is hot right now, so help them style their decor right on trend. Snaz up those bedrooms, dorm rooms, and first apartments with some nature illustration art! (S6)
Teachers
* Wings, Worms, and Wonder and Wonder and Wander Books -These make the perfect teacher gift (speaking as a teacher) because they are both enjoyable and practical. Simply choose the book that fits the age level of your child! (Amazon)
* Phone Consultations – Get a group of parents involved and level up the book gift with an accompanying Garden consultation! The teacher will love the help and your children will love more nature and art time at school! Let me know when you order and I'll email  you a custom gift certificate to print and give. (Etsy)
* Creativity is Our Nature Print – Add a pop of nature inspiration to your child's classroom or your favorite nature loving teacher's home! Printed on actual wood veneer, and from a limited edition signed and numbered series, this print makes a thoughtful and inspiring gift. (Etsy)
* Nature Journal Prompt Cards for Children –  Perfect for teachers of children 0-12! Give these beautiful high quality cards solo, or combine the card decks with a book because they are designed to compliment each other!
Adult Friends & Family
* Tea Towels – These take form and function to the next level and make the perfect gift for anyone who likes to bake or has to wash dishes. Choose from Lime or Tangerine motifs or the Tea Time Design in Green Tea or Black Tea color motifs. (Etsy)
* The 12 Month Art and Nature Journal – A great gift for anyone who wants to get a creative nature connection practice going but could use a little guidance. It has guided prompt and coloring pages as well as plenty free space in a monthly format structure, but no dates so you can jump in anywhere anytime! (Amazon)
* An online Nature Art Class – This is what you give the person who has everything! It's also a great gift for homeschooling families. Experiences make awesome gifts that give for a lifetime. Purchase a class for your recipient, and if you let me know, I'll even make you a digital gift certificate you can email them!
Gifts Under $10
* Stationary – Ever useful, and sending a handwritten card to say thank you or simply Hello is even more meaningful in this fast paced digital age. Create sets of matching or mix and match and get all your friends excited about snail mail swaps in 2019!
* Journals – These sets of 2 blank interior, handmade and custom printed radish journals make a perfect host/hostess gift. They tick the boxes of both form and function, and they fit in a purse or tote so make great idea journals or to-do list notebooks.
* Original Paintings – Did you know I offer small original watercolor paintings and cards for $10 and under? Yep! I believe that art should be affordable to everyone, so I make these cheerful (approximately 6×8 inch) loose botanical paintings!
I just have a few in the shop now, but I'll have lots at my December events and I'll put what's left in the shop once the events are over. (Etsy)
---
I hope this gift guide helps you get some ideas going on how supporting Wings, Worms, and Wonder will also make you a hit at all your gift giving forays! I really appreciate every purchase.
Know your purchase brightens my day and goes a long way in supporting a tiny company trying to keep humans and nature connected, creatively!
---
Seeds To Sprout:
The NEW Nature Journal Prompt Cards for Children, edition 2 are real and available to the world!! Check them out and Get yours here!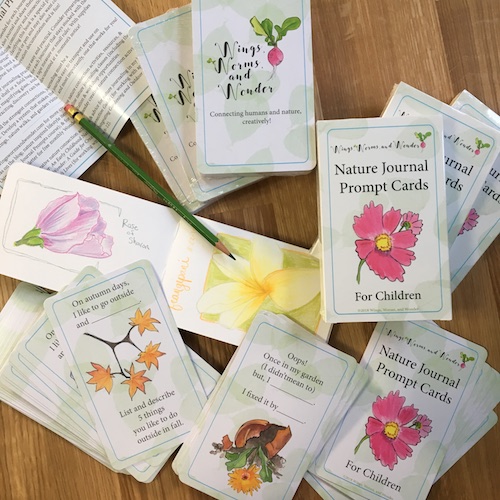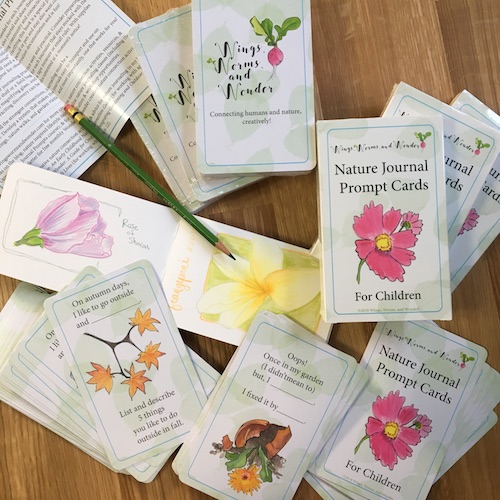 Society6 is running LOTS of great sales and free shipping this week and through December. I'm not in control of the discounts, and they don't let us know what they are more than a week ahead of time, but I will be posting them on Instagram when I get word. You can also just click on my shop anytime and the sale banner of the day will pop up at the top of the page. UPDATE: I got the sale info – 11/22-24 – 30% off +free shipping with the code: BFSAVE.. 11/25-26 – 50% off +free shipping with the code: CMSHIP
Etsy Shop –
Click here to check out and favorite my Etsy shop!
Online Nature Journal Classes –
This is a great chance to treat yourself to fun nature activities to fill winter indoor activity days. Check out the bundle the Draw & Draw Deeper Bundle.