The spring equinox passed, the season is officially here, and that means no excuses. It's time to get outside!! After teaching for 10 years and taking students on field trips that included hikes, I know heading out on the trail and hiking with kids can be intimidating.
There are so many variables!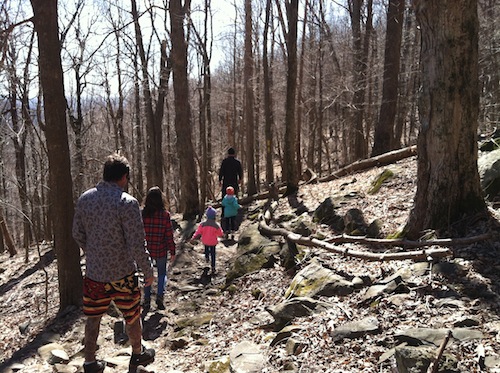 How will the hike go? Are you prepared? Read on and set yourself up for a successful hike with kids!
Will they complain, will there be bugs, will they get tired and you will have to carry them in the case of little ones? It's hard to say and everyday with kids in your life is a new adventure, but that is no reason not to embark on nature adventures!
To help you out, whether with your own children or your students, I've prepared a list of 5 tips for keeping kids enthusiastic on the trail and in the woods and save you from tears and piggy back rides!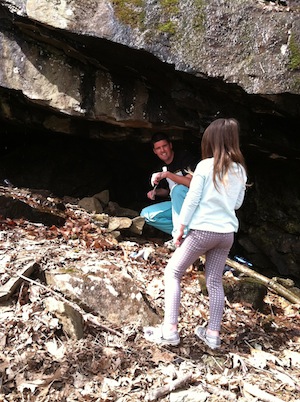 Show them how to explore nature safely. Get in there while you're out there!
Hiking with Kids: 5  Survival Tips!
Focus 4
Before the hike talk about 4 things you are going to look for and then try to find examples as soon as you can upon beginning the hike. For example, if you are hiking in the Blue Ridge Mountains like me, choose quartz, moss, lichen, and ferns. These are definites that children can identify quickly, easily, and physically, and they open up worlds of sensorial exploration and discussion.
Finding these items gives the children a specific focus and drive to "collect" more opportunities to see these items. Be prepared to go slowly though because they will want to stop, touch, and explore every one they find, and in the cases of moss and lichen this is a lot! Use the focus words repeatedly and quiz the kids on the name when you find an example.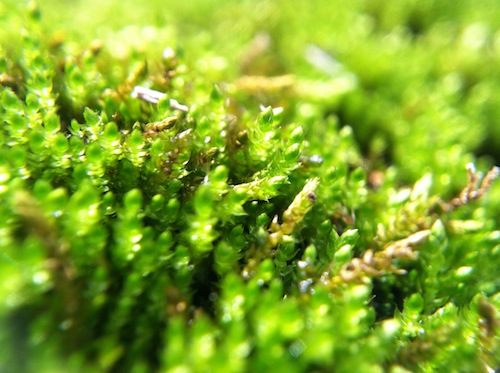 To me, moss is perhaps one of the most glorious sensorial items along the trail. It can spark ideas from the scientific to the fantastical. Talk about why it grows on rocks, or pretend it's fairy carpet, or better yet, both!
Bring pocket natures journals
And colored pencils for everyone on the hike. Make the journals before the hike and while doing that, talk about all the things you may see on your hike, including reinforcing your Focus 4.
Once you arrive at your hike's destination, break out the journals and pencils and fill the pages with the different items you discover.  I stress the importance of the adults journaling with the children because this models the importance of the activity as well as makes it fun for sharing the experience. (Children often want to carry these little journals with them in their hands on the whole hike.)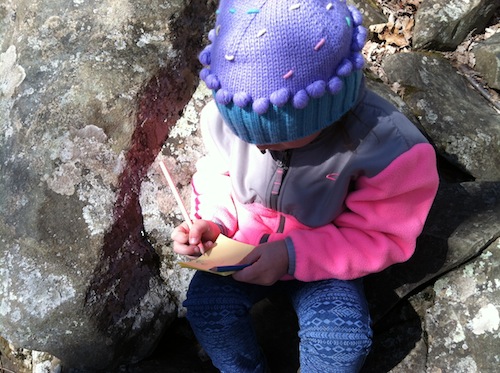 Serious nature journaling going on here with this 4 year old!
Journals also provide a vehicle for children to talk about the Focus 4 when assimilating the experience post hike. And they supply the children a place to "collect" the things they see without actually removing them from nature. A rock or leaf here or there is fine of course, but every natural object has a job to do in its natural place. Teaching a "take only memories and leave only footprints" mentality is important for preserving and protecting our natural world.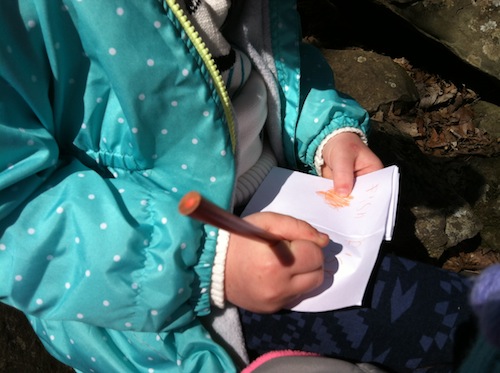 Any age child can have fun drawing what they see on their hike! It doesn't have to be representational, it just has to be their expressions! And remember, let it be the child's work. Phonetic spelling is A-OK!
Sustenance
I know this seems obvious, but it never hurts to say it again. Hungry kids are grumpy kids – bring food and water for the children. Depending on the length of your hike, stop quarterly to recharge. These little breaks also provide the opportunity to recap discoveries made so far on your adventure.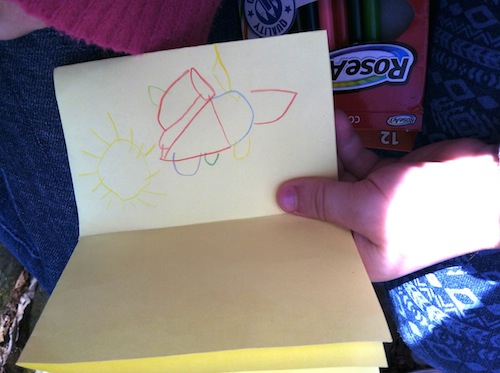 A 4 year old documenting our sunny day!
Independence
Within safe reason depending on the particular hike, let the children have a little space from the adults on the trail if they want. This makes the children happy as well as helps boost confidence through self reliance. It allows them to move at their own pace, fast or slow, and gives them some freedom to assess small risks.
If the children are older, and could potentially be out of adult sight, remind them of dangers of which they need to be aware (like snakes, poisonous plants, or slippery rocks) and teach them how to navigate the trail using the trail markers.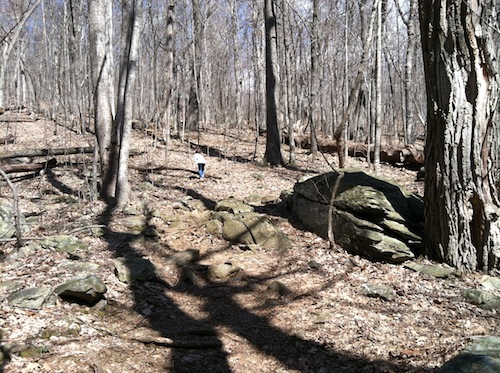 Always keep small children in eyesight, but do allow them to forge ahead if they want to. This gives them the feeling of being alone in nature, but the confidence of knowing that grown up protection is in ear shot and eyesight. Here a 5 year old forges ahead!
Process over Product
This is key for a successful hike with CHILDREN. When planning the hike, do your research. A shorter hike with a less grandiose destination, but plenty time for slow downs and hands on explorations will be much more successful than a longer hike with one stellar vista that you have to truck to get to. Save that hike for when you are with adults only.
Remember, hiking with children is all about the journey. Just like in art with children, it's process over product. They will be much more interested in climbing back and forth over a rock on the trail 5 times or touching every bit of moss growing along the trail edge than simply trekking straight to the destination.
Keeping this idea in our adult minds is a really great practice for tempering our product oriented mindsets and keeping our own senses of wonder sparked like the children's!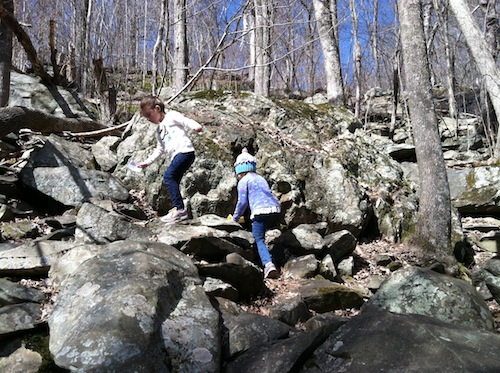 So are you feeling confident? You should be!
Keep these 5 tips in mind when planning your next outdoor trail adventure and I am sure you will have lots of wonderful discoveries and adventure to share this spring in the big beautiful outdoors!
Share your favorite children's hiking tips or your biggest fears in the comments below!
Share your kids hiking pis on Instagram #wingswormsandwonder so we can see your discoveries!
Seeds to Sprout:
Feel like you want a little more guidance before heading out into the woods with kids by yourself? Take a guided hike with a local nature foundation, the Nature Conservancy, or Sierra Club. My local is the Wintergreen Nature Foundation. If you are in the Blue Ridge, check them out!
Spring is snake time, but don't let this prevent you from enjoying nature. Educate yourself, your children, and stay aware. Learn more about spring snake safety here .
WINNERS!! Have you been waiting to hear who the winners of last weekend's spring sale giveaway are? Well they are Julie S. & Jane L.!! Congratulations Jane and Julie and THANK YOU to everyone who purchased eCourses and registered for the free Watercolor Basics for Nature Journaling course. I am so happy you joined the Wings, Worms, and Wonder online school!
Learn more about my nature journaling eCourses here and let me guide you into creative nature journaling fun! No previous art experience necessary!
If you didn't win this time, never fear! I'll be giving away a spots in the summer & fall quarters and a free full year spot in the Journey Within eCourse over the spring, summer, and fall! Be sure you get the newsletter so you can win! Subscribe in the top of the right sidebar. Easy!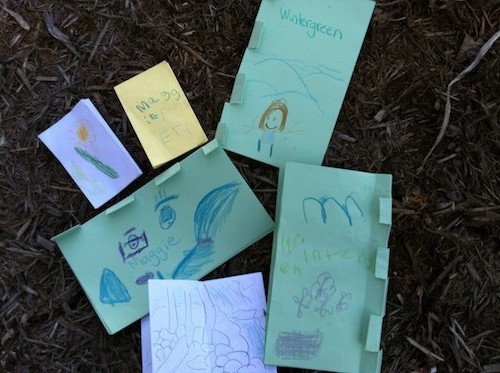 Want to make the tiny pocket journals we used on our hike? Get the video tutorial and instructions when you subscribe to my newsletter in the top of the right sidebar! You'll also get a copy of my eBook for free!
& Look forward to learning to make those green Fold-n-Go journals in this month's Wonder Wednesday activity!