This year I tried my hand at growing lemon verbena and I couldn't be happier! I highly recommend this herb for home school, and community children's gardens across the board. I am so enthusiastic about this herb that I almost feel silly! It's probably because the scent sends me into a daze of euphoria, really, I'm not being dramatic! If only this was a scratch and sniff blog post you'd see!!!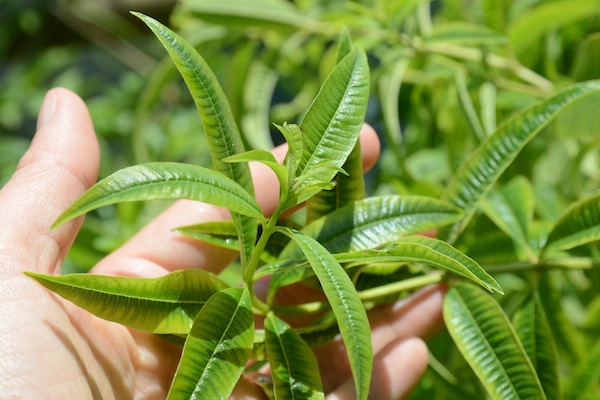 The leaves are a couple inches long and feel coarse. This adds to their sensorial appeal, I think.
Lemon verbena is native to Central and South America where it is known as Herba Luisa. In Chile and Peru it grows into trees 10 feet tall! My plant is about 3 feet tall and I was surprised until I learned it's tropical growing habit. Now I realize it's right on track. I just wish I had done my research before planting because I would have given it more room for sure! At least you will learn from my mistake and when you plant yours give it plenty of room.
The aroma of lemon verbena is lemony and sweet, rather than tart like a lemon, and is known in aromatherapy for it's uplifting qualities and is used in perfumes, potpourri, and even in liquors. Herbalists have used lemon verbena, sometimes called vervain, to treat nervous stomachs, head aches, depression, stomach aches, and gas. So next time you have butterflies in your stomach, pick and brew yourself a cup of lemon verbena tea. if you are feeling a little stressed, you can take a few fresh leaves with you and give them a rub and a smell to get on the go aromatherapy uplifting relaxation!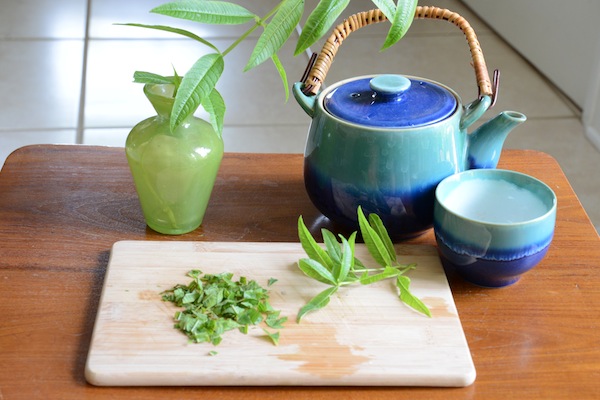 Tea Prep. See the leaves can be chopped roughly. You can even brew as sun tea!
Lemon verbena tea is a great choice for making with children as it is sweet, fruity, and mild. To brew fresh, put 1 tablespoon of fresh cut up leaves into a cup of hot water, cover to hold in the aroma, and steep for 4 minutes. Make by the cup or in large batches iced. It's always delicious!
Try adding lemon verbena to your next fruit salad. Just cut up some leaves and add to fresh picked strawberries and blueberries from your garden. You can even have children who use scissors cut up the leaves into bite sized pieces to help prep the salad. Next time you bake blueberry or carrot muffins, try adding 2 teaspoons of finely chopped lemon verbena for a little lemony sweet kick!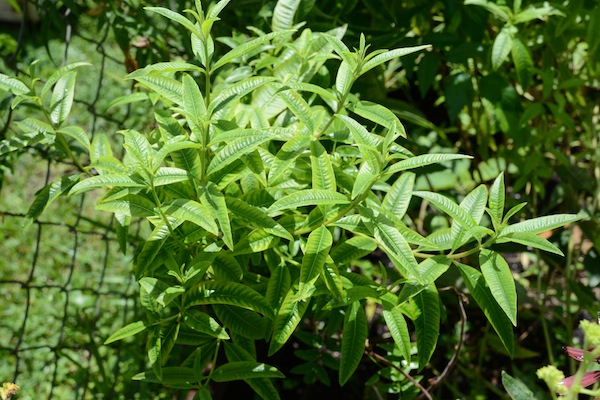 See how shrubby and big it can get. I had to wrangle mine up with garden twine. 
To dry the herb yourself, harvest branches and then hang upside down indoors in a dry place for about a week. Then you can remove the leaves from the branches and use in cooking, teas, or herbal sachets. Store the dried leaves in an air tight container to preserve freshness until you are ready to use them.
Drying is as easy as this! 
Aromatherapy through fresh grown herbs is a great source of wonder sparks in our lives. I think lemon verbena has secured a spot in my top 10 herbs for an cultivating awesome life! I will definitely be growing lemon verbena in my home, school, and community gardens from now on.
Do you have any experiences growing or using lemon verbena?
Share in the comments below!
I want to see your pics of the crafts and teas you are making with lemon verbena!
Share on Instagram #wingswormsandwonder
Seeds to Sprout:
Better Homes and Gardens tips for growing, cultivating and using lemon verbena, even how to make scented sugar!
Have you tried to grow lemon verbena in the past without success? Then this Mother Earth Living article is for you!
Leave it to Martha Stewart to come up with an amazing lemon verbena lemonade recipe!
Tomorrow is the newsletter subscriber only Etsy Shop pre-sale celebrating the new Wings, Worms, and Wonder Nature Journal Prompt Cards! Be sure you are subscribed by 10pm tonight to ensure the discount code is delivered to your inbox! Subscribe now!