I am coming up on the one year anniversary of the book's release and as I reflect, it has been a great year. So I'm going to get a little confessional with you today. I know this is going to sound a bit cliche, but I really have met so many great people from countries all around the world who truly care about children's connections to place and the natural world, people who are working their best in the ways they feel most passionate to keep children in their families, homes, classrooms, and communities senses of wonder sparked in our hectic modern life. All of you deserve a big hug for what you are doing, so here is one for you!! OOOOO (big hugs, see the o's are capitals)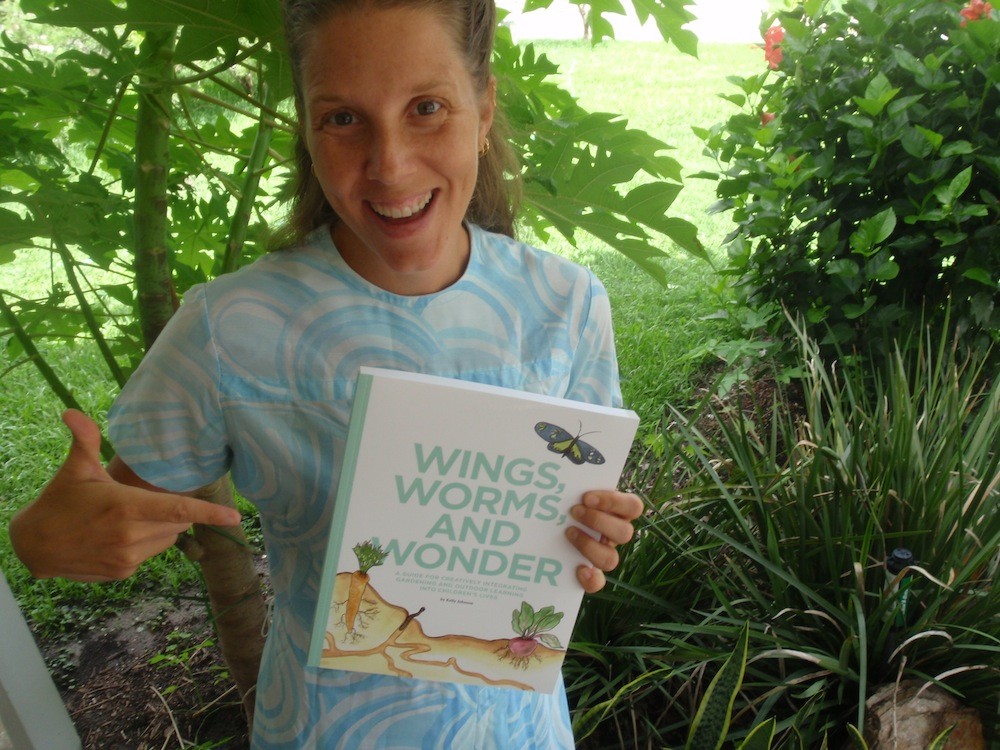 Remember this one? It was release day August 20, 2012.
You may have guessed by now that I hold my self to a pretty high standard. If I do something I want it to be done well, with creative intention, quality, and within a value system that I ethically resonate with. The printing of my book is one example. I wanted it printed full color and in an environmentally responsible way, so I forwent a less expensive route for recycled paper, veggie based inks, animal free glues, and printing by 1984 Printing, a women owned DIY printshop in Oakland, CA. I had to do it to feel good about the way I was presenting my work to the world. How could I ask my readers to engage in ecological lifestyle choices when the vehicle was a big hypocrisy? NO WAY! So I did it right, and that is why the book costs a little more than some others on similar subjects that you may find at the bookstore.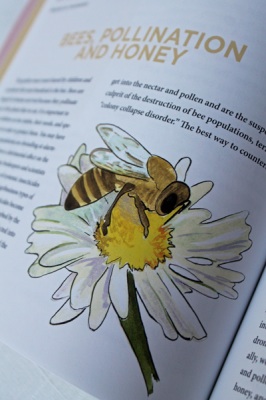 See how pretty? (Photo credit and book review)
I also forewent the typical route of seeking out a traditional publishing situation- another reason for a slightly increased price resulting in a book with higher value. I held true to my roots and went full DIY style and did everything myself start to finish- of course not totally alone- I had the help and support of family, friends, and professors who offered advice, skills, and smiles. (Thanks y'all!!!) I have learned so much about book and article publishing, non-creepy marketing, and right-brained business in a left brained world. I follow my intuition and the paths of those I admire. I take breaks when I want to to play with my 3 year old neighbor, jump in the ocean, or stare into space with no one on my case. I work more than ever and feel energized! And while I may not have that steady paycheck that teaching brought me, I live simply and by reaching many more children I'm making a greater positive impact on our culture's ecoliteracy and the health of our natural world.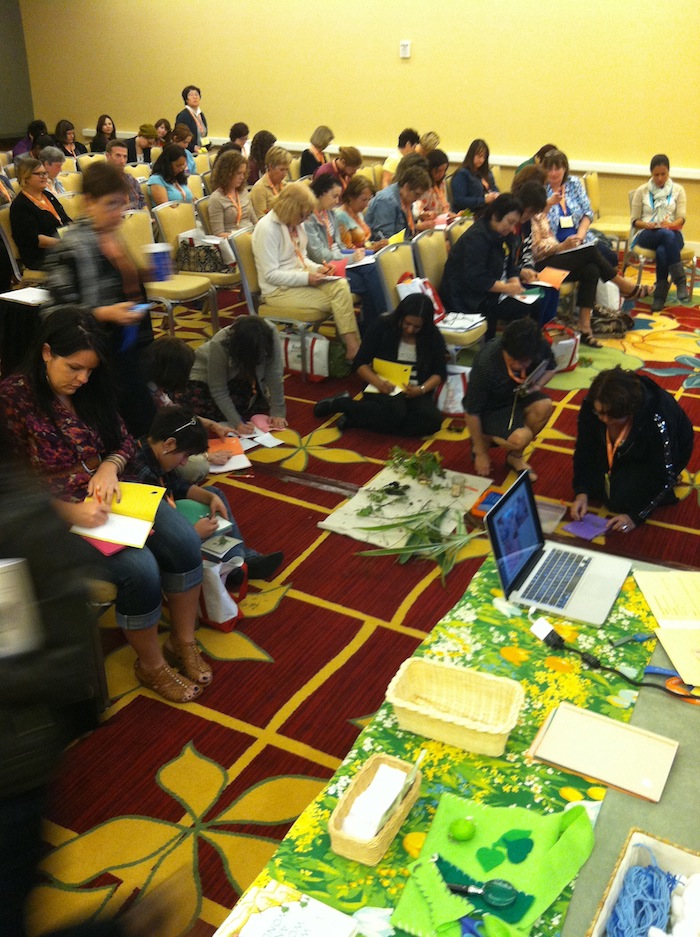 93 teachers getting hands-on at my 2013 AMS Conference workshop
So while I have met and exceeded all my year 1 goals of conference presentations, education outreach, magazine article publication, learning to blog, and learning to run a creative business, there is one goal that I have yet to meet. That goal is sales. Yikes!!! Yep, I said it. Book sales are the trickiest part for me. I have a tendency to undersell, I've learned, and when the part of your job that pays the mortgage is to sell books and workshops, selling is pretty important. My thesis advisor used to get on me for burying my lead, and in similar fashion I realized I bury my sell. Now, don't get me wrong I would NEVER engage in any type of hard sell technique. I'm no used car salesman!
But that part of me that pushes myself constantly, the part that traveled to Uganda alone at age 21, the part that surfs hurricane waves and rides double black diamonds, backpacks through Central America with mediocre Spanish, jumps off waterfalls, the part that researched, wrote, and self published a 238 page fully illustrated book and 120 page thesis in 2 years really wants to meet my sales goal! So this is where I humbly come to you.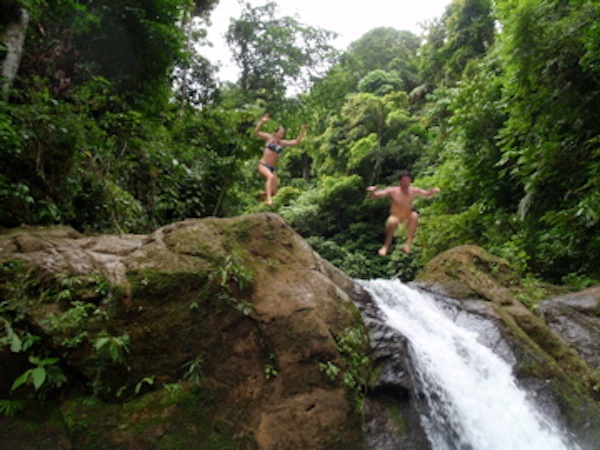 I can't get enough of jumping off secret waterfalls in the jungle!
This blog's intention is to be an extension of the book where it can stay current and alive and so I don't bring up the book in this way often. But blogs are about honesty, right? So here I am being honest! (I think my sister may be like, um you are always brutally honest! What are you talking about?!) I would love to meet my sales goal of selling half of my 500 original printing run books in the first year. (Did you catch how I am envisioning a second run already?) That means selling about 75 books by August 21. So if you have bought a book, THANK YOU! And if you are on the fence because of price, or time, or life, maybe now is the time? (Keep reading for the sweet senseofwonder2013 discount.)
Here's why. I created this book in the first place because of all the questions parents and teachers used to ask me about children's gardening when I was a teacher. Wings, Worms, and Wonder will give you everything you need to create and integrate a children's gardening program into your classroom, after school program, nature center, community garden, or even backyard. I purposefully created it to meet the needs of teacher, parents, grandparents, scout leaders, and anyone wanting to creatively garden with children. The book has lots of information about the history of gardening, the ways in which progressive educators integrated gardening into their methodologies, the Nature-Study movement, why children need connection to place, the importance of ecological literacy, practical tips for planting and actually gardening, simple composting techniques, nature journaling, and an entire resource section full of books for children and adults on all the above topics and more. It will give you everything you need to create 40 different activities that blend botany, biology, history, and the arts in fun and creative ways-and they are all child tested and teacher approved. It will be your ally and answer that intimidating question- What do I do with this garden?!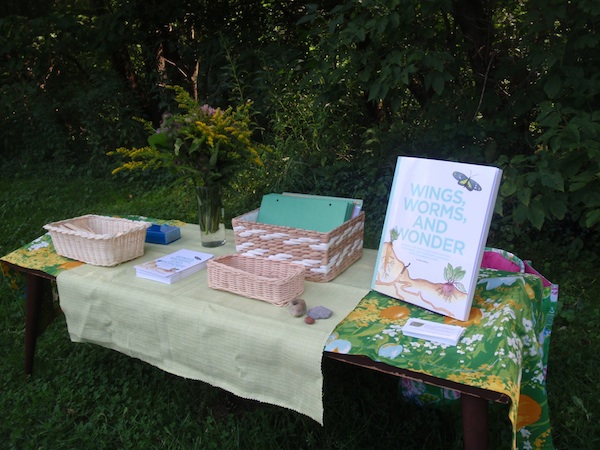 So here's what you can do to help – buy a copy of the book. Obvious, I know, but I thought I'd not bury it. To sweeten the deal, I am running a special "Meet My Year 1 Goal Summer Sale" What?!! Yep, through 8/21/13 I am offering 10% off all sales through the Etsy shop! Just enter the coupon code senseofwonder2013 when you check out. (*see below for details on how to do that at checkout)
To close I say thank you in advance for helping me meet my goal. Just click this link to Get your copy of Wings, Worms, and Wonder. You will be inspired, and be fully equipped to create holistic organic gardening experiences with children that meet your classroom goals, family's needs, and spark sense of wonder in you and the children in your life!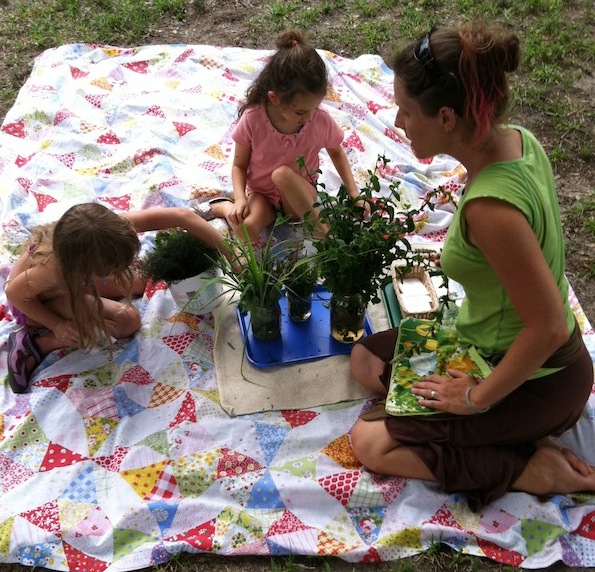 Sparking all the senses by making our own tea blends at Forage Farm
Then, please pass this post/info on to a friend who may be interested. Word of mouth is an invaluably huge help and I will be ever grateful. Seriously. I also really would love to hear you gardening stories, experiences with the lessons, comments, and see photos of your garden projects so send them on!!
How do you make the Wings, Worms, and Wonder lessons your own?
Seeds to Sprout:
If you already have a copy, you can get one for a friend or a teacher, but if your budget just can't make it, see if your school or county librarian will order one. That route has been successful for quite a few teachers I am told (by them).
Sign up for the newsletter, this way you can stay up on where I am presenting and also be entered into the seasonal giveaway! And then forward it on to your friends. (The next newsletter is 6/21/13, signup by 6/20/13 at the bottom of the home page.)
See about scheduling a workshop at your school next year. I can create a student, teacher inservice, and even parent ed event that caters to your specific school or organization (hey homeschoolers!!) and meets your needs precisely. And it will be fun!
*To receive your discount when you order on Etsy, once the books are added to your cart, on the right, click Apply Shop Coupon Code right above the Item Total. Enter the code senseofwonder2013 and click Apply. The discount will adjust your order total.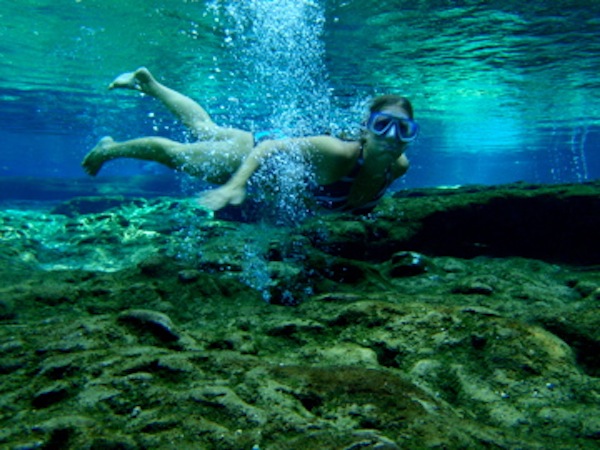 It blows my mind that this spring is an hour and a half from my house. Nearby nature at it's finest!