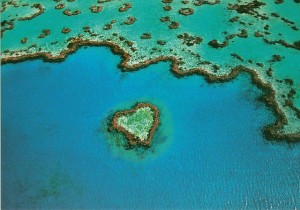 Heart shaped section of the Great Barrier Reef
I've never been too sappy about Valentine's Day, or how I spend it, as long as there is a vegan heart shaped caked involved at some point. I do like the art of crafting valentines and I really like chocolate, but I'm really not so caught up in all the flair. So as the either beloved or dreaded Valentine's Day quickly approaches I thought I'd post some new ways of celebrating it that I just thought of yesterday. I was thinking about this photo of a coral reef shaped like a heart that I saw once and how it is a valentine of sorts from nature to us. Then I started thinking about naturally occurring heart shaped forms in nature like leaves and got an idea for a new type of valentine–one that would not be aimed at anyone in particular, but that could have the potential to make a lot of people smile.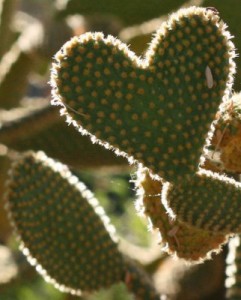 From heartseverywhere.com
At first I thought about making it a valentine for mother nature, but then I thought that if you did this near a local hiking trail or in a park, lots of people would see it and voila! You shared the love with lots of people. So are you wondering what this idea is? It is so simple I'm sure I'm not the first to  think of it, but I also can't believe I didn't think of it sooner! I haven't seen this anywhere else, so maybe I am the first! My idea is……….build hearts out of natural found objects on the ground in highly visible natural areas! So easy and so fun!!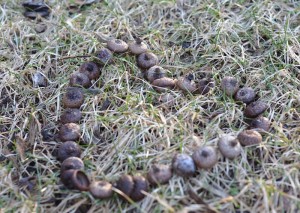 This was my first prototype. Some squirrels had been busy digging up their stashes!
As I thought deeper about this idea, I thought maybe it was influenced by the artwork of Andy Goldsworthy or the art of stacking stones along pathways. I'm not sure, but it doesn't really matter. So I went out and made a heart along a hiking trail near my house in the mountains. I think it looks quite nice!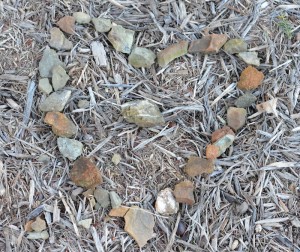 This one blends into the environment a little more 
These were really fun and quick to make. I learned that they seem to take more of the found objects than you think they will, so collect lots when you find your object of inspiration. I also could tell that children would really like to make these. For younger children, prevent frustration by laying out a heart shaped string for them to use as a pattern. Create your hearts on the beach using shells, seaweed, or dug into the sand in a park sandbox. If it's not windy, try leaves or pine needles.  The heart below will blow away, but I just couldn't resist these pretty little wildflower buds.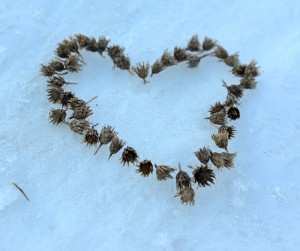 I like the juxtaposition between the snow and the dried wildflower buds I found along side it. It alludes to spring!
I wanted to share this brilliant, if I do say so myself, idea early so you would have plenty of time to develop your own prototypes for next week. Once you decide on your location, materials, and make your hearts, send in your photos!! I would love to see them and share them on the Valentine's Day post!
Seeds to Sprout:
See heart shaped places in nature, some made by mother nature and some manmade, here.
Learn more about the art of Andy Goldsworthy.
Learn about the ancient Gaelic art of stone stacking, or making Cairns.
Beautiful photos of zen stone stacks and a little info on the practice of stacking here and  here.
Downloadable Valentine's Day botany lessons and fun facts from Kid's Gardening.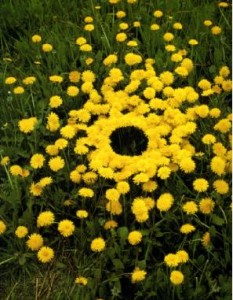 Some of Andy Goldsworthy's work