I know I said I was on Blog-cation, but you know me! I also said I would be giving you more birthday month gifts!!
Be sure to check out last week's post for all the details and more freebies of all sorts! From coloring pages to an eBook!!
Happy Wings, Worms, and Wonder 3rd Birthday!!
Download this fun Butterfly Plants coloring page!!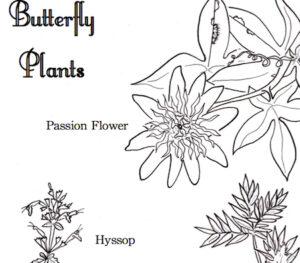 butterfly plants coloring page pdf
Subscribe to the newsletter right there in the sidebar under my smiling face to find out in tomorrow's news what type of caterpillar and butterfly are in the page. (It's not a monarch, I promise!)
Have fun!!!! 
Share your coloring pages on Instagram #wingswormsandwonder
& tag me so I can see them!!
Seeds to Sprout:
Try this:
Use these coloring pages as tracing masters for your nature or art journals! Trace a flower into your journal and then incorporate it into a spread of your own!
Or color, cut out, and paste the flowers into a nature inspired collage.
The possibilities are as endless as your imagination! Color the pages straight or make them into something new, it's up to you!