Black Friday, Small Business Saturday, Cyber Monday, there are  so many days this week that we are supposed to buy things!! Honestly, and I know I shouldn't say this since I do run a business that sells things, it all makes me want to seal my wallet up tight and head for the wifi & cash register free woods.
Anyway you look at it, whether you do it his week or next, buying gifts is a part of this time of year, so why not make those gifts good for the recipient, the Earth, and make you feel good too while you're at it?!
They are so happy to be drawing together outside! Happy and healthy for the whole family!
The Business Insider says  most people buy green products because they want something that is good for their family or will save them money in the long run, rather than because they want to save the planet. (citation below)
Fair enough. Saving the planet is a responsibility way to overwhelming to tackle when you just want to get your nephew an xmas gift. I hear that.
But buying green, buying local, and buying small or handmade really does make a difference. It supports real people working really hard to make dreams of an awesome life for all come true. It supports working toward a sustainable future. It doesn't give your hard earned cash to big environmental polluters or human rights violators, (which is always a plus).
How sweet is this? I found it posted on social media and an sorry to say I have no source!
The blog Ecofriendly Planet states that the average American spends $800 on gifts over the holiday season and 60% of people get gifts they don't want. That is a lot of money that could end up in handmade eco friendly hands spent on potentially disliked gifts!
So here are some ideas on how you can give the most awesome green gifts that make you feel great (and that won't get re-gifted)! Now shameless disclaimer, I am giving examples from items I offer because I know myself best (and okay okay, between you and me I would love love love it if you bought some gifts from me!!)
1. Support the makers and organizations that stand for what you believe in. You don't have to buy expensive gifts, you just have to make them rich with thoughtfulness and meaning! Share the story and values of the company and why you like them and think the recipient will too!
2. Give open ended creation gifts that suit THEIR tastes. Create a kit that provides the supplies to encourage nature connection and creativity for people on your list of all ages! Like the field bag kits from last week's post or an art kit for a specific technique like nature journaling or embroidery. These types of gifts continue to bring joy and meaning into the person's life.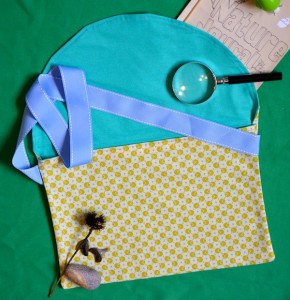 3. Give something TO DO that you know THEY would love. Give a class, workshop, membership or experience that will give them something to do or learn later in the year. This could be a workshop, online course, or Garden Consultation to learn to do something like grow or build a garden.
I will even hand paint you a gift certificate so they have something to open at the celebration!
4. Buy small business. Look on sites like Etsy or Big Cartel to support small handmade businesses by giving thoughtful and customizable gifts. Check out the Green Holiday Gift Guide by Team Eco Etsy, my aprons are featured along with some really wonderful green handmade items for babies to pets!


5. Give something useful. Consider something you could give that the person can use in everyday life or make their work a little more fun. For example my book Wings, Worms, and Wonder or a set of Nature Journal Prompts Cards with a little sketch book to help teachers or families integrate nature into daily life!
Do good for your family while changing the world by giving green, giving small, and giving thoughtfully. Being generous makes you feel awesome – generous with your time, your skills, and your love.
By giving gifts that brighten people's lives and green the future, you'll feel great, be super excited about gift giving, and be the one that gives the BEST most coveted GIFTS!
Which, in turn, encourages others to give handmade and green because they loved your gift so much! (Be selfish this holiday and do it for yourself! Don't you want to get gifts as great as the ones you give?)
I'll start. I'm giving a discount in the Esty shop when you enter the code
celebrate2014

 
to all my wonderful eco shopping blog readers!
& I am offering free gift wrapping that I hand make and hand painted gift cards through 12/31/14!!
Please feel free to share the code with your friends! Your kind words and shares are the best gift this teeny business could receive!
What handmade gifts are you planning to buy & who are your favorite makers?
Share in the comments below so we can shop too!
Seeds to Sprout:
Give a Garden Guide Apron to your favorite gardener or teacher!
Put together a field bag for your favorite little nature explorer and get them a hand made Nature Discovery Field Bag to fill.
Help your favorite budding or seasoned gardener set up for success or back on track with a fun garden inspiration phone consultation! Set it up here!
Get that copy of Wings, Worms, and Wonder and give garden fun for the entire year!
Download a set of Nature Journal Prompt Cards and get your family creating and connecting with nature everywhere!
Citation – Business Insider, 11/19/13, "Why People Buy Greener Products (Hint: It Isn't Always Because They Love The Environment)"