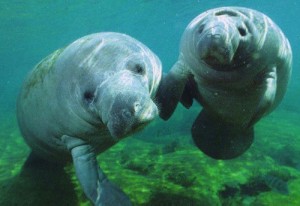 I love Manatee! Ever since I moved to Florida in 2000 and discovered their existence, I was hooked. They are by far my favorite mammal because of their gentle giant nature. I have been lucky that I have had many manatee encounters over the years, including having them swim up to me in the ocean- which is awesome, but a little scary until you realize that it is a manatee. They are so big! I didn't discover them until I was 24, but I am so happy to see that so many kids today know about manatee and how to protect them. It's true these children I speak of are Florida residents, so I am not sure how many children outside of Florida know about manatee.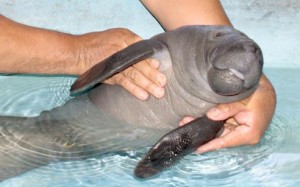 Just in case the nature shows are neglecting the sea cows, today I'm bringing manatee to the front of our minds. If you are new to the world of manatee, the Save the Manatee Club website is a great place to discover the basic facts. Here you will also find migration information, information on the species Sirenia around the world, and so much more. They even have  a webcam stationed at Blue Springs State Park near orlando where you can check in on your favorite, or adopted, manatee each day. This website has so much interesting information you could stay here quite a while!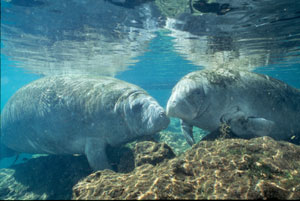 While manatee can be seen in Florida all year long, the winter is the best time for viewing them. In the summer they are off traveling far and wide, sometimes quite far north up the east coast, but in the winter they return to the warm spring waters of Florida. Because manatee are warm blooded, they must find warm fresh water in which to winter or else they will die. The spring waters stay 72 degrees year round making them the perfect manatee winter destination. There are many places where you can view them in the winter, in or out of water (you that is), but Blue Springs State Park is one of my favorite non-swimming locations. Is a great place for a day trip or they have really nice cabins for longer stays.
So if you live in or a are visiting Florida this winter, be sure to make time for manatees in your plans. Remember, be sure that the weather has been cold so lots of manatee will be up in the springs and not out in the rivers looking for food.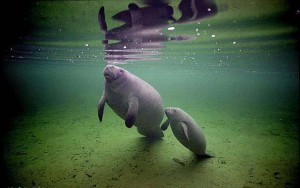 Seeds to Sprout:
If you won't be in Florida this winter, but still want to expose the children in your life to these mysterious gentle creatures, check out these education materials for students and teachers.
See manatee feed at the South Florida Museum's Parker Manatee Aquarium
Read 10 manatee quick facts on the blog the Beach Chair Scientist
In St. AUgustine, eat at the delicious manatee themed restaurant the Manatee Cafe!