Last week's Give Nature for the Holidays live hour was great and it's always fun to be able to give gifts! I know daytime is tough for some people, so due to popular request, today's post includes the video replay!
I was going to make a list, but I thought getting to explain the ideas live would be a lot better illustration for you.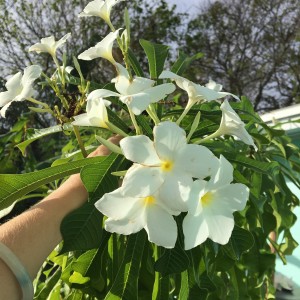 In this week's post I created a list for you of what I offer, plus the video, and then you can also download the pdf of the Give Nature for the Holidays coloring checklist too! So let's talk giving nature – the gift that gives all year long!
When you shop small for the holidays it makes a big difference, locally and online. And I want to say how much I appreciate all y'all's support. Each and every purchase you make from Wings, Worms, and Wonder shops actually make a big difference!
To show my appreciation I created coupon codes for you – get them below. Thank you!! Here's what Wings, Worms, and Wonder is featuring for the holidays this year!
---
The new print! Creativity is our Nature
I am really excited about this one!! It's my first art print in 20 years! This is an 11″x14″ signed and numbered print featuring the daily inspiring reminder that "Creativity is Our Nature"! And it's only a run of 10, so get yours while you can!
The images were originally painted in watercolor and then printed on the paper-thin maple wood of this print. This piece of art has a natural glow and creativity sparking feel!
The print itself looks and feels really beautiful in your hands. Notice how the wood grain shines through the beautiful watercolor painted nature images and the inspiring message. It adds a little bit of natural wonder to any space! Check it out here.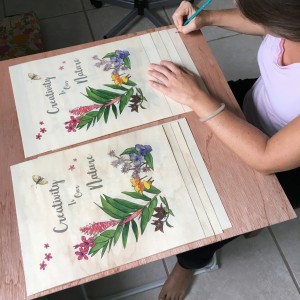 ---
Sticker Packets
These make great stocking stuffers for the art fixated, planner addicted, nature loving, art journaling, nature journaling, scrapbooking, sticker fun people in your life!
Plus they are great to keep on hand for those quick unexpected gifts or to mail inside a card! They come in multiple pack sizes and combos! Check them out here!
Use holiday2016 at checkout to get 10% off all your Wings, Worms, and Wonder Etsy purchases!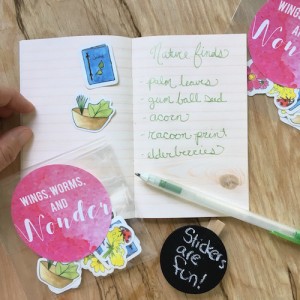 ---
12 Month Art & Nature Journal
My new book inspires creative nature connection all year long no matter where you live! A fun coloring, sketch, and workbook great for anyone looking to add a little nature journaling to their lives. Originally aimed at adults, I have been happy to learn older children really like the book too!
You can get it in the Etsy shop here if you are ordering other items like prints, stickers, consultations or my other book, or
You can order it direct and get a bit cheaper shipping. This is your best option if you are ordering more than 1 copy or live outside the states.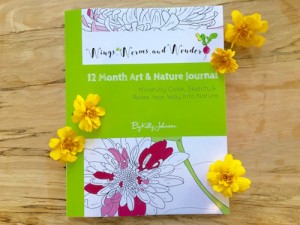 ---
Pillows, Note Cards, Zip Pouches, Tote Bags, & more!
Decorate your life in creative nature inspired style with the Wings, Worms, and Wonder illustrated creative nature connection lifestyle accessories!! The different items feature variations of the 4 designs: cucumber blossom, rose of sharon bloom, coffee berries, and the symbolic Wings radish!
Plus the items are printed on demand custom for your order by Society6, so no environmental excess! + Society6 has a discount & free holiday shipping sale now too! Check out the whole line of nature connection lifestyle accessories here!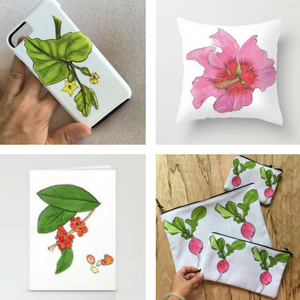 ---
Creative Nature Connection Learning!
The Wings, Worms, and Wonder online nature journaling school offers an abundance of creative nature connection learning! Take a class with your child, or give one as a gift to a friend! I added 2 new classes – the new Using Nature Journal Prompts that includes a set of the Nature Journal Prompt Cards and the new Veggie Studies Workshop and a 2 new bundles to the school this week!
If you enroll a friend, let me know I'll email you a fun coupon you can print and give them! Plus use the discount code vipjournaler for 10% at checkout! Check out all the super affordable classes here!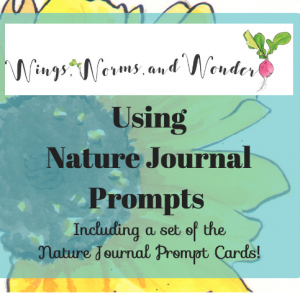 ---
Give Nature for the Holidays coloring checklist!
Giving nature inspired gifts that give all year is such an important way to integrate creative nature connections into our everyday lives. And when you give them, you also get more nature in your own life! Win Win!!
Download your checklist here and feel free to share! wings-worms-and-wonder-give-nature-pdf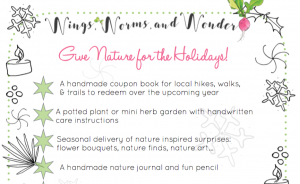 ---
Watch the live Give Nature for the Holidays video!
See the elaborations on and explanations of all the ideas on the checklist, the Wings, Worms, and Wonder holiday features, and more!
---
Getting Inspired
I hope you feel inspired to give nature this year. Mother Nature needs us to connect with, love, and stand up for her more than ever now.
The Iriquios Law advises, "In our every deliberation, we must consider the impact of our decisions on the next seven generations." Inspiring and facilitating creative nature connections for our families, friends, and communities in ways that are place based and feel authentic is an important step to a green future.
What is your favorite winter holiday nature connection tradition. Share in the comments below!
Share pics of your winter holiday nature inspired gifts and creations on Instagram #wingswormsandwonder so we can share the fun and great ideas!
Seeds to Sprout:
All the links above in one easy list right!
Wings, Worms, and Wonder Etsy shop (use the code discount holiday2016 through the end of the year!) Stickers, both Books, consultations, the print, nature journal prompts cards and more!
Wings, Worms, and Wonder Society6 shop (Super fun Nature connection lifestyle accessories, the zipper pouches are my fave! They have lots of free shipping sales so check often!)
Wings, Worms, and Wonder online nature journaling school