Throughout history, radical women have used the arts as a means for breaking patriarchal conditions of their societies. From botanical illustrators to nature writers and poets, the arts were deemed an acceptable reason for a lady to go out and explore the natural world alone.
Fortunately, these radical women, using nature as their muse, took this acceptable reason and used it as a way to break out of average life, while illustrating for us, the unexpected whispery wonders of the natural world.
Today, I decided to celebrate arts power and feature 2 nature minded female artists that I have recently discovered who have broken and are breaking typical cultural ideas of how nature should be interacted with in life and art. They are super inspiring me right now, and I hope you like them too!
Maria Sibylla Merian (1647-1717)
Plate 1 from Dissertation in Insect Generations and Metamorphosis in Surinam (credit)
"'In my youth, I spent my time investigating insects,' she explained in one of her books, because she noticed that 'caterpillars produced beautiful butterflies or moths.' This sparked in her a fascination bordering on obsession…" (source)
Maria Sibylla Merian was a nature loving German who used her artistic rendering skills as a bridge to become one of the world's first empirical entomologists (or someone who studies the behavior, ecology, evolution, and physiology of insects). No small feat for her day! Goethe even admired the way she perfectly balanced both science and art in her work the Nature- Study advocates would be so proud!
Beyond being a crazy skilled illustrator, here's why I think Maria was radical:
1. Maria began painting insects at age 13 and would collect and raise them herself so she would have the specimens she desired to study for her paintings.
Pomegranate. Maria made this when she was a teenager! (credit)
2. She divorced her "immoral" husband, moved to Holland with her daughters and elderly mother, and then in 1699, took off to Surinam to study bugs with 1 daughter and no male companion in the 1600s!! For 2 years they lived among the wild nature of Surinam studying and artistically expressing her observations of tropical insects, animals, and plants.
From Maria's sketchbook. She how she tracked it, with the location and date? (credit)
3. In Holland, Maria owned her own painting studio business with her daughters through which she sold her art (to great fame) and published:
* a 2 volume book of illustrations titled "The New Book of Flowers" in 1675,
* a book illustrating caterpillar metamorphosis in 1679 called "Caterpillars, Their Wondrous Transformation and Peculiar Nourishment from Flowers," and
* the book "Metamorphosis Insectorum Surinamensium" (The Insects of Surinam) in 1705 of her studies and illustrations of the insects of Surinam.
 Illustrating this level of detail, takes some inherent talent, countless hours of observation to truly understand the subject, but even more important is the wonder the artist feels in observing and express those observations. (credit)
4. Maria Sibylla Merian and her daughters "raised the artistic standards of natural history illustration and helped transform the field of entomology…Merian's work helped to disprove the common belief that insects reproduced by spontaneous generation from decaying matter such as old meat or rotten fruit, and her aesthetic sensitivity raised the standards of scientific illustration." (source)
 Yelena Bryksenkova (current)
Herbarium. This is the painting that brought Yelena Bryksenkova into my world. I wish I knew where I saw it – sorry for no credit.
Yelena's Likes: "walking for miles, snail-mailing, tea-drinking, day tripping, exploring new places,textiles, collecting, organizing, fancy urns, qajar painting, ballet, Bollywood, beautiful books, decorative arts, elephants, impressionism, folklore, fika, zakka, wabi sabi" (source). I think she and I would be best friends. How about you?
Russian born and American Mid West raised Yelena Bryksenkova's illustrations are less formal botanical illustrations and more show the way botany inspires and influences human life.
Perhaps Yelena's skecthbook proves me wrong? (credit)
Regardless of the theme of the painting, her works quietly feature nature in a unique way that brings forward its importance in human life – from the design of the wallpaper in the background, to a character's adornment, to influencing the main characters' actions. I believe Yelena superbly balances the nature-study philosophy of science and sentiment in an unexpected way that reflects 21st century daily life.
Besides the fact that her paintings inspire me to walk in snowy woods & drink tea,
Here are a few reason's why I think Yelena's illustrations are radical:
1. I love how her illustrations seem to tell a story about a snip of time. I also like how they seem quiet – perhaps reflecting the quiet of winter in New England, where she currently lives and works.
2. She balances the nature-study philosophy of science vs. sentiment in a unique way that reflects 21st century life.


Tough Parental Talks. In this one I love the play between the generations looking at the computer (haven't we all been in an experience like this with an older relative) as well as the technology imagery juxtaposed with the flowers and teas on the table, nature out the window, and the human coziness of the room. Genius! (credit)
3. Although she has only been out of art school 5 years, Yelena has illustrated for, and been featured by, a dream list of publishers and bloggers including Chronicle Books, Design Sponge, Elle Girl Korea, Red Cap Cards, Taschen, Flow…and the list goes on. And rightfully so, her work is superb!
Beautiful nature inspired illustrated cards right?! (credit)
4. "The beauty of certain objects, places, people, and moments fills me a frustrated kind of awe and drawing them – carefully, so completely absorbed that I sometimes dip my paintbrush in my tea – helps me make peace with that feeling. It's a way for me to catalog the beautiful things I have seen and how they make me feel. Writing alongside the drawings is important, too; when I revisit the pages, I revisit emotions. It's a great comfort to me that there is no shortage of precious, inspiring things in the world." (source)
Love Spell. The spell worked on me!I love how this one really gets the imagination going and the inspiration for working with herbs in art and life activated! (credit)
How do these 2 radical nature inspired artists make you think about:
the way that nature influences your choices, actions, cultural constraints, & what you create?
Pop a comment in the box below!
Seeds to Sprout:
Learn more about Maria Sibylla Merian in this profile by the National Museum of Women in the Arts.
Check out Yelena Bryksenkova's website here and read this post on Yelena's work by The Black Apple, one of my other all time favorite illustrators.
Feel inspired to try your hand at nature drawing, but want a compassionate community to create within? Join us in the Draw Yourself Back to Nature eCourse!
Registration is open until Saturday! Register here today!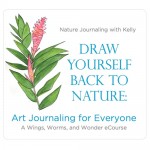 Learn more here about all the wonderful drawing tutorials and nature themes we will cover over the month!
The Reader. (credit)