Summer is on the way!

Have you planned a vacation yet?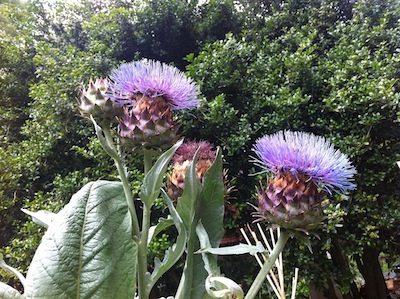 We have some fun trips coming up (some work related and some play only) that take us up to NYC for a mural and art show, out to Bloomington, Indiana, for a music fest, back down to Virginia to teach some camps and workshops and visit the fam, and finally sailing in Key West with my college roommate, I think. Did you know I used to live there and worked on a sailboat? Pretty sweet, but it sure is hard to grow your food on a boat!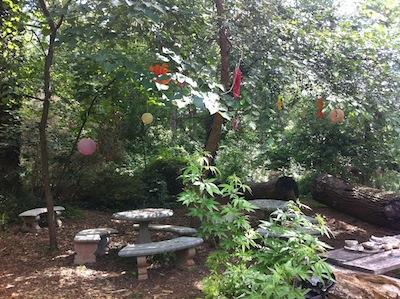 I could definitely take a gardening break here!
In all that travel, I don't foresee myself heading up to Atlanta, but if you find yourself lucky enough to be there, or live there, why not check out the Wylde Center. Formerly The Oakhurst Community Garden Project, the Wylde Center is the expanded version and by far one of the most amazing community gardens/urban sustainable farming/nature education centers I have ever visited.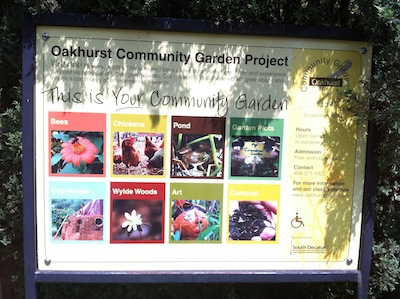 My good friend Katie took me here just before she gave me, seriously, 72 hours straight of her time and graphic design expertise to do all the layout for my book Wings, Worms, and Wonder! (So generous, I know.) The Wylde Center Garden was the last nature we saw that weekend, and it was stellar!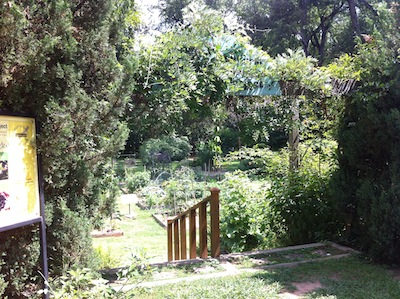 Such a welcoming entrance
Nestled into a neighborhood on Oakview Road, in Decatur, and open sunrise to sunset, the Wylde Center and it's Oakhurst Community Garden brings the perfect balance of gardens, bees, chickens, a children's cobb house play area, wooded wild areas, pond gardening, art projects, murals, education, and a killer honor system plant sale with common and heirloom varieties of all the delicious veggies you could want to grow.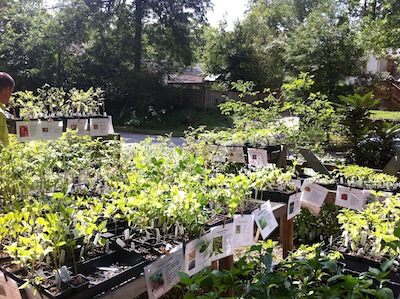 This garden and its plant sale are reasons enough to move to Atlanta!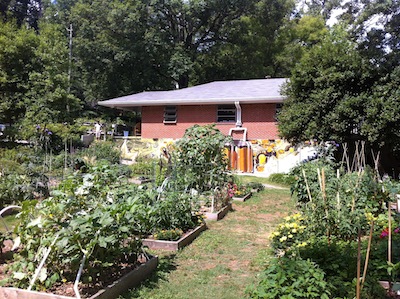 The house on site is the Wylde Center and the Oakhurst Gardens fill in all around. There is even a little creek running along the back border of the property. It is so peaceful! I would love to take or teach a workshop here!
They do a wonderful job blending education, outreach, gardening, and the simple fulfilling wonders of nature all smack on a not incredibly large lot in the middle of Atlanta, a city often thought of more for its traffic than nature.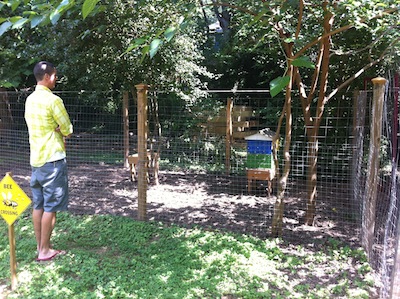 The bees are fenced of for safety
If you get the chance, swing by! Bring a camera and a notebook because you will get chock full of ideas to bring back to  your own school or community garden! They have been at it since 1997 and have all the kinks figured out! You can tell how organized it is by the educational signage alone!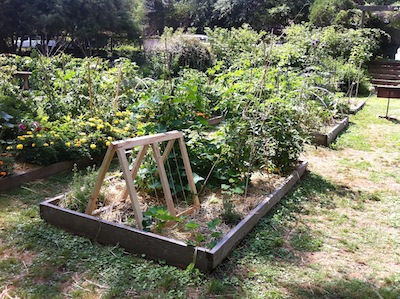 What community gardens do you find most inspiring?
Share them in the comments so we can visit them on our summer travels!
Seeds to Sprout:
Check out all the killer summer offerings on the Wylde Center's site!
Stay up to date with what's happening on the Wylde Center Facebook site
Did you get to enjoy the full moon yesterday? May's full moon is the full flower moon because of the the blooming flowers brought by April's showers!
Would you and/or your children like to take a workshop with me in Virginia this summer? Well then check out the schedule and sign on up!
The spring sale ends tomorrow!! Get your copy of Wings, Worms, and Wonder's first edition on sale while you still can!! Use the coupon code ilovemyteacher2014 at checkout!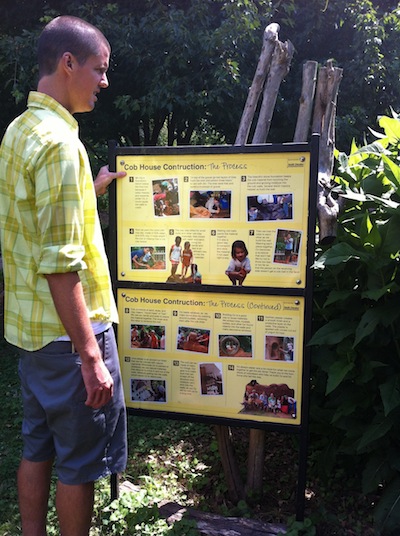 The demonstration cobb house designed as a children's play house area is brilliantly crafted and whimsically inspiring. The children can play in nature while their parents work in the garden!