It's week 3 of the Summer Fun Series and this week we're taking a look at some fun stuff! I use the word stuff because it's a mix of different fun things for which the summer slow down affords time. And sometimes on a hot lazy afternoon, pulling out a new little surprise is just what the imagination needs to be inspired.
From books to paint to a giveaway,
let's check out some new summer fun stuff!
(For the record, I have received no kickbacks or promos for any of these books or products. I just found them on my recent adventures in NYC (at a really amazing shop called Annie's Blue Ribbon General Store), thought they were super cool, and wanted to share them with y'all!)
Outside: A Guide to Discovering Nature
by- Dias, Teixeira, Carvalho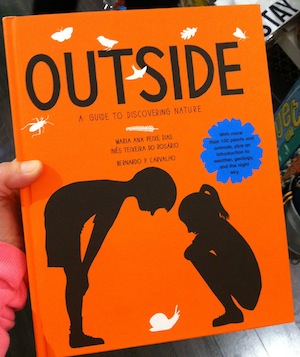 This is a fun book with really beautiful vintage style illustrations. The 2 authors and illustrator are all my age, so it makes sense that the the 70s kids book aesthetic would be so attractive to me. They captured the vintage feel perfectly by using only blue, orange, black, and the white of the page.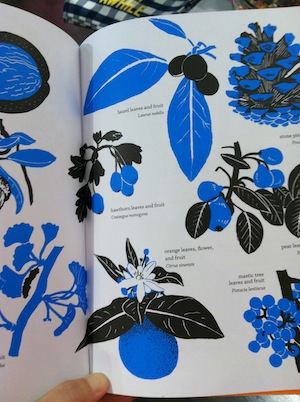 Remember this illustration style? Gorgeous!
The authors are Portuguese with PhDs in biology and ecology, and the illustrator had a BFA and owns a children's book publishing company, so the info and design are on point.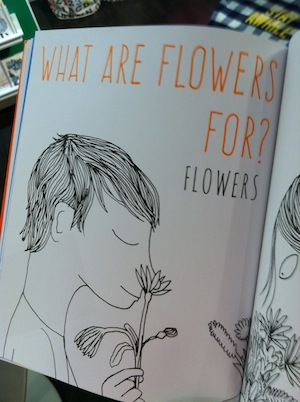 This book is a lot of informative fun and is specifically targeted at 7-12 year old city dwellers, but I think it would be a joy for any child (or adult!) looking to learn more about the nature outside their door in the city, suburbs, or country.
Hello Nature: Draw, Color, Make, and Grow
by – Nina Chakrabarki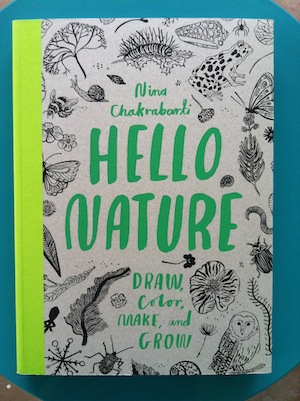 I have had the idea to create a nature activity book for quite a while, and this one beat me to it! This is a really fun book that is chock full of pages to write and draw on. It's rustic style paper and feel makes it seem ready for creative nature adventures. It is a really nice combo of information and imagination. I actually bought this one for myself, um I mean my nephew.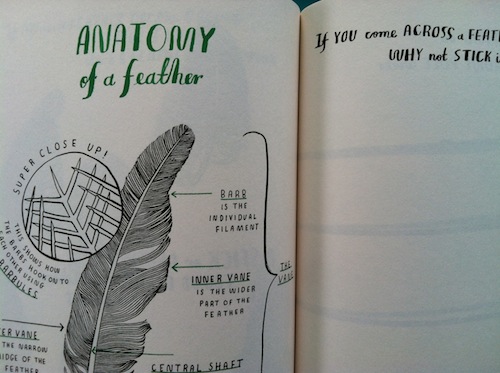 This book starts with the Earth's birth, followed by the reader's birth and then goes through the stars and seasons and offers activities, ideas, art prompts, and information for exploring and creatively connecting with nature. Summer's section is by far the thickest, confirming to me what a great summer break book this would make for 7-11 year olds.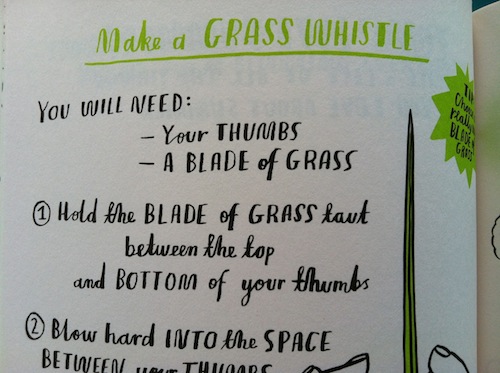 The look of this book is very decorative and whimsical with the hand lettered style fonts and the illustrations in black, light green, and darker green. The author brings her past in India and her present in London as influences of the style and the content making this a very unique book. From leaves to bugs, to flowers, feathers, and even hedgehogs this book is a delight for all ages!
Let's Garden: A Step by Step Instructions
by Lidstrom & Nyberg
Nature's Day: Out and About
by Macguire & Kroll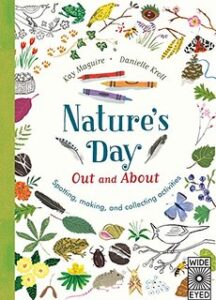 These are two more fun books I came across that you may want to check out too! Let's Garden is a book especially focused on independent small scale gardening for 7-10 year olds. It is perfect for balcony and small space gardening adventures.
Nature's Day: Out and About is an activity book that compliments the book Nature's Day and offers children ages 5-8 a first book on learning about the wonders of their natural world.
Glob: All Natural Fruit, Veggies, and Herbs Paints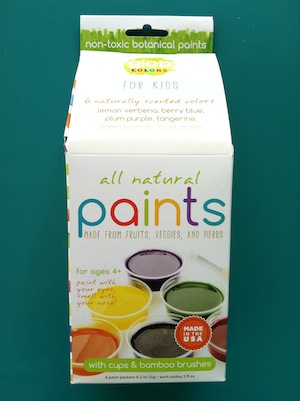 As if all natural fruit, veggie, and herb water based pigments weren't awesome enough, these paints smell like the food from which they came! This kit will bring a smile to anyone's face. I am really looking forward to painting with my nephew and little neighbors this summer and for using this paint in my own art and nature journals!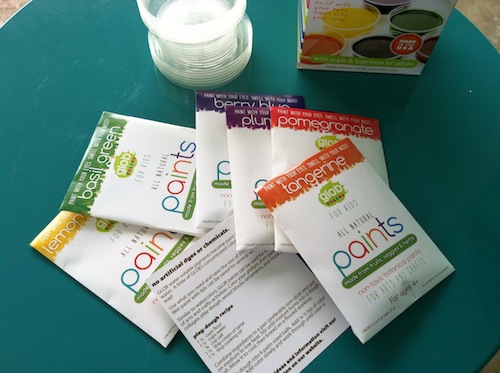 The kit includes packets of powdered pigments, 2 bamboo brushes, and cups with lids to mix up the paint into and store. And to make a cup of paint only takes a tiny bit of the pigment, leaving plenty for future colorful and delicious smelling creative adventures! Plus the kit and website offer more ideas and recipes for using the pigment from play-dough to finger-paint!
I feel like the fact that you can mix your own pigments and control saturation makes this paint really versatile for both adult and child art fun. I'll keep you posted on Instagram!
Glob: Sustainable Bamboo Brushes

This set of 6 sustainable bamboo brushes was too pretty to pass up (not to mention the fact that it matches the paint set and I love a good set). I originally bought these because they looked perfect for painting with children, but upon opening the set, I realized that these will make great brushes for painting thicker textures and for using with stencils in my own art journals too!
While I'm not saying these would be appropriate for finer or representational painting, or that I will use them with my real watercolors, the brushes have a really nice weight and feel high quality in my hand, plus the bristles are really soft. I definitely will be using them myself. I'll keep you posted on how they do!
The Giveaway!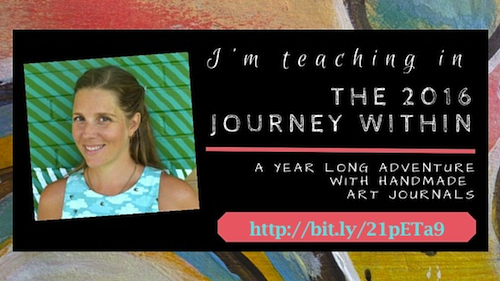 You've probably been wondering when I was going to get to this! I have a free spot in the summer quarter of The Journey Within eCourse, in which I am a guest teacher, to give away! The summer quarter starts in July, a perfect time to begin a fun summer creative project!
This is a quick contents so to enter, type in the comments your favorite creative thing to do in summer. Make sure you submit your comment by midnight est this Thursday, June 23, because I will be choosing and announcing the winner here on the blog Friday!
What's your favorite creative thing to do in summer?
Type in the comments for a chance to win!
Share pics of your favorite summer fun stuff on Instagram #wingswormsandwonder
Seeds to Sprout:
Do you follow Wings, Worms, and Wonder on Instagram? That's the place where I post all the in the moment inspiration, lots of gardening tips & tricks, nature observations & adventures, and nature art ideas and projects form my own studio, garden, & travels. Find me there and let's connect! 
Check out Annie's Blue Ribbon General Store next time you are in Park Slope, Brooklyn, NYC! Be warned, have your checkbook ready!
Take creative nature inspired summer getaway! Join me August 25-28 at the Journey Within Creative Empowerment Retreat! Check it out here!