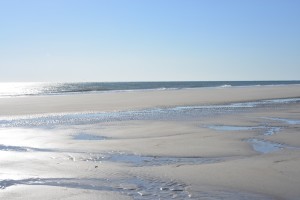 Windy Winter Beach Morning
Ever since I returned to Florida, I've had a little trouble finding inspiration for posts. It's not that I haven't wanted to write them, my wonder has just been slightly dim. I've had some great things happen professionally, like meeting David Sobel and him asking me to sign a book for him (!!), and my presentation at the Green Schools National Conference went amazingly so I'm thrilled about things on the Wings, Worms, and Wonder side of things. I guess it is just going to take me a while to get used to being back this year.
Lots of bone finds today in many different colors and stages of broken-ness
Honestly, I just don't like north Florida in the months of January-March. That's why I like to escape to the mountains in VA. Down here in frosty FL it's not cold enough to snow, but its cold and damp enough to make everything you want to do outside require more effort. Then there is the nearly constant cold damp wind that I won't even get started on. The thermometer may say it's 50, but between the dampness and the wind it feels colder than 30. My mind just gets stuck on the  fact that this is Florida! It should be warm, but its north not south. We're not in the tropics no matter how hard I wish I was.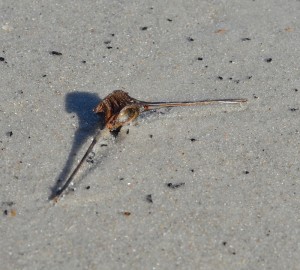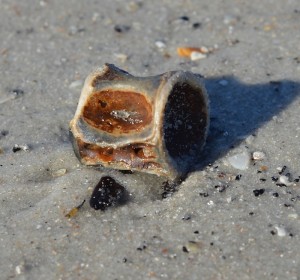 I don't know who these belonged to, but I may do a little research into it
Now those of you up north could tell me to just get over myself and look at the bright side. I promise I'm about to, but I'm coming clean here for a minute. True, winter is less than 3 months long, many people rarely even break out long pants, and you can garden all winter long keeping yourself in more greens than you know what to do with. Sorry, but I won't be convinced. I love snow and I love 95 degrees with 100% humidity. I am black and white like that on pretty much everything. Now you know a secret about me!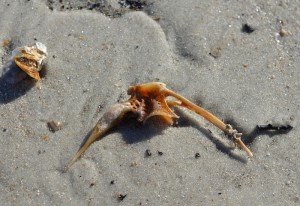 It's hard to find unbroken ones, so I felt pretty lucky to come across 2 in one day
So I just want to authentically let y'all know that I'm emerging from my frosty Florida acclimation period (including a pollen induced sinus haze) and have lots of exciting things coming up this spring for you – beginning on March 20th with the first Wings, Worms, and Wonder quarterly email newsletter!  If you sign up you will receive newsletters on the equinoxes and solstices, that's it. I won't bug you often I promise. AND to make that even more exciting, there is going to be a prize! You have to sign up for the newsletter though to be eligible. This time that's it, easy! At the bottom left of the home page there is a newsletter sign up box. So chop-chop! Sign-up and you will be entered in the drawing to win this!!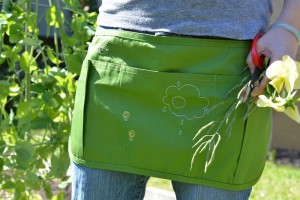 NO WAY! That's RAD! I better sign up quick (that's what you're thinking, right?)
I have personally embroidered this 100% cotton garden apron just for 1 lucky newsletter winner! The design is Sublime Stitching's killer Julie West artist series pattern! You'll get function and handmade awesomeness all at once!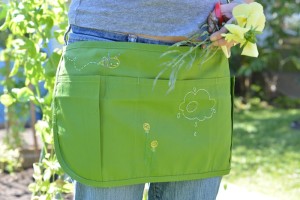 Really, Julie West designs you say? Yep! I love her art too!
On top of the newsletter, March and April are full of exciting events I will be at all over the east coast like at the AMS conference, an education event at Bluestockings Bookstore in NYC, the University of Richmond's Nature and Sustainability Symposium with Richard Louv, and more. Be sure to check out the Upcoming Events page to see if I will be in your neck of the woods and then come say hi!
SO, all that said, sometimes it is hard to see the collards for the freeze, but in those times I think it is even more important to make yourself get outside because when you do, nature inevitably offers up sparks for your wonder. Sometimes, it's in those times that you make yourself get out that you are the most rewarded.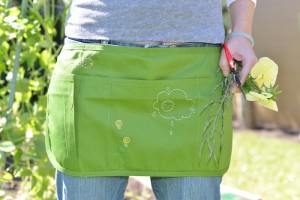 Seeds to Sprout:
Want to find out what kind of vertebrae those are? Start with one of these books
Want to embroider things for yourself? Check out Sublime Stitching
See more of Julie West's work
Sign-up for the newsletter so you will be entered into the drawing on March 2oth! (Winner announced in the March 21st blog post!)