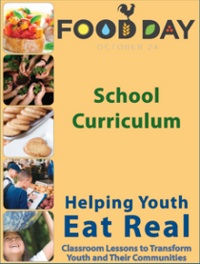 October 24 is Food Day 2012, so this week I am sharing a wonderful Food Day curriculum developed by Columbia University's Teachers College, Center for Food and Environment. I am posting this early so you will have enough time to prepare the lessons and be ready to go by the time Food Day rolls around. This curriculum includes 5 full lesson plans that incorporate beautiful photographic and drawn card materials, teacher resource materials, and activity sheets you can print out. It also includes an appendix with adaptations for the various K-12 grade levels. Additionally, it is even Standards aligned for those who have that to contend with.
There are enough activities in the  curriculum to last the entire week and, if combined with the lessons in the "Nourishment"section of Wings, Worms, and Wonder, you could really build quite a fantastic and substantial unit! Most importantly though, don't forget to include delicious tasting experiences and perhaps even a field trip to a farmers market or local farm!
"Food Day is a nationwide celebration and a movement toward more healthy, affordable, and sustainable food. Food Day, created by CSPI, is powered by a diverse coalition of food movement leaders, organizations, and people from all walks of life. Food Day takes place annually on October 24 to address issues as varied as health and nutrition, hunger, agricultural policy, animal welfare, and farm worker justice. The ultimate goal of Food Day is to strengthen and unify the food movement in order to improve our nation's food policies…Food Day aims to transform the American diet. It's time for America to Eat Real! All Americans—regardless of their age or race or income or geographic location—should be able to select healthy diets and avoid obesity, heart disease, and other diet related conditions." (www.foodday.org/about)
Download the Food Day School Curriculum: Helping Youth Eat Real, Classroom Lessons to Transform Youth and Their Communities here. On this page you will find not only the link to the curriculum, but a school guide, sample activities, and a one page print off that you could send home to parents to explain Food Day and the activities you will be doing.
Download Food Day recipes here. There are both cards you can send home with students and a cookbook to inspire your tasting experiences!
Check out the Food Day suggested reading list here and explore books for all ages that inspire healthy food choices and growing methods.
Here is an article entitled "Know Your Food" from the National Gardening Association's Kids Gardening website that may further inspire your Food Day planning as well as your school garden.
Okay! Let's get ready for October 24, Food Day 2012! Remember, the best way to interest a child in healthy food is through their stomach!