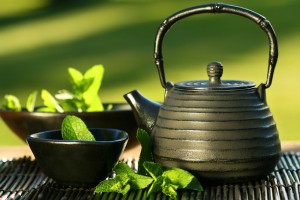 I would say I consider myself to be somewhat of a tea aficionado. I love teas of all sorts, especially herbal. In undergrad I was a waitress at the Savannah Tea Room where I learned all kinds of tea nuances from some very interesting ladies while having a lot of fun and drinking all sorts of unusual and delicious teas. My first week of grad school I attended a workshop presentation by a student who was focusing on wildcrafting herbs and she served wildcrafted tea to her audience. It was a tea that I had never tasted anything like and for the past 2 years I have been trying to remember what kind she said it was. I would smell the trees from which she harvested the tea in the woods surrounding the school when I would go on walks, I knew it came from an evergreen, and I remembered she said it was high in vitamin C and immune boosting. This made sense because the tea tasted very light and citrusy. That was the extent of my memory, but I knew I wanted to get some more of this tea!
Lo and behold in December I got lucky. I was shopping at Ellwood Thompson's Natural Market in Richmond, VA, and I walked by a soap display. My eye caught a canister with evergreen trees on the label. It said Fir tea and thought, "could this be it?!" I was really excited, so I snuck the lid off and took and smell and sure enough it was!!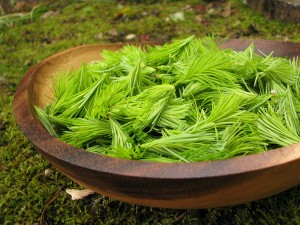 Now that I have found this tea, I want to share it with everyone! The delicate flavor is second only to all the health properties it gives. There is so much talk lately of flu shots, here is an immune boosting bonus that won't prick you! Just smelling this tea is up lifting in and of itself! Aromatherapy at its finest!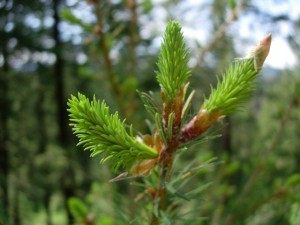 I don't live in a region where I can wildcraft fir tips and needles so I have to buy the tea bags, but if you do and are confident with your tree identification skills (or have a friend who is), grab some children and go for a hike to collect Douglas Fir needles. Then, you could make a campfire to boil the water for steeping or have an indoor tea party! Tree tea! Either way, it will be delicious and the kids will love drinking tree tea. Don't forget a little honey or agave. I like mine sweet free, but kids love to stir their tea with a honey stick!

(Disclaimer: I do not recommend ever wildcrafting or ingesting anything unless you are absolutely sure you have a correct identification of the plant and do not have allergic sensitivities.)
Seeds to Sprout:
Check out recipes for evergreen teas, including Douglas fir here!
If you're in Savannah, visit the Savannah Tea Room and sample both classic and unique teas steeped to perfection! I bet you will learn a little something about tea too!
Learn more interesting facts about the Douglas Fir on the blog Tom's Trees
Learn about the aromatherapeutic qualities of evergreens here and create a diffusion to freshen the house.