Fall is a wonderful time to begin nature journaling. As the weather cools and the bugs become less intense, take some time to get outside at various times of day, alone or as a family, and record in words and pictures what you see, smell, hear, and taste in the natural world around you. You don't have to be an accomplished artist or a poet to express your feelings and observations about nature in a journal, you only have to allow a little regular time to get to know the natural places in your everyday life and yourself related to those places. Journal enties don't have to be elaborate, but they should be carefully constructed in a way that is meaningful to you.
To begin, choose or create a book to designate as your nature journal. Depending on your preference, it can have lines and be more of a notebook, or it could have blank pages like a sketchbook. The size should be determined on your intentions, such as will you be hiking long distances with the journal, in which case it would probably be best to be smaller; or will you be using it close to home, in which case it could be whatever size you like. Next, create a format that is relevent to you and your area. I like to use date, temperature, wind, sunrise, sunset, and the tides recorded in the top right corner. These are patterns in nature that have a direct influence on me and the activities I like to do in nature.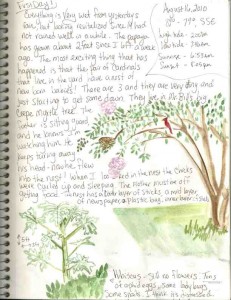 This is my first nature journal entry ever
When beginning your journal entry, take time to sensorially connect with the space. Close your eyes and breathe deeply, then go through the senses and see what information becomes apparent to you. Check in with yourself and see how you feel in the space – is it hot, cold, sunny, windy, comfortable, uncomfortable, etc. If you are feeling peaceful and comfortable in the space, you can begin to document things that seem important to or interet you in the space at that time. Perhaps it is a pair of birds chipping back and forth or a particular plant that has grown a lot since you last saw it. Maybe sometimes it is even an absence of peace in the space due to construction or mowers. I once went to journal in a public park and I couldn't relate to nature at all because of the multiple commercial mowers running. That is all part of being a part of the natural world in a suburban or urban environment, so it is valid to document. It is important to not get hung up on expectations of how a journaling experience should be and just take them as they come.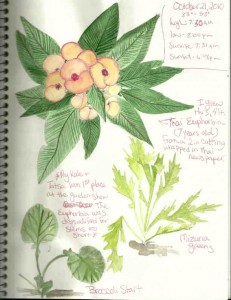 This one is a combo of veggies and ornamentals in my garden.
If you are just beginning to  reconnect to nature after a long time, the book Reconnecting To Nature: Finding wellness through restoring your bond with the Earth by Michael Cohen may be a great resource for you. He gives a connection activity with each chapter that applies the information from that chapter and gives interesting info about the many senses we have to connect with beyond the main 5. Listening to Nature: How To Deepen Your Awareness of Nature by Joseph Cornell provides really nice nature meditations and thoughts to use as tools for quieting the mind in nature. If you are going to be journaling with children, the book The Nature Connection by Clare Leslie Walker is a great workbook for children and adults to use together. I also have created nature journal and sensory observation chapters with activities based on my experience journaling myself and with children in the book for those looking to journal with groups of children.
I even like to sometimes create journal entries illustrated with photographs instead of drawings to mix it up, especially if I am going to be out doing something like canoeing in the marsh. The most important thing is that you journal regularly. You can even set a schedule so you are sure to journal at least at that time each week. The key is the more you journal, the more deeply you will connect to the natural areas around you.
Once you have a few entries, post them on the Facebook page. I would love to see them and share entries!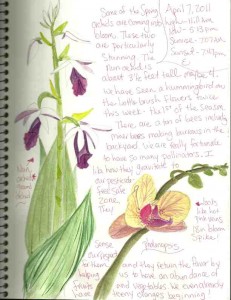 Special flowers in bloom in my yard.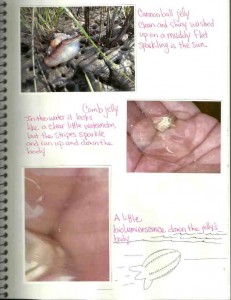 Cannonball and comb jellies I found on a canoe trip.