It seems like fall is the time when everyone feels like doing fun activities from crafts to fairs to cooking to harvesting. So to celebrate all this enthusiasm, today is your go to list of ideas of fun fall activities some for home, some for school and with a little creativity for both! Enjoy!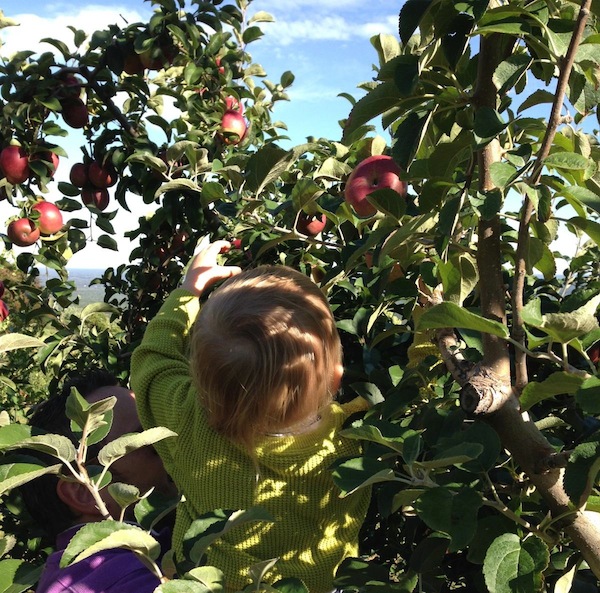 Even the tiniest of hands love a day on the farm!
5 Go To easy and super fun fall activities you can do –
this weekend
1. Visit a farm. Farms and orchards are full of action in the fall and most family farms welcome visitors even when they aren't having an event, so what better way to get involved in food that to visit the origins! Be sure to call first to make sure they are home! Check out this list of Florida Farms to visit compiled by Burnpile Press and pick up a few regional tips and treats whether you're a local, snowbird, or tourist!
2. Roast pumpkin seeds. Make sweet and savory pumpkin treats from all those scooped out jock-o-lantern seeds and even incorporate a little math if you want, with this Wonder Wednesday #14: The sweet and savory pumpkin recipe!
3. Build a hay fort. Make a visit down to your local hardware or feed store, or local nursery and invest in some hay/straw/ pine needle bales. Then take them home and build a little fort! Use sticks, fronds, or anything other loose parts you can find around to construct (the whole house doesn't have to be straw). Enjoy through the season and then break up the bales and use them as mulch, bedding, or as compost additions in your garden!
4. Get Crafty. Who doesn't love a sticky glitter drenched afternoon every once in a while? Embrace the fear of mess, Halloween is around the corner after all, and have a craft day! Check out these simple Halloween crafts to do with kids from Tinkerlab.
5. Have a backyard/schoolyard potluck camp out. Invite neighbors and friends to spend an afternoon and evening (or the whole night if you're up for it) enjoying the evening air complete with a fire pit, s'mores, tents to hang out in, spooky stories to tell, and activities from ideas 1-4! Have guests bring pumpkins to carve and then roast the seeds out of them over the fire, get ingredients for the potluck from local farmers at the farmer's market, build and rebuild the hay fort, have a craft table set up, and enjoy food, friends, and nature. Think of this party as a spontaneous get together to allow it to be way more fun, rather than something else to plan. Let it just "fall' together naturally!  Minimal planning and prep required because it is potluck and maximum fun because getting together outside is what really counts.
Which idea can you make happen this weekend?
Let me know in the comments below!
Share your fun fall activity pics on Instagram #wingswormsandwonder
Seeds to Sprout:
This weekend will be great for an outside party because today is the new moon so it will be extra dark! Learn more about the new moon here.
Happy New Year to my Hindu and Indian friends!! I wish you a wonderful Diwali!  नये साल की हार्दिक शुभकामनायें
Is your yard filled with acorns? Learn how to eat them in this post from last year's Food Day!!
And remember tomorrow is this year's Food Day! Are you celebrating? Just make a locally sourced dinner or lunch and you are! There is still plenty time! Get some ideas in this post.