Hello and happy autumnal equinox everyone!!
It officially became fall at 10:21 am in the northern hemisphere. (And happy spring to all of you in the summer hemisphere too!)
To celebrate the seasonal shift this week there was a giveaway, as you know, and today I am very happy to announce that Anke was drawn to be the winner of a spot in the fall quarter of the Journey Within art journaling course!!
Anke's favorite thing about fall is…
"Pumpkin! The thing I love the most about autumn is pumpkin, cause you can make everything with it. Soap, cake, mush, pie, you can eat the pumpkin seeds, you can use it for halloween, pumpkin muffins, pumpkin toppong, pumpkin curry and so on. And pumpkin never gets boing cause there are so many different pumpkins …. Unfortunately I do not have space to grow my own pumpkin but in my fantasie all these wonderful different pumpkins grow!!"
Which is quite fitting to be chosen since pumpkin and fall are pretty much inseparable these days!!!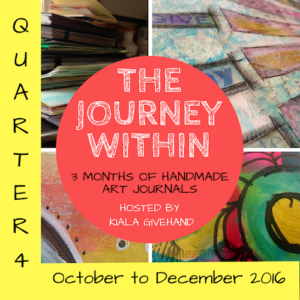 If your number/name didn't get picked this time, no worries you can always register anyway if you like!
Also, there are more giveaways planned for the near future, not for this course but for some really fun new things I have coming this fall! Stay tuned because I can't wait to share about these projects!!
Seeds to Sprout
Jump into the Journey Within today! Use my link here to join us for the quarter or get the whole year of weekly art journal activities and monthly book & journal making tutorials! So awesome! Just click here!
Wonder how I choose the winners for all my giveaways? I love everyone's comments so much there is no way I could ever pick myself, so I simply go down the list of comments and give each person a number. Then I plug the 1 – whatever number (9 in this case) into random.org and it picks a number for me. Then the person who's number that was chosen is the winner. Easy, fair, and keeps a nice element of surprise!