---
Wings, Worms, and Wonder new fabric designs are officially official! My first couple yards arrived while in the middle of hurricane prep last week, so I didn't have time to check them out for a week, but…
WOW! Is all I can say now that I've had time to open the package and check out the fabric!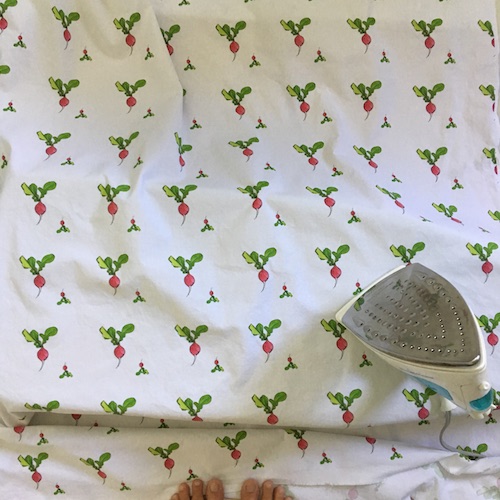 I love fabric. Having my own fabric seemed so unattainable that I never considered it until Spoonflower came around. And even then, I never thought it was a reality for me – that's why "make fabric on Spoonflower" was literally on my to-do list for about 2.5 years.
In July, after getting inspired in a very practical way by the marvelous Yuko Miki of Honeyberry Studios (Thank you Yuko!) I pushed my tech trepidations aside and jumped in.
I'm really glad I did too. Having my signature watercolor painted radish on high quality fabric printed regionally by an eco minded company of makers is an actual dream come true.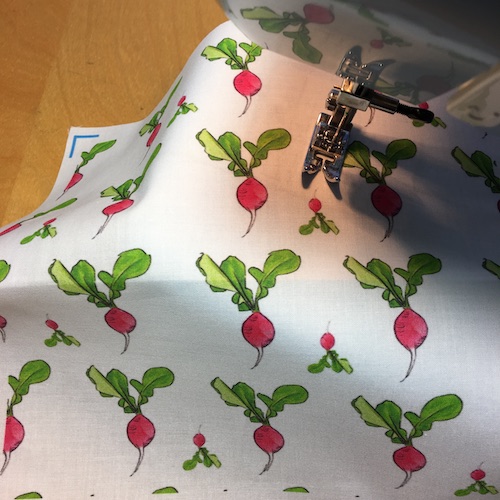 If you are an experienced sewist, you'll love all the fabric options they offer – from cotton, to canvas, to knits, to gauze, and lots more! There is a fabric type for any project – print each type with this fun radish design to bring a pop of nature to your everyday!
If you are new to fabric and sewing, or even just dream of sewing, why not jump in and make something? You have to start somewhere. Leave perfection to the wind and have some fabric filled fun.
I'm totally self taught (with the exception of a couple years of middle school home-ec and a few elementary Girl Scout stitching projects – does that even count?). If I can do it, you can too!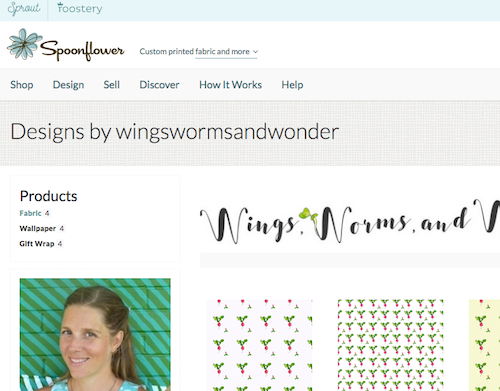 If you love this fabric, but the thought of sewing makes you cringe, never fear! Spoonflower partners with 2 companies, Sprout & Roostery who offer everything from clothing (patterns or ready made), to dishtowels, to pillows, to actual furniture all using Spoonflower fabrics!
The whimsical radish design comes in 23 fabrics & 3 color ways –  crisp white background, a subtle sky blue background, and a buttercream background to suit all your whims!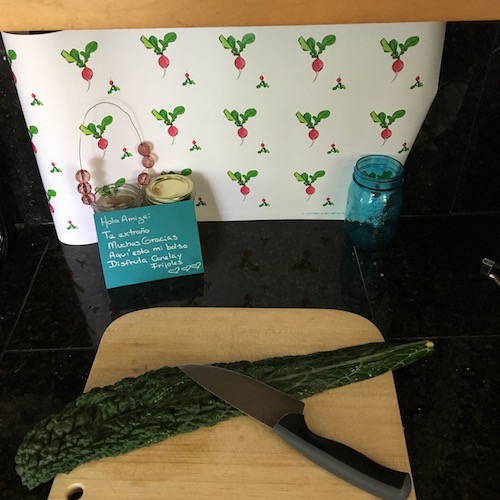 And it comes as wallpaper!!
I know so cool right? The wallpaper comes in 2 textures and are "fully removable, perfect for renters, kids rooms, dorms, or an easy change in decor! Every Spoonflower wallpaper is PVC-free and printed using water-based, eco-friendly inks."
So awesome right? It really brightens up my dark kitchen counter space! I can't wait to tac some up on my backsplash!
I'm looking forward to playing with the ways I can use this sticker style paper in making nature journals as well. I'm thinking it would make a great waterproof journal cover.
All in all I am so happy with the quality, look, and feel of this fabric and wallpaper. I hope you love it just as much and it inspires lot of nature popping projects for you. I can't wait to get to making more designs – and I promise it won't take me another 2 years!
What would you like to sew with the new Wings, Worms, and Wonder fabrics?
…An apron, nature journal pouches, placemats, purses, a tote,…?
Share in the comments below!
If you make a project with the fabric share on Instagram # & @wingswormsandwonder. I'd love to feature it!
Seeds to Sprout:
Order your new Wings, Worms, and Wonder fabric or wallpaper in 4 designs and many textures here!
Who better to learn fabric crafting techniques from than Martha Stewart? Check out these beginner hand sewing projects and get your sewing fun started!
Here are a few more easy and fun projects like potholders and pillowcases you could make by hand or with a machine. Some of these are even "No Sew" fabric projects!
I love this free purse pattern by Made By Rae. It would be totally adorable in this radish fabric and is on my list to make! I made my first version of this cute little purse on my machine years ago and still love it! But the friend I got the pattern link from hand sewed hers. If I've learned anything from this fabric making experiences it's never let a technicality slow you down. There's always a way around it!