Did you know that the National Environmental Education Foundation Program's National Environmental Education Week is just around the corner? It's April 14-20, so start getting ready now!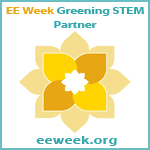 This year's theme is "Greening STEM: Taking Technology Outdoors." First thing: register your class so you can get a great benefits such as videos and downloads, tips and resources, teacher tool kits, case studies, and more.
I know you may be thinking STEM (Science, Technology, Engineering, and Math Education) doesn't sound like something I would be into, and true, generally you are right, but I think that this could be a great resource for those of you who have technology initiatives and standards to meet. So here you go!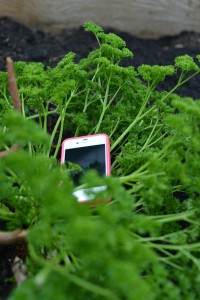 While I do recognize the value of integrating technology into nature as a means of making nature a viable source for meeting standards, dropping my phone into the parsley is more my style of mixing nature and technology!
Using technology as a tool for getting adolescents interacting with nature has become such a trend that there is even a Verizon commercial that has 2 teenage boys using their smart phones in the forest to identify the poison ivy that the dad is picking up. I am still not sure how I feel about this commercial as to whether it is encouraging staying "connected" at the expense of actually connecting to the nature environment. Are viewers getting the idea that technology in the forest is a means to an end not the end itself? What do you think?
Either way, I think the theme of EE Week this year is very on trend with the needs of teachers and with meeting many people where they are at in their nature reconnections. We just must remember to also schedule time for "unplugging."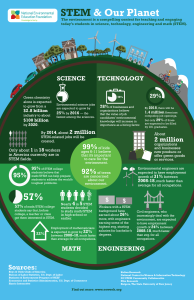 From eeweek.org:
"We'll explore how technology can enhance environmental learning both inside and outside the classroom.
As part of Taking Technology Outdoors, EE Week will highlight the growing opportunity to engage today's students in learning about the environment with new technologies that enable scientific research and develop 21st century skills, including creativity, innovation, communication and collaboration.
When you register for EE Week, you will join a national network of educators dedicated to increasing the environmental knowledge of K-12 students. You will also receive:
Certificates of Participation for both you and your students;

Monthly e-mail newsletters with classroom activities, funding resources and professional development opportunities;

Access to an online library of environmental curricula, resources and classroom tools;

Opportunities to promote your school or organization's programs and projects to a national audience of environmental educators;

Access to our series of webinars designed especially for K-12 educators to facilitate teaching and learning about the environment;

Discounts, giveaways and special offers from our partners, including: a 

10 percent discount

 from 

Nature-Watch

 on any online order, a 

$10 coupon

 on purchases of $50 or more from the 

Acorn Naturalists

 online store, and a 

25 percent discount 

on the Sustainability Specialist Certificate in K-12 Sustainability Education Strategies from the 

Green Education Foundation

."

All those perks sound pretty great right?! I've already registered (see my certificate to prove it) and have a whirlwind of a week scheduled. Check it out! I'll be at events in NYC, Richmond, Va., and St. Augustine, FL. If you are near, come say hi!
Get registered and start planning today. Then, let me know what you are you doing? Shoot me a comment, I would love to hear what you have in the works for integrating technology and your outdoor learning environment!


Seeds to Sprout:

Register for EE Week and get your certificate!

STEM resources from PBS

NEEF Greening STEM Resource page

NEEF EEWeek Toolkits

Don't forget to sign-up for the Wings, Worms, and Wonder quarterly newsletter to get the chance to win this apron!