As EE Week and Earth Day rapidly approach, have you decided how you will present ecoiliteracy in inspiring developmentally appropriate ways that steer clear of "saving" things and Ecophobia?
How about through the lens of food? What better way to connect children to place and the Earth than through their stomachs! Nourish is a non-profit that aims to help teachers do just that.

"Nourish is an educational initiative designed to open a meaningful conversation about food and sustainability, particularly in schools and communities."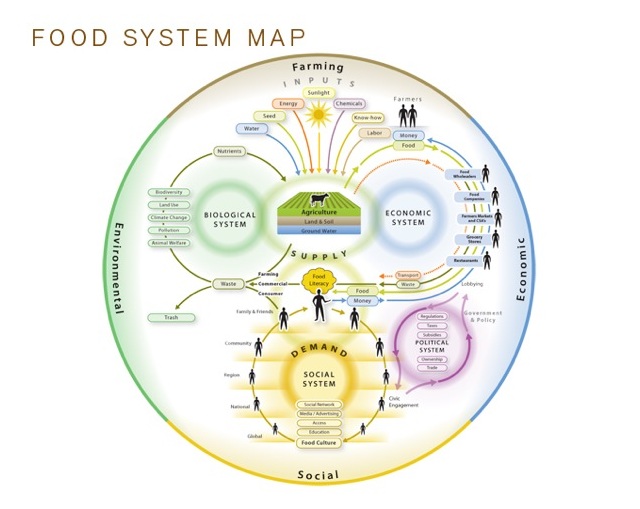 And guess what- they offer a curriculum for middle school (the so often overlooked age group) developed by the Center for Ecoliteracy!! Nature is exteremely important at this developmentally sensitive time of life. Nourish may be just the entrance you were looking for to bring food studies into the lives of your 6th-8th graders.
Maria Montessori stresses that immersion in nature is imperative for proper physical and psychological development and stated, "How often is the soul of man – especially in childhood – deprived because he is not allowed to come in contact with nature?" (Irinyi).   She takes the importance of nature's role in human life even further at the adolescent level.  Montessori emphasizes not only connection and experience with nature, but complete immersion.  "Life in the open air, in the sunshine, and a diet high in nutritional content coming from the produce of neighboring fields improve the physical health, while the calm surroundings, the silence, the wonders of nature satisfy the need of the adolescent mind for reflection and meditation" (Adolescence 112).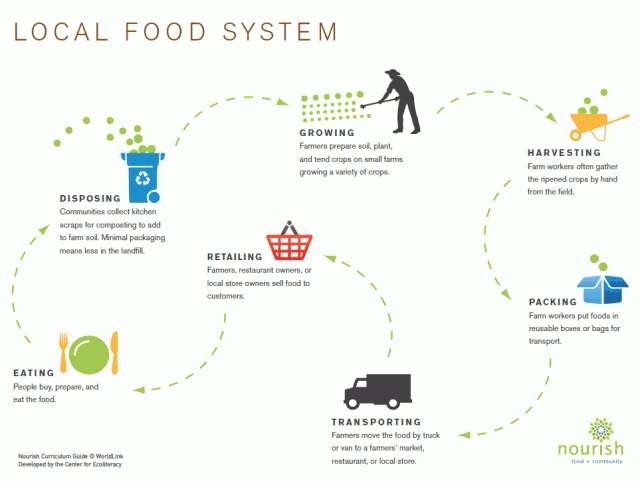 Today's place-based and systems thinking ecological literacy methods reflect Montessori's groundbreaking work and philosophy.  While differing from the place-based method in that Montessori starts with a global perspective encouraging children to recognize what they have in common with all parts of nature and place-based strives to connect children with the local environment to build respect for the global environment (Hutchinson 6), the desired result is the same – a peaceful, compassionate, and ecologically sustainable society.  The Montessori Method is systems based in nature due to the curriculum's cross curricular composition and has been described as an ecosystem because of its weblike nature (Sutton 22).
It is so important at all age levels (now more than ever as we sit in the shadow of the HR933 Farmers Assurance provision Section 735 "Monsanto Protection Act") to get children connected to organic, whole healthy foods for the sake of food security and human health. We must first entice their wonder through delicious whole garden fresh foods and artistic nature-study experience. Maria Montessori, the Nature-Study advocates, and the progressive educators have all stressed this and EE Week may be a great time to give it a shot!
Seeds to Sprout:
Download the Nourish curriculum PDF plus Spanish handouts!!! Remember to sign up  first though.
A collection of articles on food, politics, education and what not
Awesome Nourish blog on food systems with lots of videos by Michael Pollen, Jamie Oliver and the likes
A direct shot to the images you see above
Missed the post in the NEEF EE WEEK? Check it out here and get registered, it's free!
A little bit on the "Monsanto Protection Act" from the International Business Times
Works cited (A 2 paragraph blurb from my thesis on Montessori philosophy, nature experience, and systems thinking)
Hutchinson, David. "Teaching Nature: From Philosophy to Practice." NAMTA Journal. v 28 n1 p207-18, Win 2003. Print.
Irinyi, Michelle. "Montessori Philosophy: Nature – Nurturer to the Whole Child." North American Montessori Center. 21 July 2008. Web. 6 Sept. 2011. <montessoritraining.blogspot.com/2008/07/montessori-philosophy-nature- nurturer.html>
Montessori, Maria. From Childhood to Adolescence. Madras: Kalakshetra P, 1973. Print.
Sutton, Ann. "Educating for Ecological Sustainability: Montessori Education Leads the Way." Montessori Life. v21 n4 p18-25, 2009. Print.