---
Maria Montessori lived in Italy and Europe through 2 world wars, including a Fascist regime. She knew a thing or 20 about tough times – politically, culturally, and environmentally speaking.
Those challenging life experiences drove her to keep working, teaching, and striving for peace through education until her death in 1952, at age 82.
Now, in these uncertain times, it is more important than ever that we continue her work of education for peace. Education is truly the best weapon, tool, implement, and instrument to prevent the spread of fear and hate.
As Montessorians, it's our duty provide the younger generations with their own weapon of education – true interdisciplinary education, creative critical thinking.
I don't often get this political here, but with so much hate flying wild in my home state and beyond for so long now, I feel I have to speak out a bit. We must arm ourselves and our children with mind power.
We have our words and voices, and we have our education and ability to keep learning for life. We have the strength to stick together to stand for peace and equality for all.
Maria Montessori wanted her methodology to help prevent future Fascist regimes and wars. Let's draw strength from her genius and "educate the human potential". World peace depends on it. Rest in Power Maria!
How can you help educate in your community beyond the classroom walls?
Share in the comments below
Seeds to Sprout
Have you read Peace and Education by Maria Montessori? No? Well get a FREE digital download here!
How about one of my other favorites Education for a New World? Get a FREE pdf version here!
What about To Educate the Human Potential? Download it FREE here!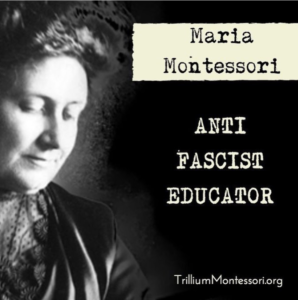 Looking for more resources for peace education? Check out Trillium Montessori!
Remember Maria Montessori's birthday is this Thursday 8/31! Will you do something special? Perhaps have an Italian pastry and a peace parade!