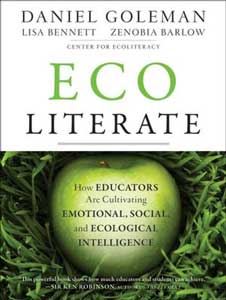 For the past month, the new book Ecoliterate: How Educators Are Cultivating Emotional, Social, and Ecological Intelligence, authored by Daniel Goleman, Lisa Bennett, and Zenobia Barlow (and published by the Center for Ecoliteracy), has been quite a hot topic and is receiving a lot of praise from many sources – which on many levels it deserves. The book is reader friendly and filled with many diverse stories of various ways organizations and educators are working to raise awareness and ecoliteracy around environmental issues such as mountain top removal, school lunch programs, and water conservation. Each of the examples illustrates ways in which the project increased the students' critical understanding of the particular environmental issue and ways in which students and teachers could become activated to work for change ecologically using the "5 Practices of Emotionally and Socially Engaged Ecoliteracy" (Goleman 10). These practices include: "Developing Empathy for All Forms of Life…Embracing Sustainability as a Community Practice…Making Visible the Invisible…Anticipating Unintended Consequences…[and] Understanding How Nature Sustains Life" (Goleman 10-11). Each practice is grounded in systems thinking (as defined by the CEL) and definitely grounded in place-based education methods. This book carries a similar tone and format as the CEL's other books Ecoliteracy and Smart by Nature, which I see as as a strength because they are developing a style for the information they are presenting. One of the strongest points of the book is the last section "Professional Development Strategies" (Goleman 111). While the other sections engage the reader with inspiration, illustrations of what is possible, and reflection questions, this section gives actual tools and methods to educators in formal and nonformal settings wanting to activate ecological literacy in their schools or learning environments. This section is a wonderful resource for anyone wanting to create a more placed-based and environmentally minded school culture. The aim of the book is right on. It provides examples of and techniques for the holistic approach to environmental learning that is absolutely necessary if the children of today are to become ecologically literate and environmentally responsible citizens of tomorrow.
That said, while I was reading I couldn't help but feel slightly "Ecophobic" (Soble 5). I was surprised by this considering the completely non-ecophobic aim of the book according to the press released by the author, the CEL, and the philosophy of the work itself. As I continued to read, I was again surprised that this concept ("Ecophobia–a fear of ecological problems and the natural world" (Sobel 4)) was never mentioned once in the entire text as at very least something to be aware of when presenting environmental and sustainability issues to children. My first thought on this occurred in the "Introduction" subtitled "From breakdown to Breakthough" (Goleman 1). I agree that the story being told about a group of California 1st graders' ocean habitat project was engaging. I was enjoying the teachers' attention to detail and ecological web based teaching style and I was impressed with the ways in which they involved the school and parent community in the project to raise awareness and understanding of the ocean life off their coast. I could relate to the students' pride in their research and their excitement grounded in connecting to their local natural environment from my own students' research work. Then, I read the next stage of the project and was stunned! The morning after the parent event of which the students were so proud, the teachers simulated an oil spill all over the students' work! For 1st graders!! The first thing that ran through my head was "NO TRAGEDIES BEFORE FOURTH GRADE!"(Sobel 27). I could feel the horror those 6 and 7 year old children must have felt when they saw their ocean destroyed. Yes, I agree, that the experience made a personal impact on the students (Golemam 1), but what kind of long term impact? As I continued on with the book, moving beyond that initial surprise, I couldn't shake the feeling that it was focusing on connecting to nature first through environmental destruction and then evolving the relationship into care through action and responsibility. The oil spill teacher teacher reflected that "Indeed, through mock disaster…she saw her students progress from loving the ocean creatures they had created to loving the ocean itself" (Goleman 2). I have a hard time believing that there isn't a more developmentally appropriate way to get 1st graders to love the ocean! I don't think this is a bad approach, especially for middle and high school students (and learners beyond) for whom it is developmentally appropriate, but it all seemed a little too intensely ecophobic for early elementary school. I defined this stance when I later read a quote from a very established effective organizer and K-12 educator in Chapter 6. She said, "You can get kids to the point of despair, and then you have to face, what are you going to do….I've talked to other teachers who get pulled into environmental education the same way. The kids get so depressed that the teacher feels compelled to do something" (Goleman 78). YIKES!!! Where is the balance with initial nature connections made for the sake of the aesthetic beauty and joy that nature brings to our lives? True, life isn't all rainbows and starfish, but for the extremely short time of childhood we must activate the child's innate sense of wonder and connection to nature through positive experience in order to build a lasting relationship that evolves into sustainable lifestyle choices through adulthood. And what about the students that you have lost, permanently turned off from environmental connection, because an initial experience was all too developmentally tragic or overwhelming for which they had no previous positive association with the natural world to fall back on? I feel like that through my personal experience and intense research on the subject, that I can make the statement that most people want to become involved in things that make them feel good, connected, and empowered. If unbalanced environmental awareness and experience only makes one feel depressed and ineffective, they aren't going to work to improve either an environmental issue locally or ecoliteracy on a greater scale.
To rewind slightly, the premise behind "Ecophobia," a term coined by place-based educator David Sobel, is that by presenting environmental tragedies too early, we actually create feelings of despair and aversion to the natural world rather than the intended message of inspiring children to get involved in environmental responsibility and activism on first local and then global levels. His research has shown that presenting (or pressing to "save") abstract environmental problems such as rainforest destruction, or oil spills in this particular case, is "beyond the geographical and conceptual scope of young children" (Sobel 27). These issues are too overwhelming for children to understand or feel empowered to take on. Now, you may be thinking what about school programs such as those of The Rainforest Alliance? I am not saying that these groups are ineffective. When utilized in an age appropriate way and when used in conjunction with connections to local environments (which The Rainforest Alliance does a good job of) these issues can be presented to children with positive outcomes. But bringing it back to the book, I believe that a special awareness must be held at all times when working with children so that in an attempt to cultivate the important skill of ecoliteracy, we do not inadvertently create feelings of ecophobia. I propose, as related to this particular ocean oil spill anecdote, that perhaps it would have been more developmentally appropriate to hold off on the oil spill portion of the project until middle school when the students' would be more able to grasp the scope of what an oil spill in the ocean means and be more able to effectively participate in experiential activities which would benefit creatures effected by an oil spill. I would have followed up with a hands-on ocean experience. I strongly align with the schools of thought and research (Richard Louv is a strong popular proponent of this research) that say early and middle childhood should be devoted to building a loving relationship with the natural world. Let's let children have fun connecting to nature before we ask them to start saving it.
So in sum, I do think the book is a great read. It is beneficial on many levels for illustrating the strength of ecoliterate learning and teaching approaches and will be great for teachers of all types to read and implement the strategies into their classrooms, school cultures, and communities. But, I hope readers remember Sobel's advice and implement, in addition to promoting ecoliteracy, experiences that promote wonder. Ask yourself this, if you were a 1st grader, which experience would leave the most initially inspiring impression on your mind and would activate you to take steps toward "saving" something: watching a sea turtle nest hatch and seeing those little guys dash toward the ocean and the moon or viewing a film and pictures of sea turtles in despair? I know I would pick the nest hatching and then take steps to ensure that the children in my life and those of generations to come get to witnesses that same miracle.
To read more on this new book and Goleman's ideas check out this interview: http://www.forbes.com/sites/danschawbel/2012/08/01/daniel-goleman-on-the-importance-of-ecological-intelligence/
To Lean more about the Center for Ecoliteracy and what they offer (they have some great free downloads!) or watch a short video of the author speaking on the book see: http://www.ecoliteracy.org/books/ecoliterate-how-educators-are-cultivating-emotional-social-and-ecological-intelligence
To learn more about David Sobel's work and preventing ecophobia explore: http://www.yesmagazine.org/issues/education-for-life/803 or http://www.edutopia.org/david-sobel-lighting-minds-wonders-their-world
Works Cited
Goleman, Daniel, Bennet, Lisa, and Zenobia Barlow. Ecoliterate: How Educators Are Cultivating Emotional, Social, and Ecological Intelligence. San Francsico: Jossey-Bass, 2011. Print.
Sobel, David. Beyond Ecophobia: Reclaiming the Heart in Nature Education. Great Barrington: Orion, 1996. Print.