Eco Art is a broad term to describe genre of art that addresses the human relationship with the earth. Eco Art or environmentally based art is not a new art niche by any means, and I have found that it is an incredibly effective tool for engaging modern students of all ages in the process of exploring their own relationships with the land that inspires and sustains them. Last week's post explored the idea of ecological identity and Wonder Wednesday presented an artistic activity for examining your own ecological identity (as well as that of your teen age and young adult students). While those activities are not developmentally appropriate to do with younger children, Eco Art definitely is.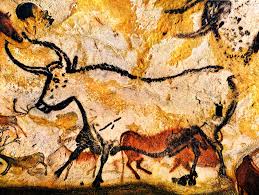 The famous cave paintings of Lasceaux, France
The New World Museum believes environmentally based art is "The intermingling of art and the environmental is a phenomenon with roots in some of the earliest known human works."  Humans have been expressing their thoughts about nature since their beginning.  Whether to relay information on animal migration on a cave wall, to please a deity, or capture and express the elements of science, beauty or both from the natural world, artists have attempted to convey their relationship with nature, so distant and so familiar all at once, through their work.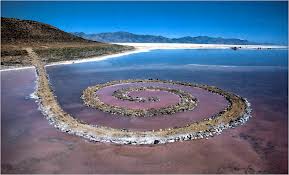 Robert Smithson's Spiral Jetty. Perhaps one of the most famous Land Art works, often critiqued now for manipulating the land in a way too dominating.
At the dawn of the twentieth century, art was often used as a way to engage in nature study, especially for women.  While grounded in natural history, art was a way to appreciate and connect with a natural world that was quickly becoming transformed by industry. The mid-twentieth century saw the Land Artists expressing their connection, or desire for connection, to nature by vastly manipulating large areas of land, often by (hopefully inadvertent) destructive means. In the latter portion of the twentieth century, artists began utilizing natural forms and nature itself to draw public attention to environmental spirit and consciousness. In the twenty-first century, environmental artists' work seeks to invite the viewer to address issues such as finding a balance between media, pollution, and development with a human need for nature connection in a culture of convenience that often comes at nature's expense.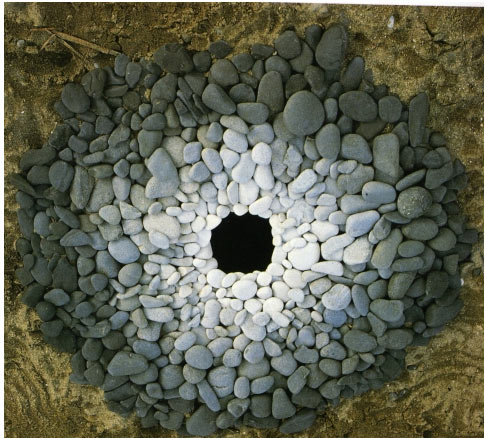 Andy Goldsworthy's work is much more environmentally harmonious, and beautiful in my opinion, than many Land Artists. His is more of a leave no trace type of work.
Eco Art can be embarked on in a wide variety of ways from the hands-on manipulations of natural materials in natural settings to creating online content such as infographics. This flexibility makes it very attractive and approachable to people of all ages and interests in the natural world. It is also a useful tool for balancing the scientific aspects of integrating nature into the classroom without sacrificing the inherent emotional side of learning in and connecting to the natural world.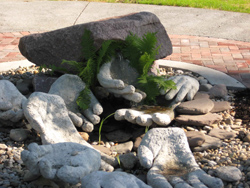 "Biosculptor" Jackie Brookner's work often combines more permanent sculptural elements with plants and water elements in garden, park, and museum settings. She also brings her work indoors to the museum setting to further engage environmental conversations in formal settings.
My favorite aspect of a significant portion of Eco Art is that it is often ephemeral. It frequently focuses on process and connection with the materials rather than a finished product that will last forever. Nature takes it back. Process over product is such an important lesson. This idea and frees us of any fears related with not being a "good" artist and allows us to just have fun with the materials while exploring forms, textures, and colors in naturally inspiring environments.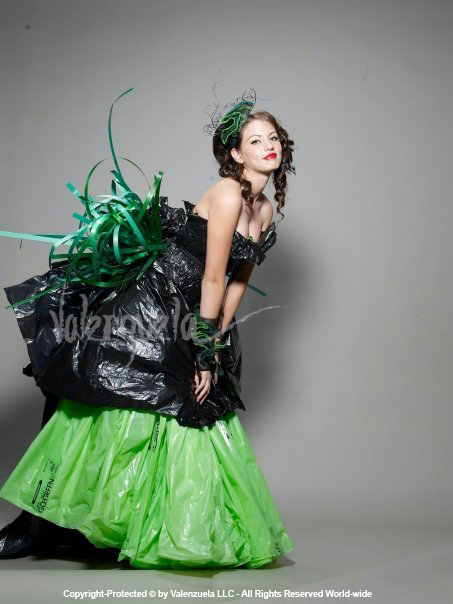 Even the fashionistas are in on it! Eco Art isn't just for hippies, it's couture! Designer Luis Valenzuela gets the high brow crowd considering the environment!
I hope these Eco Artists have sparked some ideas for how you can integrate Eco Art into your everyday life and learning environments! It is a lot of fun and can really spark some wonderful conversations about place connections, history, natural history, and shared natural experience that often have the potential to grow into new projects of their own while encouraging multi-generational learning, building community, and facilitating nature connections!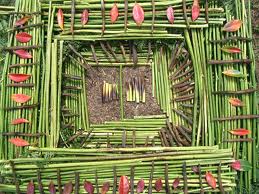 French Eco Artist Karen Raccah creates beautiful works and also is very active in getting both children and adults connected to nature through Eco Art.
These environmentally minded artists are just a sample of those who have created work attempting to encourage environmental thought in the artwork's viewers. Through art, artists, scientists, students, and society as a whole can collaboratively respond to the larger environmental questions facing twenty-first century culture. The fields of science and art can join to creatively solve problems, or at least bring awareness to the problems and thereby inspire action. "Throughout history, both art and science have tested boundaries, questioned assumptions and pushed us to reconsider our relationship with the world around us and within us" (NWM 85).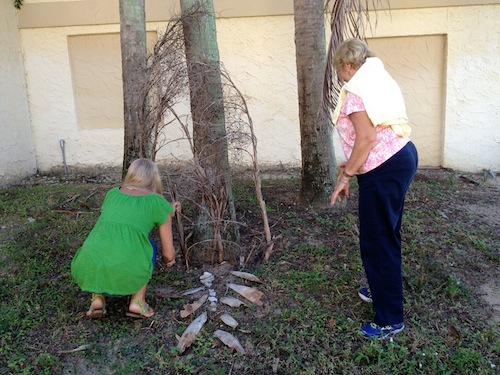 These teachers explore Eco Art concepts in one of my workshops!
Who is your favorite Eco Artist?
Where would you like to create ephemerial nature art? At the beach? In the woods? In urban parks?
Share your ideas in the comments below!
Seeds to Sprout:
Would you like to work with me on developing your own Eco Art project or have me teach an Eco Art workshop at your school or community garden? I would love to! Check out more about working with me and send me an email!
If you are interested in teaching more about Eco Art and environmentally engaged art practices definitely read the book Arts for Change by Eco Artist and University of Washington professor Beverly Naidus. It is invaluable!! She is a huge inspiration for me for sure! Check out a video of one of her class' projects here.
Check out this Backyard Art Camp blog series for ideas to create Eco Art project experiences with younger children. This link is to an Andy Goldsworthy project. His work is fun for winter projects because he often uses ice.
Kids Gardening also presents some fun Eco Art ideas in this article.
Learn more about the Eco Art scene and why Portland Oregon is a hub in this article Portland: Eco Art Central.
Check out more of EcoArt inspired fashion by designer Luis Valenzuela
Learn more about the New World Museum and their exhibits and publications. Cited here: Natural World Museum, NWM. Art in Action: Nature, Creativity and Our Collective Future. San Rafael: Earth Aware, 2007. Print.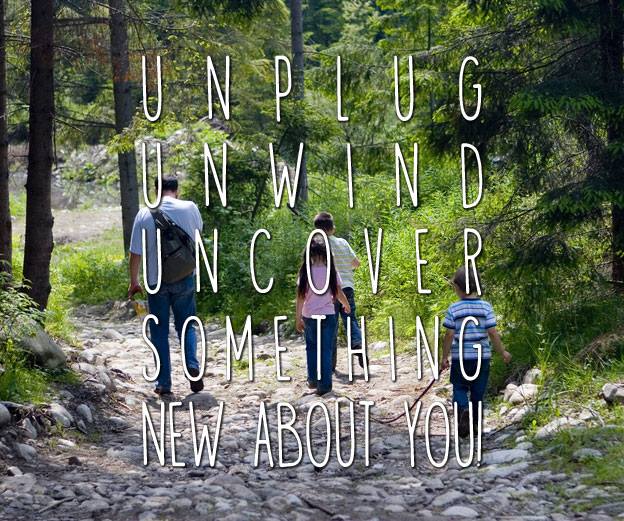 Creating infographics is a great way to connect students who aren't ready to "disconnect" to the practices of Eco Art, is a fun way to tie Eco Art projects into mandated technology initiatives, and helps modern students bridge their connection with their natural world to their "connected" world while opening ideas that emerged during Eco Art experiences up to social media discussions. This one was posted on Facebook a few days ago by Discover the Forest.
take a look at these artists!