Last Friday I was spontaneously invited to a tea workshop out at Fruit Cove Cactus and Foliage, better known locally as Eat Your Yard Jax, the farm of north Florida local food advocate and urban farmer force of nature Tim Armstrong. I have been wanting to get out there for years, literally, so this was a really exciting chance to get to check out the farm and take one of Tim's locally famed workshops–on one of my favorite subjects no less! Tea!
Tim with his very sweet nature boys, all excellent farmers in their own right!
The workshop focused on all the unexpected plants you can grow at home to make tea out of–ranging from the familiar camellia sinensis-actual tea like your grandma makes ice tea, to the historical yaupon holly "black drink", to the unexpected herb catnip, to the common porterweed, to the exotic moujean tea steeped from a shrub native to only 1 small Bahamian Island, and lots more! We tasted a variety of teas and explored how tea can be used in everyday life. Every tea we sampled or discussed was being grown on the farm and was freshly harvested moments before steeping. Time even sweetened the tea and the experience with his homemade jams and honey from his very own hives. (More on Tim's hives in future September posts!)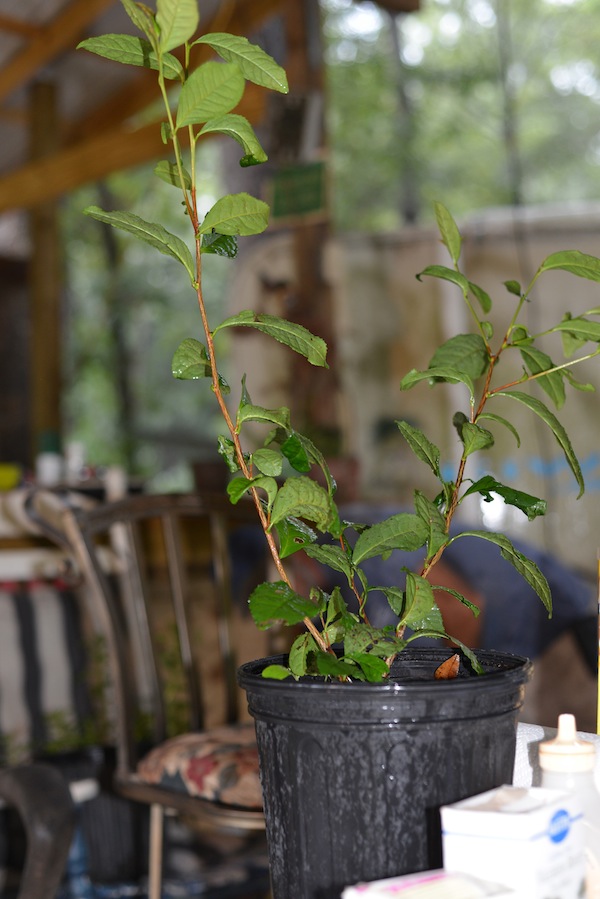 How about a nice tall glass of sweet tea, or a hot cup of green tea- it's all in how you prepare it!
I like to think of myself as somewhat of a tea connoisseur in that I have always loved all different kinds of teas from around the world and in college even waitressed at a super hip tea room in Savannah, GA, (no doilies there–all art nouveau design!).  There I learned tons about the proper preparation of different types of teas, but I learned so much lot from Tim in this workshop and took my local tea knowledge to a new level. I never would have thought of making a catnip herbal tea and it was great- and bee balm isn't just for bees, it's for teas! I'm growing them now thanks to Tim!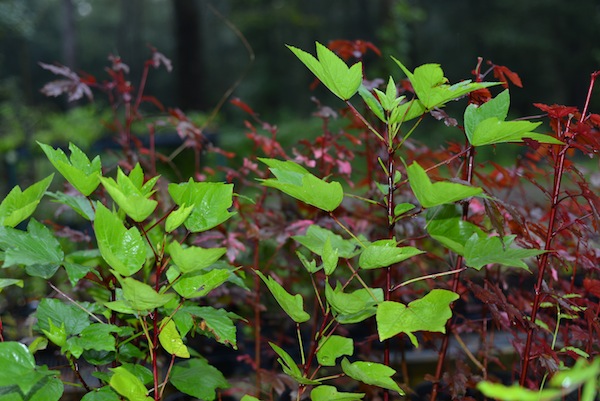 Jamaica is the green plant in the from and the cranberry hibiscus is the red in the back!
I also finally got my confusion on the difference between roselle hibiscus or Jamaica (ha-my-ca) in the spanish speaking Carribbean and Central America (hibiscus sabdariffa) and false roselle or cranberry hisbiscus (hibiscus acetocella) straightened out. Roselle hibiscus is what I make rosa de jamaica from and from where the popular "Red Zinger" tea comes, not the leaves of the cranberry hibiscus plant, which can be made into tea, but are really delicious to eat in salads. It sounds silly but I have been trying to figure out the difference for a really long time!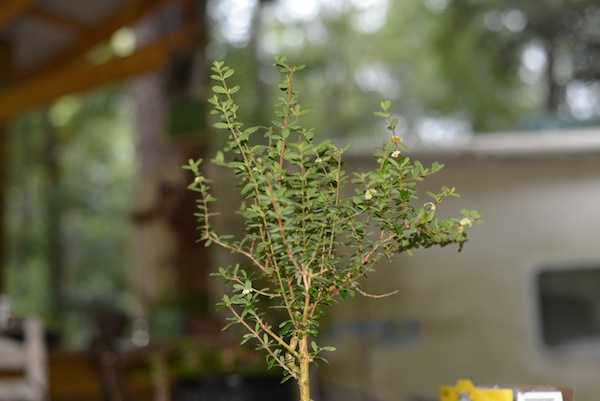 The Bahama Berry is often grown by bonsai lovers because of it's small stature. I am looking forward to making this for my sister who used to live in the Bahamas & her Bahamain Husband!
Especially interesting was the historically significant "black drink." This is a tea made from the leaves of the southeastern US native Yaupon holly (Ilex vomitoria). This tea is similar in roots to the South American Yerba Mate (Ilex paraguariensis). In the southeastern United States, it was used as a ceremonial drink by many Native American tribes including the Timucuan, Muscogee, Choctaw, and Cherokee and in daily events such as council meetings (the original morning coffee and paper) and purification ceremonies. It was shared communally often drank from a decorated whelk shell.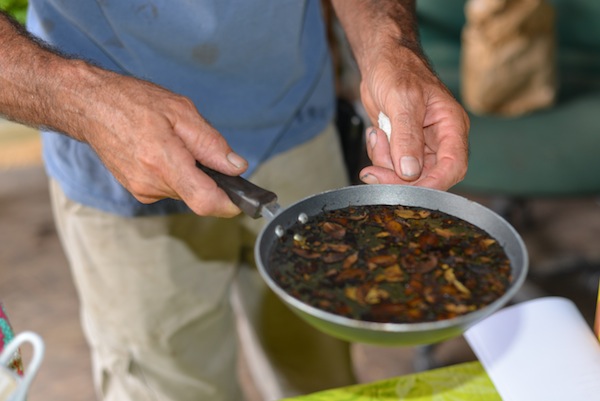 Preparing the Yaupon Holly "black drink" looks like cooking up what you just raked up!
The Black drink is highly caffeinated and Tim recommended, from experience, not drinking it too late at night, unless you have some midnight plans! If you have a correct identification on a Yaupon Holly tree and would like to try to make some of this tea yourself, pick the young leaves as close to consumption time as possible for optimum freshness, wash, and pat dry. Then flash roast them in a dry skillet until they are dark. The Native Americans did this in a clay pot in a fire if you are inclined to go old school. Then boil in water about 30 minutes (on the stove or over a campfire depending on if you are old school or new school) until the water turns black/dark brown (hence the name black drink). Then consume warm straight  or with honey and/or milk of your choice because it may be a little bitter for some.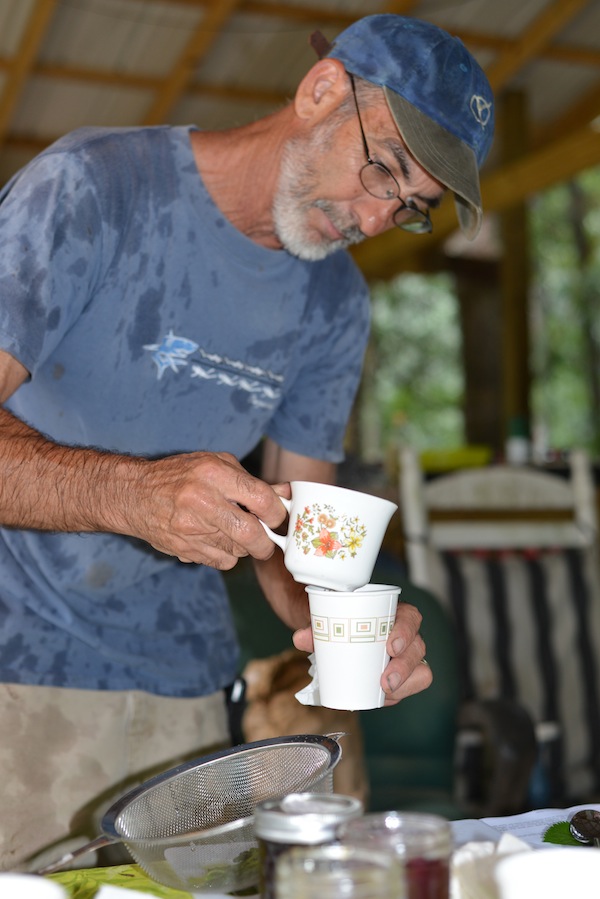 Tim likes to make a latte with milk and honey with his black drink. (He braved the downpour to gather us the freshest herbs for tea!)
Harvesting herbs form the garden and having a tea party or making herbal infused waters is a great activity to do with children too! It is one of my favorite workshops I teach. Some really child friendly blends are mint and stevia, roselle (either kind) and lemongrass, lavender and rosemary, and oregano and basil. Throw a few edible flowers on top and be sure to have some local honey on hand for the children to sweeten things up! They love it!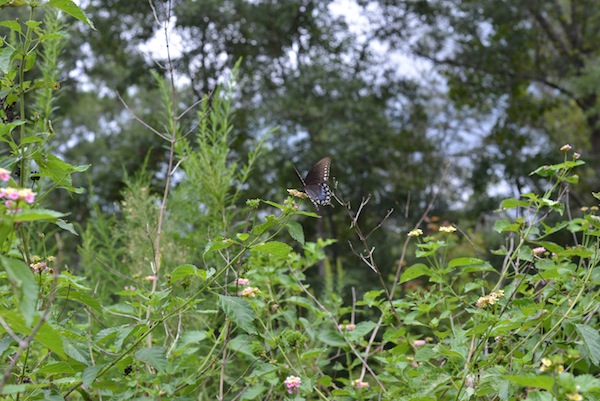 Wildlife abounds when you can "Eat Your Yard!"
Eating from your yard and from the wild can be tons of fun and really delicious, but as with any edible landscape or wild plant, be sure you have a proper identification and know for sure 100% that it's edible and are aware of the proper preparation techniques.
What is your favorite kind of tea and place to drink it?
Seeds to Sprout:
If you live in north Florida, take a look at Tim's workshop lineup. Learn how to do everything from grow mushrooms to make cobb ovens! Also check out his amazing work on one of my all time favorite school farms  Berry Good Farms
Get some tea brewing tips from the Savannah Tea Room–where I learned!
Check out this NY Times article on The Black Drink
Learn more aout the history and ethnobotany of the Yaupon holly in the book The Black Drink: A Native American Tea by Charles M. Hudson
(Disclaimer: I do not recommend ever wildcrafting or ingesting anything unless you are absolutely sure you have a correct identification of the plant and do not have allergic sensitivities.)