It's Official!!! 
My Draw Yourself Back to Nature eCourse will be starting May 4!!! I am so excited to be able to offer this awesome journey to nature connection through creativity!
My in person nature journaling workshops have been so well received, I thought why not create an experience with people all over the world!?! Isn't that what the internet is should best be used for, connecting and inspiring?
Over the next month there will be lots of fun events like blog hops (with prizes), journaling centered posts, and more.
I am really excited to focus on nature and art this spring because I love it! I truly feel art is one of our strongest tools for building nature connections that result in happier healthier humans and communities.
Mark your calendar: Registration opens April 13, 2015, at the Early bird price of $45, so be sure to mark your calendars!!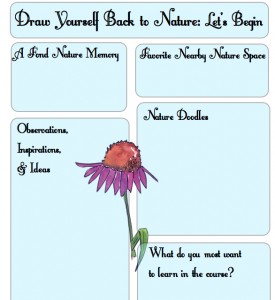 Here's a sample of one of the course fun sheets!
In this month long journey of nature art journaling learn:
sensory observation exercises
history and roots of nature journaling and lifestyles inspiring journalers
how to use art and journaling to connect to nature
drawing and art techniques
In this month long journey of nature art journaling get:
journaling prompt exercises
access to a private online community
informative and fun instructional videos
live sharing and open studio hours
downloadable journaling funsheet activities
wonder sparking sensory observation adventures
&
inspiring nature connection missions….
no previous art or nature experience required!
What would you most like to learn to draw in nature?
Let me know in the comments and I will teach you in the course!
Seeds to Sprout:
Sound like something you are interested in? Learn more here!
Sound like something a friend would be interested in? Share the info with them!
Check out and follow the Draw Yourself Back to Nature Pinterest board with upcoming surprise guest pinners!!
Early childhood connectors!! Looking for a conference focused on connecting young children and nature? Well the NAAEE's Natural Start Nature Based Pre-school National Conference  may be just what you are looking for! I'm definitely considering being there!