Today is the final day in the Draw Deeper Into Nature Interview Series. WOW! Right? What a week of inspiration!
These are some seriously energized women putting stellar creative nature connection energy out into the world and I am so thankful they allowed me to interview them here on the blog for this series and to feature them in the Draw Deeper Into Nature course!!!
& many of them will be popping into the course too so if you join you can get to know them a little better over the coming 4 weeks, which I know I am excited about!
So, if you missed any interviews this week, be sure to go back and check them all out – AND comment on each one by Sunday (at midnight est) to be entered to win a Free spot in Draw Deeper Into Nature!
To leave you bursting with creative nature inspiration for the weekend, today I am thrilled to introduce:
The intuitive Lisa McLoughlin!
Lisa is an artist from England who uses her nature connections and art as a way to help herself and others tap into the wisdom, that if we listen, nature provides us. From the healing properties of herbs, wildflowers, and trees portrayed in her decks,  to her illustrations and paintings, Lisa's art embodies the textures of nature and life.
I first learned about Lisa McLoughlin Art through her Plant Ally Card deck and have been enjoying the way Lisa encourages us to use artistic expressions to connect with nature's wisdom every since. We are both teachers in The Journey Within course this year also!
Let's get to know Lisa!
1. Living in the UK, growing up was nature journaling and time spent in the lush woods a part of your childhood foundations in nature?
I grew up in North Wales, so being surrounded by woodland and nature was a big part of my childhood. There were large fields and many trees directly within my neighbourhood. I would spend many an hour climbing trees, building dens, rescuing birds and observing nature.
I remember being particularly obsessed with ladybirds, butterflies and tadpoles! As a child, I was a member of the RSPB (Royal Society for the Protection of Birds) and spent time listening to bird song and identifying the birds in my garden and surrounding areas. I often sketched and painted too and created ornaments out of twigs and grasses. I was fascinated by beautiful paintings and photography of nature within hardback books that my parents owned
That is so wonderful and wonder-filled!! The more nature inspired artists I speak with, the more real life stories I gather about the serious importance of nature's role in childhood.
How wonderful you learned so much about birds in childhood! I bet you still can recognize the bird songs and combined with your experiences playing in nature and looking at books, there is no way creativity and nature weren't going to be a part of your story!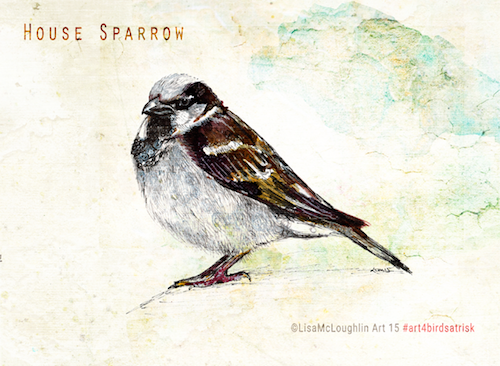 2. How did you come to learn the herbal lore connected with your Plant Ally and Tree Wisdom card decks and which inspired you first – the lore or the plants themselves?
I have always felt a deep connection with plants even before being introduced to any herbal lore. My background understanding is more in forest gardening, permaculture, ecotherapy and organic locally sourced food.  But, I knew I wanted to create nature-themed art.
An idea to create a deck of cards came to me when I was spending time in ancient woodland in Southern Ireland. I had an overwhelming feeling that everything was going to be okay. At the time, I did not know much about the essences of flowers and trees. But, I was serendipitously introduced to the knowledge after being in the ancient woodland. I was open to ideas for creating my cards. My curiosity and intuition led me to the teachings that flower and plant essences are about the energy of the plant.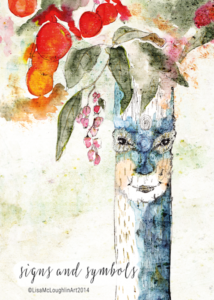 As we are all energetically interconnected, I felt that we could connect with the energy of a plant, even if we are starved of natural surroundings. So, to cut a long story short, I researched many practitioners of flower and tree essences and worked with the teachings that felt resonant with me. I do not view myself as an expert in this area. All I know is that the ideas for the artwork flowed easily as I studied each plant in turn.
I feel particular attraction to the wild plants as I love their resilient qualities. I worked with my instincts and intuition and created each piece of artwork in the moment.
That is fantastic. It isn't so much as which came first as the ideas organically evolved from nature itself – both your history and current connections. Flower essences are really amazing. That is really interesting that you learned about the essences to portray their wisdom in the cards. Isn't it always the case that if we open up to curiosity, instinct, and intuition, that things flow right into place!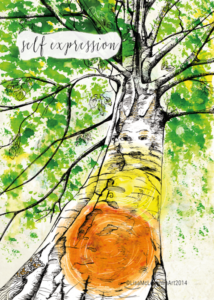 3. I love the story of the selkie too. How did nature play a part in helping you find your artist "soulskin"? What advice do you give to nature artists seeking or just finding their skins?
My website photographs were taken with the selkie story fixed in my mind. I arranged for the photos to be taken close to the sea and near a woodland. During the day of shooting, I noticed how at peace I was and that this was the start of my artistic journey back to myself. I feel so expansive whilst grounded when I am in nature. I know it is healing.
I initially did not make a connection between my art process and nature. It was the 'aha' moment in the ancient forest in Ireland where I realised how my art is so inspired by nature. Since then, regular connection with nature and choosing nature-based themes is where my art naturally shines. I cannot separate the two now. I need nature for my art process, meaning making and as muse.
I love how you say your artistic journey back to yourself. That is so often the case. When we make space for creativity in our lives, so much more opens up and we learn things about ourself and what inspires us. I am the same way. I need nature and landscape for my process. Nature and art are inseparable for me also!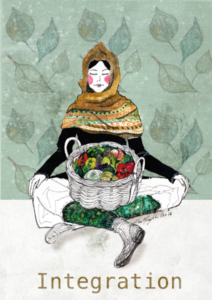 4. Your work has such layers of depth. What can you share about your materials and process for creating such textured and layered work?
My basic materials are pencils, black pen, gouache and watercolours. I currently live in a small flat in London with limited space to make art. I had to find a way that I could expand my artistic creations whilst keeping to a table and a little bit of floor space. So I started creating my artwork in layers and scanning them into the computer.
Within Photoshop I could then play around with my art and collage the individual pieces into something. I was then able to add textures created from taking pictures on my iPhone or other sources and collage them as layers into my work. This has allowed me to develop a fresh style. I now have many computer files of my watercolour splashes, pictures of concrete and scratches etc, that I can re-use over and over again without taking up too much space.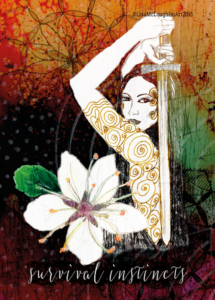 I don't like to use digital art tools/brushes/effects to make my art. I just take advantage of the ability to copy and paste, arrange in layers, alter brightness and contrast and overlay textured effects. So it is all a happy accident born out of a need to be efficient and space saving.
Longer term, I hope to create more collaged artwork without the help of a computer… but will probably have to move out of London to do it. I like to work quietly on my own with my music, so I don't think a collaborative studio space will ever be my thing. One day I may create a course on my process…;)
I love how you didn't let space limit your creativity and how you took a balance of tools to actualize you vision. I agree, you do have a fresh style! And what a fantastic way of balancing nature, art, and modern technology – all tools balanced in a tool box of a creative, nature connected, inspired life!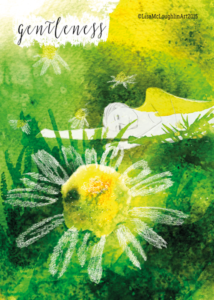 5. What's your favorite smell in nature and is there a story why?
My favourite smell in nature is Petrichor (the earthy scent produced when rain falls on dry soil). I actively hunt it out. It reminds me of my connection to nature. I love the rain and its necessity for lush growth.
What a smell!! It is instantly relaxing isn't it? Like a tension release. How fun to actively seek it out!! It does carry such strong memories and feelings – perhaps deep within us form generations past as the rains signaled seasons changing, crop growth, and the life sustaining gift of water. 
Lisa's Bio
Lisa is on a journey back to herself to discover her own innate wisdom. This is reflected in her powerful desire to craft beautiful and evocative artwork that helps you connect with your own heart and soul.
Combining her experience as a physiotherapist and coach, with her intuition as an artist, she makes nature-inspired gifts such as oracle cards and handmade illustrations for digital spaces.
What aspects of nature are part of your artistic journey?
Share in the comments below!
Comment on every post interview this week (May 16-20) to be entered to win a free spot in Draw Deeper Into Nature!
Winner announced Monday May 23!
Seeds to Sprout:
Check out Lisa @lisamcloughlinart
& Find her Plant and tree wisdom decks on her site and follow the progress of her new lifedesigntoolkit deck to help creatively problem solve ideas, for wellbeing or as an oracle!
Learn more about Draw Deeper Into Nature and register here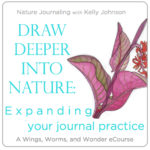 Or if you are new to nature journaling, Watch info videos and register for Draw Deeper Into Nature and the Draw + Draw Deeper Bundle here!
The Draw Deeper Into Nature eCourse Starts this coming Monday May 23, Registration closes May 28!
Remember to comment on every blog post in this week's Special Artist Interview Series to be entered to win a FREE spot in Draw Deeper Into Nature!