Can you believe it's already Day 4 of the fall Blog Hop?
Let's hop over to the blog of wonder sparker, artist, musician, and Montessorian
Carolyn Lucento of Magical Movement Company!!
Hop over to her blog  Magical Movement Company to access her tutorial and be sure to comment to be entered to win Carolyn's this awesome Outdoorsy Box featuring Hummingbirds.
It is set up for an adult and child/ren to do together and has many Montessori style lessons included in a Lessons Plan Book. This is an everything you need dream activity for parents, teachers, and home schoolers! It would make a great teacher gift too!!!
More about Carolyn: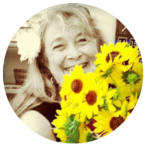 I created Magical Movement Company over twenty years ago as a way to enrich the learning experience of the people around me through Music, Dance, Drama, The Arts and Nature.
Over the years, I have worked and played with so many wonderful beings that I just had to create a "company" that includes all of them! I believe that we all learn through natural movement and the creative spirit within each of us.
That's why the Montessori philosophy has worked so well for me in my profession as a Teacher, Site Director, Workshop Presenter, Montessori Preschool Owner, AMS Teacher-trainer and Orff-Schulwerk Music Specialist, Before I became a Montessorian, I owned a stained glass studio and before that I was an aspiring dancer!
Along the way, I have always loved gardening and spending time in nature. I love to write about my learning experiences with young children as well as the adults who care for them. if I'm not creating, then I'm definitely planning to create soon!
Seeds to Sprout:
Tomorrow we'll be hopping over to the blog of Lisa DeYoung of the Mountain Mermaid!
Check back here on this blog Tuesday, October 13, for the announcement of all the hop giveaway winners!
FYI, the Draw Yourself Back to Nature eCourse officially starts october 19!! Don't miss a thing or a discount! Register now for lots of creative nature connection, wonder sparking fun while you can get the early bird discount!
Already enrolled in the self paced version of Draw Yourself Back to Nature, but want to get in on the facilitated fun? Never fear! You can upgrade! Check out the upgrade option with early bird discount here!
Remember to sign up for tomorrow's free live journal making tutorial and Q&A session! It's going to be great! Learn more and register here.
Follow Wings, Worms, and Wonder Nature connection through art, nature journlaing, and children's gardening's board The Blog: Wings, Worms, and Wonder on Pinterest.