It's Day 3 of the Draw Yourself Back to Nature fall blog hop!!!
Hop with me over to the blog of illustrator, printmaker, childhood fish catcher, and nature lover
Yuko Miki of Honeyberry Studios!!
Hop over to her blog Honeyberry Diary to access her tutorial and be sure to comment to be entered to win an original nature drawing!!! Have you seen Yuko's nature drawings? I adore them and I know you will too!!
I can't wait to get one for myself! This busy bee has 2 art shows up at the moment, so if you are in Seattle be sure to check them out and grab an original Yuko Miki work for yourself!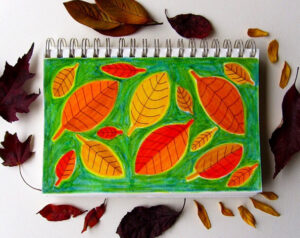 Win the original illustration from Yuko's tutorial!!!
More about Yuko:
Yuko Miki is a mix-media artist, illustrator, and print-maker born and raised in a small town in Japan.  She grew up surrounded by nature, playing make-beliefs in her family's vegetable gardens and rice paddies.
Yuko lives in Seattle, Washington with her husband, their black kitty, Sheppie, and two budgie parakeets, Gerty and Lenny.
Yuko will be giving away a small original nature drawing!!! (So awesome!! Can I win?)
Yuko's Blog: honeyberrydiary.com
Website: Honeyberry Studios   Facebook: Honeyberry Studios
Instagram @honeyberrystudios   Etsy: Honeyberry Studios
Seeds to Sprout:
Tomorrow we'll be hopping over to the blog of Carolyn Lucento of the Magical Movement Company!
Check back here on this blog Tuesday, October 13, for the announcement of all the hop giveaway winners!
FYI, the Draw Yourself Back to Nature eCourse officially starts october 19!! Don't miss a thing or a discount! Register now for lots of creative nature connection, wonder sparking fun while you can get the early bird discount!
Already enrolled in the self paced version of Draw Yourself Back to Nature, but want to get in on the facilitated fun? Never fear! You can upgrade! Check out the upgrade option with early bird discount here!
Remember to sign up for Friday's free live journal making tutorial and Q&A session! It's going to be great! Learn more and register here.
Follow Wings, Worms, and Wonder Nature connection through art, nature journlaing, and children's gardening's board The Blog: Wings, Worms, and Wonder on Pinterest.