It's Blog Hop day 2!!!
Today we're hopping over to the blog of artist, mother, city dweller, and nature lover
Jade Kuei, aka MUMBOT!
Hop over to her blog MUMBOT , check out her art work and her "Mossy vintage science poster" hop tutorial, inspired by the nature's whispers theme in the course.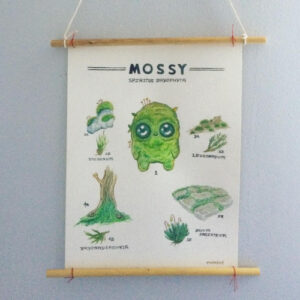 Fun and function all in one awesome moss inspired vintage science style poster. I love it!!
While you're learning to make one of your own, remember to comment to be entered to win a Moleskine Journal that Jade hand decorated the cover! Double bonus – not only can you win a new Moleskine journal, you win original Mumbot artwork and a Mossy button too!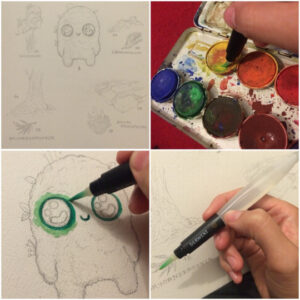 Jade says, "Mossy the Moss Spirit" is one of my kawaii characters who makes the moss foraging hobby cross-over into my art life!"
I can't wait to have my own original MUMBOT piece one day soon and to make a MUMBOT inspired vintage science poster this week!!
Her work is the perfect balance between cute, spooky, and nature fun!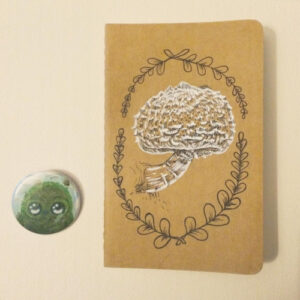 Isn't this journal Jade made beautiful?!!! And you get a button of Mossy from the tutorial!
Be sure to comment on her post to be entered to win!!
More about Jade: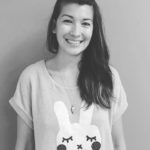 Jade Kuei a.k.a. "MUMBOT" (b. 1981) is a new media artist, designer, illustrator and animator. Ms. Kuei graduated from the School of Visual Arts in New York City in 2003, focusing on fine art and two-dimensional animation.
In her free time she has been hard at work developing powerful creative formulas. Kuei illustrates whimsical yet haunted abstractions of her own dreams and experiences. Her kids and their superpowers, nature, science and everything creepy & cute have been catalysts of inspiration.
Jade will be giving away a Moleskin journal with a hand drawn cover!! (WOW!!!! Seriously!!)
Website: Portfolio of Jade Kuei  Facebook: Jade Kuei   Twitter: @mumbot
Tumbler: @mumbot  Instagram: @mumbot    Etsy: Mumbot
Seeds to Sprout:
Tomorrow we'll be hopping over to the blog of Yuko Miki of Honeyberry Studios!
Check back here on this blog Tuesday, October 13, for the announcement of all the hop giveaway winners!
FYI, the Draw Yourself Back to Nature eCourse officially starts october 19!! Don't miss a thing or a discount! Register now for lots of creative nature connection, wonder sparking fun while you can get the early bird discount!
Already enrolled in the self paced version of Draw Yourself Back to Nature, but want to get in on the facilitated fun? Never fear! You can upgrade! Check out the upgrade option with early bird discount here!
Remember to sign up for Friday's free live journal making tutorial and Q&A session! It's going to be great! Learn more and register here.
Follow Wings, Worms, and Wonder Nature connection through art, nature journlaing, and children's gardening's board The Blog: Wings, Worms, and Wonder on Pinterest.