Use it or lose it they say! But that isn't true in the case of creativity!
No need to hoard it! There is always plenty waiting for you if you open up your sense of wonder!
Creativity is awesome because really the more you use it, the more it multiplies. And if you don't use it for a while, it's always there waiting for you to return so it can start multiplying again!!
It's like a magical never ending bowl of rice, or like a muscle, the more you use it the more you have and the stronger it gets.
Whether you nature journaled yesterday, or haven't put brush to paper since you were 7, it's never too late to start a creative practice!
Open up space in your life for art, nature, joy, peace, and connection!
Cooking, painting, drawing, dancing, gardening, building, sewing, writing, playing music, skateboarding, nature study, fashion, floral design,…the list goes on and on! Which ways will you choose?
What is your favorite way to be creative?
Share in the comments below!
Share pics of your creative nature connections on Insagram #wingswormsandwonder 
Seeds to Sprout:
Check out this blog post on the Joy of Practice for more ideas on how a creative practice makes life even more wonder filled!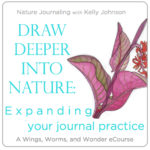 I would be honored to guide you deeper into your nature journaling and creative nature connection practice with Draw Deeper Into Nature!! Learn more here!
The course started yesterday, but it's not too late! Registration closes this Saturday 5/28!!
New to Nature Journaling? Check out the bundle of my 2 signature nature journaling courses here!
Registration closes this Saturday 5/28!!