"The kinds of conversations you have outside are somehow different than the ones you have inside. when you're outside, a feeling settles in; the place is working on the conversation. There are many ways you're affected by place. It's a two way street–it;s not just our impact on nature, it's nature's impact on us."
~Maria Grandinette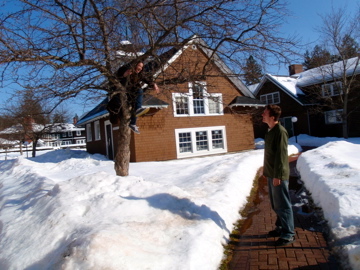 When was the last time you had a conversation with a friend in a tree in the snow? Looks pretty fun doesn't it! Knowing these 2, I'm sure it was an interesting conversation too! Sometimes getting out into unexpected environments changes our perspectives on things and helps us understand the world a little better. You just never know what a friend in a tree may have to say!
Have you tried having a conversation, planned or spontaneous, in an outdoor space lately?
Share your experience?
Seeds to Sprout:
Quote credit: This quote was from the book Exploring a Sense of Place: How to create your own local program for reconnecting with nature by Karen Harwell and Joanna Reynolds. This is a great resource for everything you need to create a nature group or program grounded in wonder and place. Check out the book's site for lots of resources on getting started.
I firmly believe that communication is one of the most important skills we can practice, and that we must constantly practice and refine this skill. Have you read the book Nonviolent Communication by Marshall B. Rosenberg, PhD? It is fantastic. I have listened to it on my ipod at least 4 times and it has really helped me communicate through some challenging professional situations back when I was teaching. Explore the Center for Nonviolent Communication's website resources, then check out the book from your local library. You will be so happy you did! Excellent nonviolent communication skills make aspects of daily life so much easier!
Do you wish you went to school where conversations can be not only had in trees, but are encouraged? I thought so! You need to check out Goddard College. This is where I got my individualized Masters degree in Environmental Studies. Goddard is amazing progressive education at its truest and finest. No arbitrary measures of success or busy work, just true critical, holistic, learning. Without Goddard there is a high chance that this conversation wouldn't be happening right now!
PS!! Happy Birthday to me today!!