---
Art has a bad reputation for being exclusive. Ever been to a gallery and encountered a snooty gallery receptionist? Then you know first hand that the reputation is well deserved. But art is a fundamental part of being Homo sapien. So initiatives that keep art grounded are projects I really get behind.
"Citizen Art" is a description that came to my mind based off citizen science initiatives. Any organization opening up an art making door to everyone is something to be celebrated, supported, and participated in.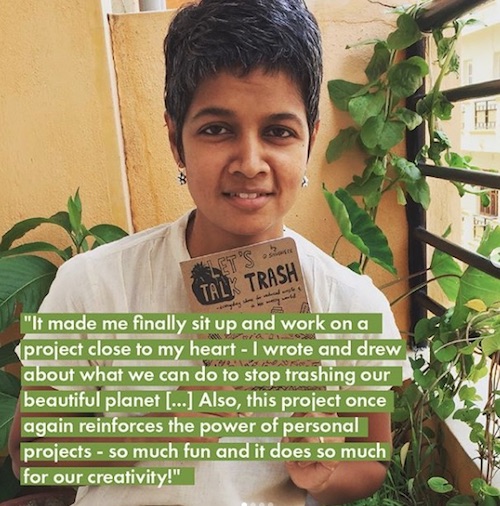 Photo Credit (Brooklyn Art Library)
That's why I'm so enthusiastic about Art-O-Mat and The Sketchbook Project! Let's learn more about these initiatives and how you can be involved too!
---
Art-O-Mat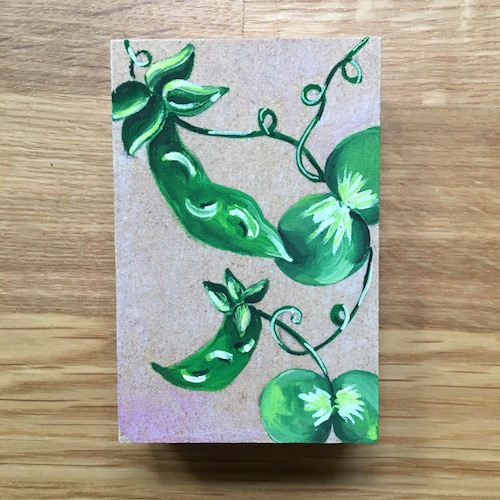 Wondering what an Art-O-Mat is?
It's creative up-cycling combined with art of all! Clark Whittington is the mastermind behind the idea of converting "retired" cigarette vending machines to dispense art!  A great idea in a tobacco town that's better for the environment and better for humans!
Photo Credit Art-O-Mat
Artists in Cellophane is the organization behind Art-O-Mat, based in Winston-Salem, NC. I first encountered an Art-O-Mat machine 20 years ago in an independent art supply store in Richmond, VA.
I thought the cigarette art vending machine was a super fun concept. I always regretted not pulling the knob and getting a bit of art, but the clever name and idea stuck in my head.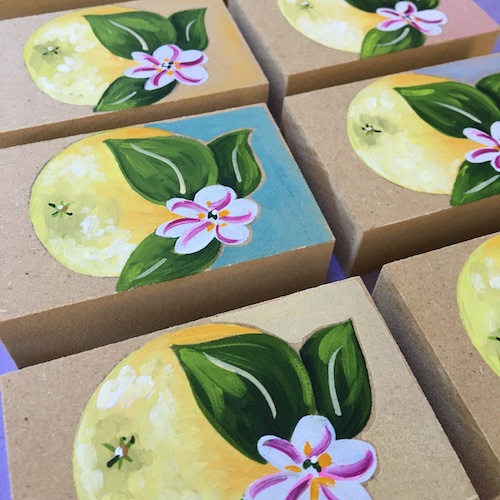 Fast forward to 2017, I'm at the Boston Museum, and what do I come across? An Art-O-Mat machine! With online ease, I explored Art-O-Mat to get the scoop on getting involved.
I was thrilled to discover that anyone could submit to be an "artist in cellophane!" It didn't mean you'd get accepted, but the opportunity is open to all. I ordered the "Prototype Kit" to learn about the specifications and to create my sample submission.
After careful consideration of the subject and medium I wanted to use, and a sample submission, I was accepted to be an Art-O-Mat artist! I've since submitted 150 pieces of art, and am having a blast being a part of this very unique citizen art experience.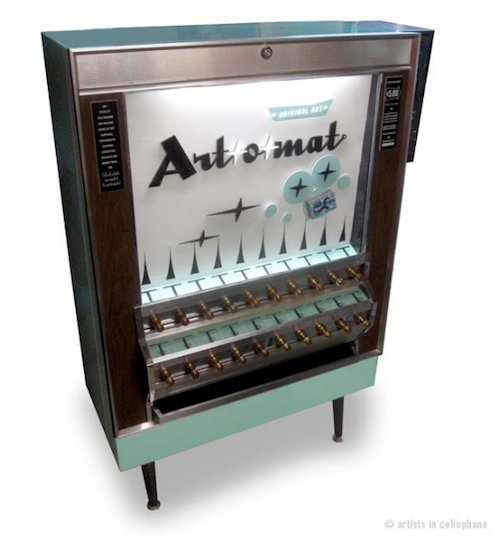 Pull the knob, get some art! (photo credit Art-O-Mat)
Get involved as an artist or a collector!
Find Art-O-Mat machines everywhere from art museums and campuses to coffee shops, farmers markets, and beyond!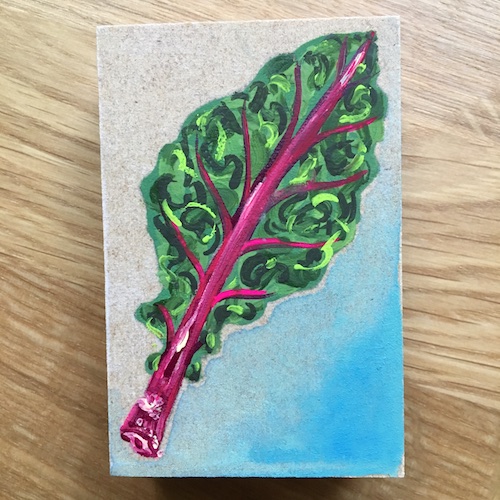 The art must always be the size of an old packet of cigarettes so it fits in the machine and dispenses properly. The actual art dispensed varies widely from paintings to jewelry to tiny sculptures. The art comes on a block or in a little box and "the collector" chooses the art from the label on the machine – just like one would choose their "brand" in the former life of these super retro cool refurbished machines.
Find the 177 (and counting) machines across the US, including Hawaii, and there are even machines in Australia and Austria! What art goes where is decided between the machine host and the organization, but wherever the little art goes, it's accessible to anyone for a mere $5 – and surely brings a smile!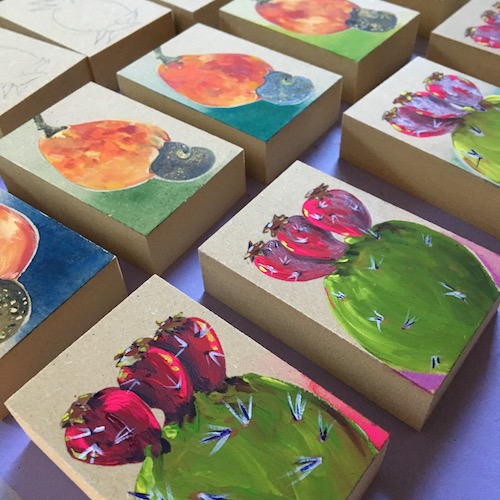 I paint nature in the forms of fruits, flowers, and veggies. I aspire to bring that little pop of the natural world into people's lives each day – no surprise there!
I use a combo of gouache and watercolor paint and order the blocks from Art-O-Mat. The available guidelines and prototype kit make it easy and explain it all!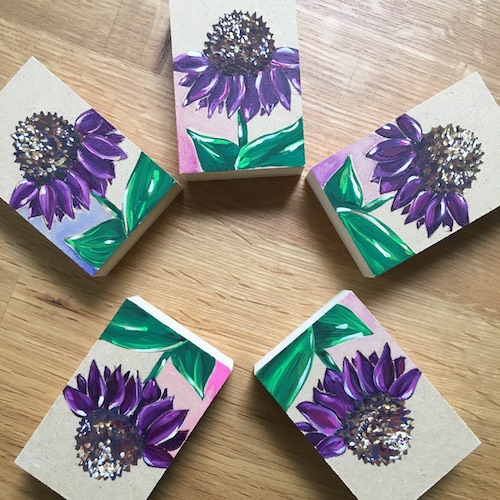 ---
The Sketchbook Project
This citizen art project is something I came across on Instagram a few years ago. It's a sketchbook museum and community space located in the heart of Williamsburg, Brooklyn. The Brooklyn Art Library is the world's largest collection of artist books!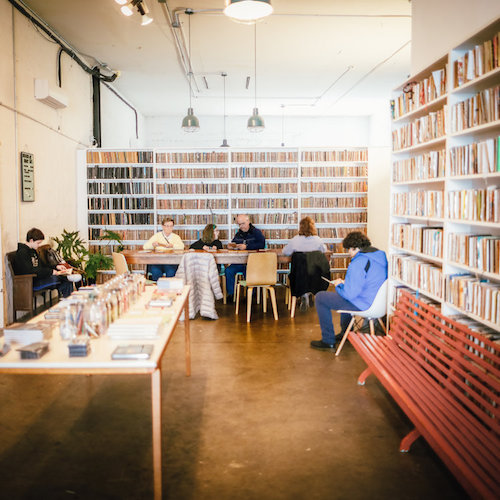 Photo Credit (Brooklyn Art Library)
So how does it work? Participants order the blank sketchbooks from the project, choose their theme, fill the book up, send it back, connect their books online with search terms, an artist bio, and other unique content. Then…
"Every single sketchbook that is sent back is cataloged and placed on our shelves for visitors to view."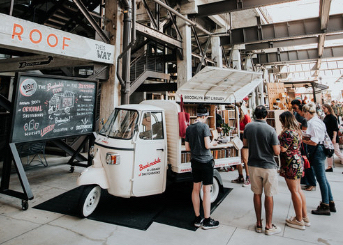 The project even has a super fun bookmobile and tiny libraries created from vintage suitcases that tour North America and the world, respectively. Photo Credit (Brooklyn Art Library)
That is just cool – what a true citizen art initiative. A visitor to the Brooklyn Art Library gets to hold and flip through any sketchbook they desire – just like at the traditional library.
 I hope to do this one day soon myself, but for now, I continue to browse vicariously on Instagram.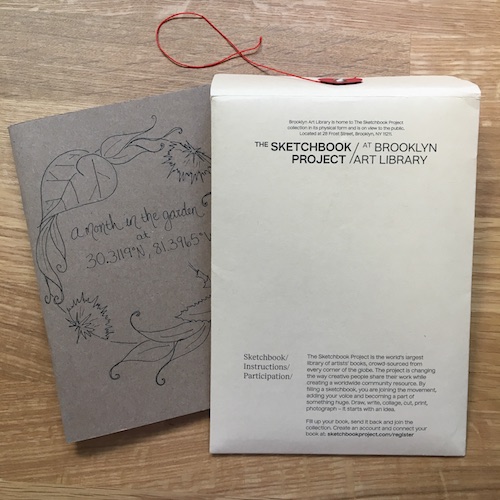 Your blank sketchbook comes in a packet with all the info you need to get started and about sending it back. 
Steven Peterman, the founder states,
"…when I started The Sketchbook Project, I wanted to create an informal outlet for anyone to create art, with a purpose. I believed and still believe in the notion that a creative community is stronger than its individual artists and that a project can be impactful in a way that is different than a traditional gallery.
With over 45,000 sketchbooks from 30,000 different global creative people, we have grown over the past 12 years to be the largest collection of sketchbooks in the world. We have reignited art careers, inspired first time creatives and even helped a few marriage proposals….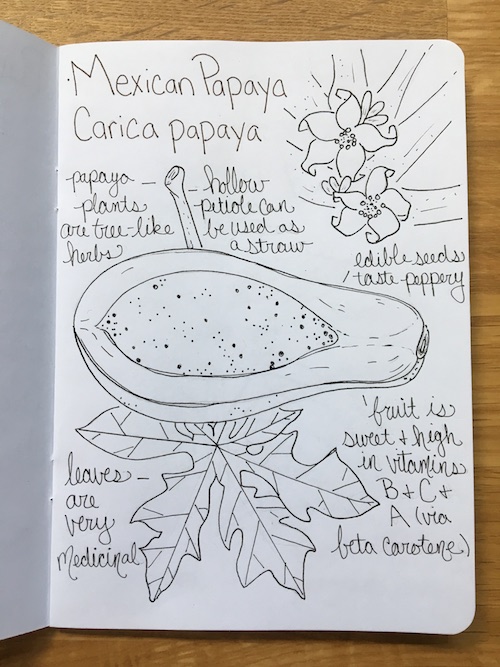 …By allowing anyone to participate, we have grown to a massive worldwide community of not only professionals, but amateurs, moms, dads, mailmen and more.
We do not believe in the statement 'I'm not an artist."
Because it doesn't matter. Share your story, draw your stick figures, just own it. We can promise you a lifelong commitment to keeping your artifact safe, while continuing to act as a time capsule for global creativity."
Well said!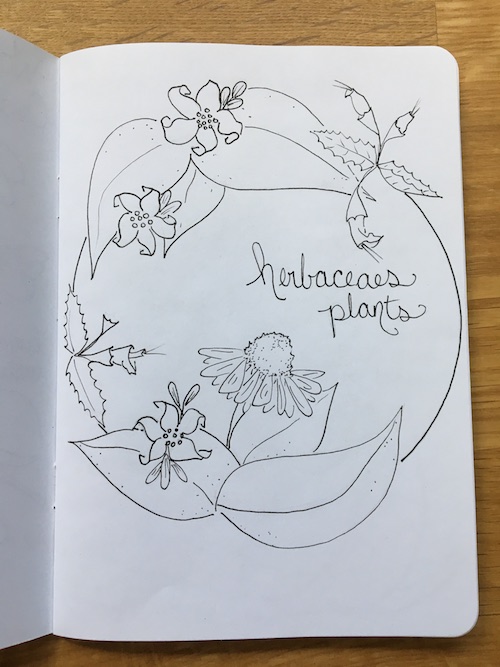 I created my sketchbook, "A Month in the Garden at 30.3119N, 89.3965W," as a nature journal in a black and white pen and ink line drawing style. It gives a glimpse at some of the flora in my garden and offers a pop of nature to people's everyday – plus some fun facts about the plants.
Check out this flip through of my sketchbook to get an idea of the scope of the project. 
If you visit the library in NYC, you can find my sketchbook cataloged into the Brooklyn Art Library on the shelves with a call number of: 373.1-3. 
Will you join the library and share your story too?
---
What other "citizen art" projects do you know about?
Share in the comments below!
Share your nature inspired art on Instagram #wingswormsandwonder
We'd all love to see! And be sure to share if you are participating in either of these citizen art projects too so we can find your art!
---
Seeds to Sprout:
Get your creative flow warmed up for citizen art projects with an online class! Check out my online nature journaling school  and classes here!
Seeking a guided nature journaling adventure? Check out my book the 12 Month Art and Nature Journal. It's chock full of both guided and free creating opportunities!
Want some art making inspiration? Check out my Creative Connections Inspiration Deck! Simply draw a card and use the nature photo and or word as a prompt!
Check out the Art-O-Mat website and perhaps get yourself a prototype kit and see what happens!
Explore the Brooklyn Art Library's Sketchbook Project as well as their Library you can visit and their bookmobile which travels to schools to share the sketchbooks across the globe!
Want to try making a journal as a test run? Check out this Wonder Wednesday 55 activity  and make an Accordion Pocket journal!
Inspired to draw some nature? Check out these spring sketching tutorial videos I compiled for the blog from my YouTube channel.