It's winter here in Florida, and that means an abundance of chickweed in the gardens! But never fear, this is a weed you want to cultivate!
Chickweed (Stellaria media) grows widely in temperate zones and even into arctic areas! It's native to Europe but has thrived in North America and Asia. You'll find this wild edible popping up in yards and gardens near winter's end.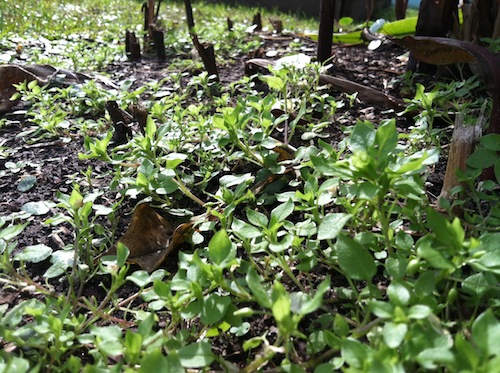 Chickweed has smooth, oval ending in points, tender, light green leaves with little, usually white but sometimes pinkish, star shaped flowers whose buds open as the morning sun warms them. The plant gets it's botanical name from the star shape of it's flowers. Chickweed's stem has a row of little hairs on one side, but they are soft and won't hurt your hands when you pick it.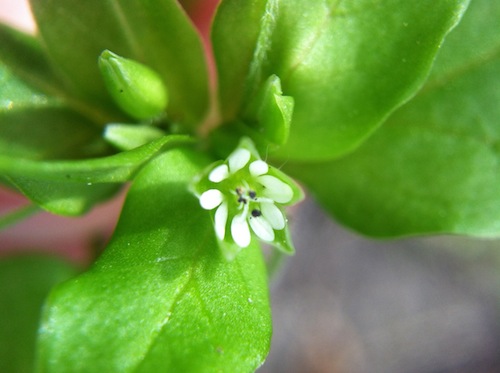 It's used in traditional medicine for lots of things, including as a poultice for many skin issues from skinned knees to eczema, and it's a gentle diuretic.
Although Chickweed is super nutritious and medicinal, here in North America it's overlooked. It's high in iron, calcium, and trace minerals, as well as vitamins A, D, B, & C – and it's mild sweet tastes makes it a favorite with kids too! Kids never fuss about eating greens when they pick Chickweed from the backyard!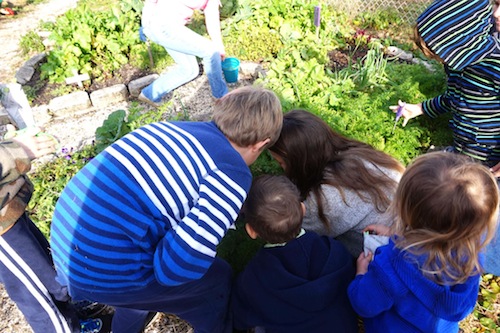 Elbow deep in a chickweed and carrot harvest! (photo by Amy Parmelee)
It is tender and delicious in salads and can be used anywhere you would use tender baby greens or sprouts. Make it as a base for pesto or try some Chickweed on your next sandwich! My good friend loves it on grilled cheese.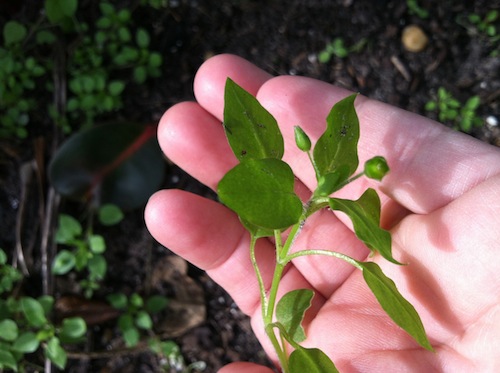 Chickweed is also a key ingredient in seven herb rice soup, which is a staple in the Japanese spring festival Nanakusa-no-sekku (the Festival of Seven Herbs). The custom of eating nanakusa-gayu soup on this day is to bring longevity and health for the new year. No wonder, considering chickweed's health benefits! And yesterday was the lunar new year, so celebrate with chickweed!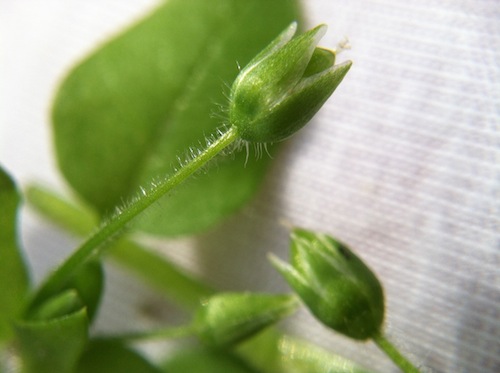 See the row of little hairs on the stem?
The Japanese traditionally eat this soup on January 7, but I say with the abundance of chickweed in the late winter, eat it whenever you like! Health and abundance are always welcome in my house, as is Japanese food! We love it!
The traditional herbs include the greens of the following:
Water dropwort — seri (せり )
Shepherd's Purse — nazuna (なずな)
Cudweed — gogyō (ごぎょう)
Chickweed — hakobera (はこべら)
Nipplewort — hotokenoza (ほとけのざ)
Turnip — suzuna (すずな)
Radish — suzushiro (すずしろ) 
This recipe is a fun excuse to get out into the yard, garden, farmer's market, and to make a trip to your local Asian market. Feel free to substitute favorite herbs you grow or can get locally for ones you can't find. Make the soup uniquely healthy to you and your locale! There is something wonder sparking and magical about eating local wild foods, don't you think?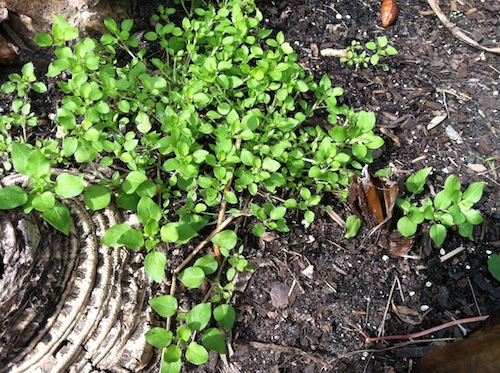 Growing wild next to a banana stump!
Try adding or substituting watercress, mizuna, culantro, cilantro, carrot tops, beet greens, chard, broccoli leaves, mustard, basil, or any other wild greens you can positively identify. You could also add some fresh organic steamed tofu to the soup for a bit of protein to make it a full meal.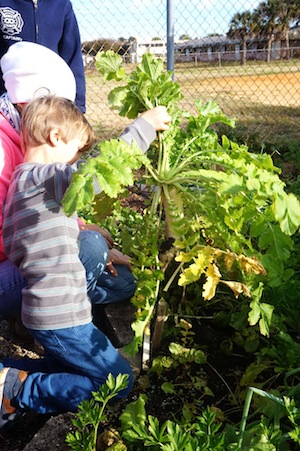 You could add daikon radish to your soup if you have one to harvest. (photo by Amy Parmelee)
Once you gather your herbs and greens making the soup, which is kinda more like a porridge, is easy:
Nanakusa-Gayu Soup Recipe
Cook your favorite rice the way you normally would. About a cup of dry rice will serve 2 as a meal or 4 as a side, but this also depends on your appetite!
While the rice cooks, chop up the 7 fresh herbs  and greens you chose nice and bite size so they will be tender. You'll need about a quarter cup of each for this quantity of rice. I hope you can get chickweed!
 Then take the rice and simmer it in your favorite veggie stock (made from the roots of the carrot, radish, beet, and/or turnip greens you may choose to use for your soup perhaps?) the ratio is about 2:1, but this will really depend on your type of rice. You want it to stay soupy so watch it and add more liquid if needed.
Bring the rice and stock to a boil and then take it back to a simmer.
Simmer until the rice gets saturated and started to lose it's shape and fall apart a bit.
Finally, add your herbs. Cook about a minute or so more. Just enough to soften the herbs and keep them bright green.
Serve and enjoy the abundant health!
What's your favorite thing to make with chickweed? Share in the comments below!
Share your chickweed culinary creations on Instagram #wingswormsandwonder
Seeds to Sprout:
Disclaimer: I know you know this, but NEVER eat wild food unless you can properly identify it or are with an expert guide or teacher. 
Learn more about Chickweed from Wildman Steve Brill here. On his site you can learn more uses, benefits, and proper identification tips for chickweed and may other herbs and wild foods.
Learn more about chickweed, herbs, and about using herbs with kids at Learning Herbs.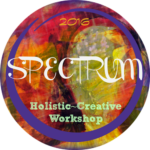 Want to join HaliKarlaArts Spectrum 2016! Check it all out here!
Registration is open through this link here!
This is a really awesome Holistic Creative eAdventure intended to empower, nurture and celebrate your innate creative expression, healing journey, and personal development!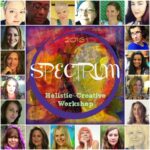 Interested in making 12 handmade journals and learning 18 different ways to fill them (4 from me personally because I am a core teacher in the course and an affiliate and my 1st lesson went live today!!!)?
Then, Join me in The Journey Within and Register here through my link!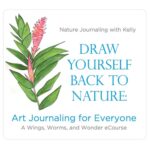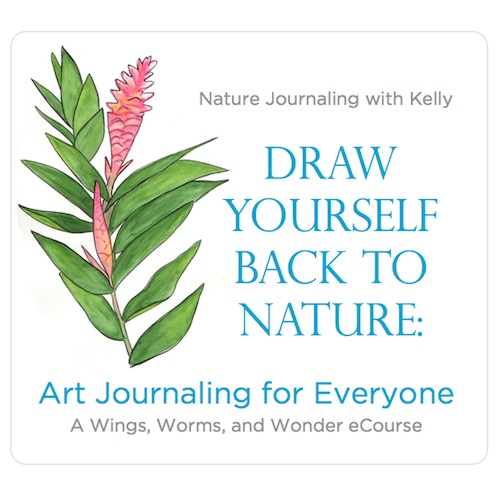 Join the Wings, Worms, and Wonder online nature journaling school! I'm about to put 2 free classes inside!
Check out the Wings, Worms, and Wonder nature journaling school here and get creatively connecting with nature with me as your guide!