Sometimes to get started on a new creative project, we need a little push – because often, simply getting started is often the biggest challenge!
This past month I have been participating in Creative Bug's Draw a Day Challenge to win a spot as a Creative Bug teacher for a course. Getting chosen to be a Creative Bug Teacher would be a dream & a fantastic thing that could happen for Wings, Worms, and Wonder.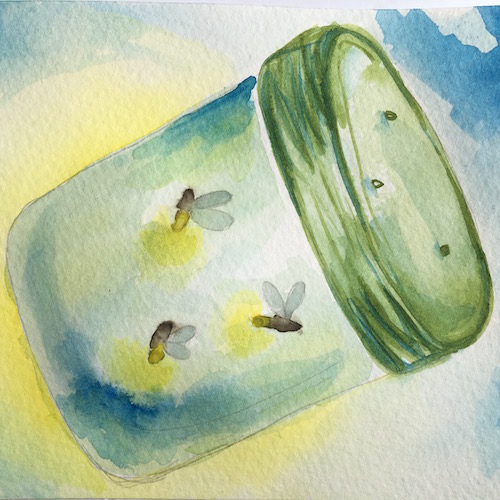 This prompt was jar, so I took a memory from childhood and applied it to the prompt.
But, when the challenge was presented to me you better believe I had 50 reasons why I couldn't do it; ranging from "if only it was next month I'd have more time" to "I don't like all the prompts so I can't keep up with challenges." All weak excuses because the real reason was – what if I do this and I don't get chosen. Then what?
Well then, no harm no foul. I'll have had a good month of fulfilling a commitment, as well as gotten extra painting practice, met some new people and had some fun. There's nothing to lose in putting yourself out there. You'll only be better for it in the long run – easier said than done though!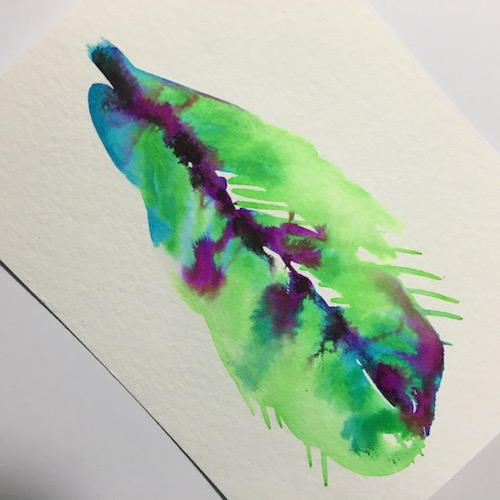 This prompt was feather. I used it as an excuse to experiment with my liquid concentrate watercolors. 
Luckily, I have a friend who used a little positive peer pressure to shut down my excuses and get me to take the challenge – and I'm so glad I did! It's actually been great fun painting things I don't normally paint, playing with the different styles, and just having a committed reason to paint extra for fun and work.
My partner Sean, who majored in illustration back in art school, offered me a great perspective on my resistance to prompts as well. He said, when they were given assignments to illustrate things they didn't like, the key was to take something they thought was lame and still make it look cool.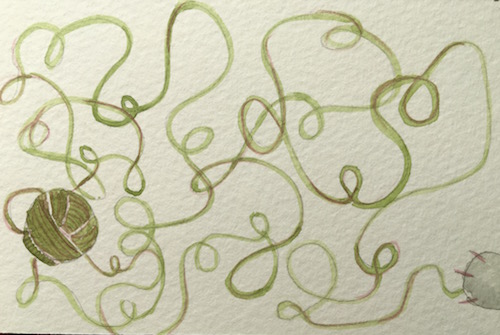 Yarn. A kitten making mischief was what first came to mind – so I played with swirly lines. You can see this one didn't take long at all, but was a fun process.
If I could extract an element of, or a different perspective on, the prompt, and then make art I liked, regardless of how dumb the prompt, article, or assignment was perceived to be, it's a win & the challenge is beat!
So I took that to heart and I jumped in. When I came to a prompt I didn't like or felt was out of my comfort zone, I changed my perspective. In the case of this challenge, I broke prompts I didn't like. Not literally of course, but in my paintings.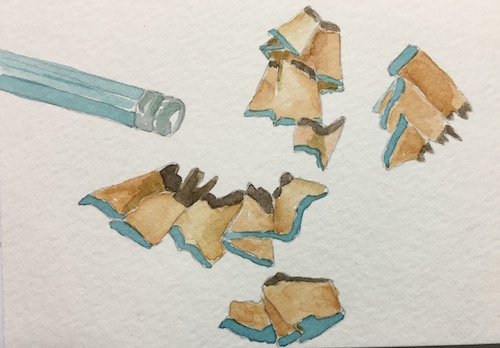 Pencils. Boring prompt to me, but the swirly way that the shavings look and how the color from the pencil paint and lead (?) look make a pencil more interesting to paint, to me anyway!
For example, I turned a key into a broken key with the quote, "My heart's not broken, your key to it is." I turned pencils into pencil shavings, gift boxes into the opened aftermath of gift giving, and flip flops into a blown out flip flop – which is a very real problem living in Florida!
Doing this gave me a fresh perspective and made the prompts not only more fun, but less generic and more my own.  It really helped me to embrace the idea of committing to a 30 day prompt challenge.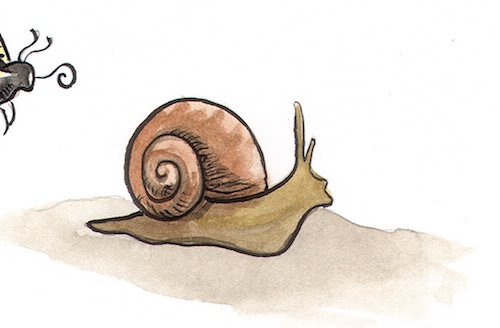 Some days I dug old images from journals and things to use. This saved me some time on busy weeks. Is it cheating? I don't think so because I did paint them after all and I did post them on the assigned day. Besides, this isn't school, it's for fun! This prompt was snail and is an illustration I painted for my book in 2012!
I even took on a second watercolor 7 day challenge last week because I was feeling so creatively empowered!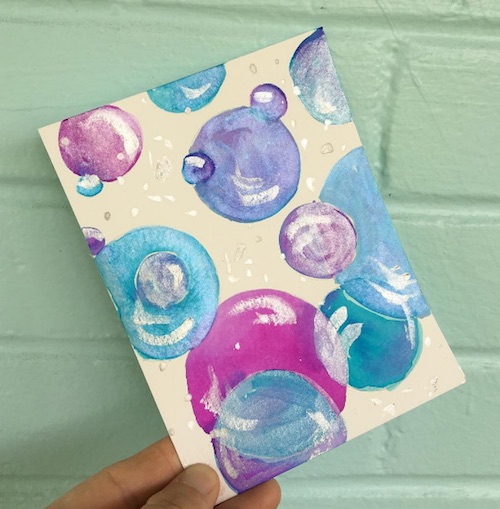 The prompt of circles gave me an excuse to make bubbles and play with my silver gouache and iridescent inks, which are super fun & I don't get to really use for nature painting.
Now that the 30 days of September are almost up, and my challenges complete, I decided to create a challenge of my own!  I hope it will encourage you to get out of your comfort zone and take the challenge with me!
Join the 7 Day Creativity Challenge on Instagram
starting next Monday, October 3.
I'll post the prompts and details this Friday (9/30) on Instagram so you can brainstorm over the weekend how you might make the prompts your own!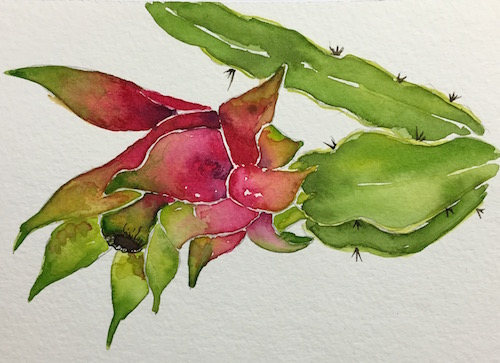 This prompt was cactus, so I painted one of my fave cactus fruits, a dragon fruit!
***Here's a little hint that helped me keep up with the challenges.
I guess it may be obvious, but I hadn't thought of it before – if painting daily isn't realistic for your schedule, paint a few at a time over the weekend and then just post them daily during the challenge! Make it easy on  yourself!! Or Recycle 1 or 2 older images you have and really like that fit the prompts!
I hope you decide to join in whatever capacity fits your life! Let's challenge our creativity a little together next week!!
To get ready to play, between now & Monday:
Follow

@wingswormsandwonder on Instagram so you can play along
Check your Instagram feed or the @wingswormsandwonder IG page this

Friday (9/30) to get the prompts and details.

Brainstorm

over the weekend how you can make the prompts uniquely you and

prepare

your supplies.
Go ahead and

create some over the weekend

– paint, draw, collage, or manifest the prompts however you like! Or gather images from art you made in the past!

Post pics of your art starting Monday, October 3

, on IG & remember to 

#wingswormsandwonder

 to play along!
What do you like about using prompts? What do you not like?
Share in the comments below!
(I like having an excuse to experiment with painting and I don't like feeling pressured to paint just to fulfill a prompt commitment.)
Seeds to Sprout:
Follow @wingswormsandwonder on Instagram now, if you aren't already, so you will have step 1 complete for Monday!
Check out the #cbdrawaday feed for some fun ideas on how to approach prompts in different ways.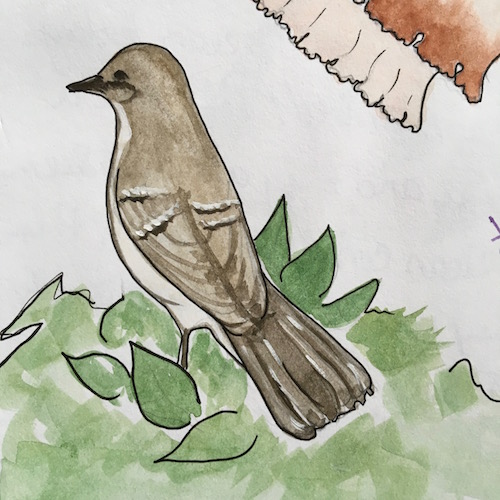 This mocking bird is an old fave from an old nature journal I used for the bird prompt. The fun thing about posting images that are older to you is that they are new to the people you meet in the challenge! Just because they are older doesn't mean they aren't great or worthy! Show your stuff!