What a week it's been! I have to send a giant thank you to everyone for making the first Wings, Worms, and Wonder blog hop so successful!!
I hope you enjoyed the projects by each of the guest posters. I know it was fun for me to see how they interpreted my activities.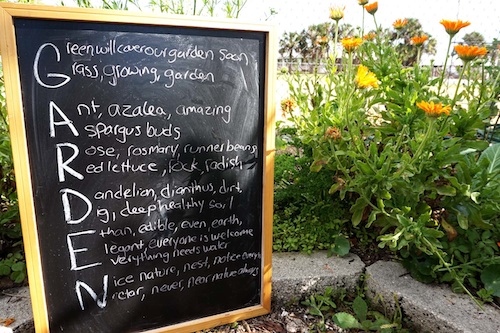 Here's a fun sample of an acrostic poem created by a group of children at the Beaches Children's Garden! Poetry is so fun in the garden and the nature journal!
And this week is eventful as well! We have Earth Day, it's Environmental Education Week, and of course the giveaway winners from the blog hop are being announced!!
Be sure to check the Seeds to Sprout section below for links to all this week's events.
Now, let's get to it!
And the winners are…..
Day 1 – Set of Wings, Worms, and Wonder Nature Journal Prompt Cards (2)
Toyia & Jess
Day 2 – Embellished Paper Blanks nature journal by Virginia Simpson-Magruder
Peggy
Day 3 – Hand bound nature journal by Grace Howes
Liz
Day 4 – Nature journaling supply kit by Kiala Givehand
Saana
Day 5 – Seat in the Draw Yourself Back to Nature eCourse (2)!!
Peggy (it pays to comment!) & Sara
If you were a winner (they were all drawn randomly, so no hard feelings) the day's host will be contacting you this week for your info so you can get your prize.
If you have any questions, feel free to contact me and I will help. And another big thanks to everyone for joining in!
What did you learn about your nearby nature from the blog hop? Share in the comments!
Share your interpretation of the hop activities on Instagram #wingswormsandwonder & #drawyourselfbacktonature
Seeds to Sprout:
Extended early bird registration for the Draw Yourself Back to Nature eCourse ends tonight!! Be sure to sign up quick for the discount!! Register here!
Why was the early bird price extended? To celebrate my surprise posted interview with Kiala Givehand and How to Art Journal is why!!! Check it out here!! 
What are you doing to celebrate Earth Day? Check out this post I wrote on 10 Ways Not to Save Anything for Earth Day and get ideas for getting children (and grown ups) outside enjoying and bonding with nature – instead of being burdened with the overwhelming, abstract, and developmentally inappropriate task of saving! Have fun outside this Earth Day! Let them love nature before we ask them to save it, as David Sobel says!
Maybe watch the Lyrid Meteor Shower to celebrate Earth Day! Get the details here! I think Mother Nature approves of sparking sense of wonder on Earth Day!
Live in the North Florida/South Georgia area and looking for a fun family activity this weekend? Well head out to Tree Hill Nature Center for their Butterfly Festival Saturday, April 25, from 10-4! I will have a booth there! Get the details here.
Find lots of resources to use for EE Week and beyond here. But in all their "greening STEM talk, remember the A and make yours STEAM. The arts should never be excluded from education, and it's not just me saying this, even the Mythbusters think so – and they bust myths for a living! So let's bust that myth that the arts aren't important in education!!