Happy almost officially summer!! The solstice is one week away (the 21st) and that means long days, lightning bugs, cool watermelons, and tons of laid back fun!
So in the spirit of summer ease, you can guess that I am super excited to announce that the
Draw Yourself Back to Nature eCourse is opening up a self-paced version June 26!!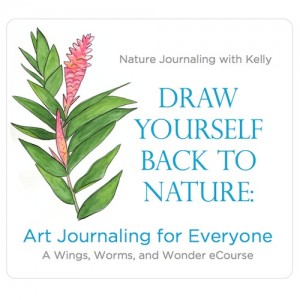 We had such an amazing time in the facilitated version in May, that I decided this course had to be offered again!
Only this time, you do it independently, at your own pace, on your own schedule! Perfect for summer!!!
&
I am also equally thrilled to announce…..
the brand new Connecting With Color eCourse opens the same day!!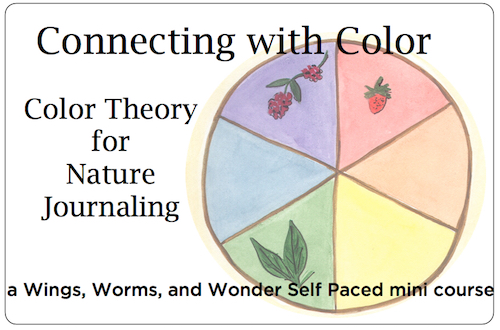 What is that you ask? Well it is a mini course on color theory for nature journalers! It can be awesome partner course with Draw Yourself Back to Nature or bump up your color mixing and nature connection skills and do the course independently!
Are you new to painting and color mixing or want a refresher? (What colors make chartreuse again?) Or want to make your nature journal entries look more realistic? How are you with mixing the colors that you are actually seeing?
Connecting with color is a painting foundation course especially for nature journalers!
It's focused on color for nature journaling and actually grew out of color and paint mixing questions asked by the first Draw Yourself Back to Nature guinea pigs, um…I mean group! So it makes a superb compliment to Draw Yourself Back to Nature!
The 5 lesson Connecting with Color mini course will guide you through the basics of color theory, while building painting confidence, a foundation for mixing paint colors, and help you express your natural world in your nature journal!
And as if that wasn't cool enough…
I'm offering the 2 self paced courses as a bundle at a special price!!!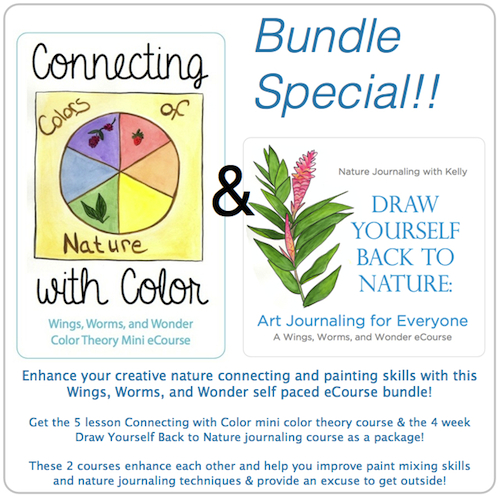 In the upcoming week stay tuned and get ready for some great nature and color inspired Bundle Up for Summer Blog Hop fun with me, Seemi of Trillium Montessori, Dawn of Mud Puddles to Meteors, and Rob of The Garden at Oswegatchie School to celebrate this summer's colorful nature connection fun!
The self paced summer bundle releases June 26,
the Bundle Up for Summer Blog Hop begins Monday June 22,
& the launch party has officially started!!!!!
Hooray!!!!!
No previous art experience necessary for either course!
Registration opens June 26!
How are you planning on creatively connecting with nature this summer?
Share in the comments below!
Seeds to Sprout:
Check out the Draw Yourself Back to Nature course details here!
Learn more about the Connecting with Color course details here!
Start creatively connecting with color today with this Color Wheels of Nature Scavenger Hunt Wonder Wednesday activity!!