Happy Summer Solstice!!!
The Bundle Up for Summer Blog Hop starts here, today, and registration opens on Friday!!!!!
 And there are prizes!!!
For this hop I'll be giving away:
*admission to the Connecting with Color eCourse to a randomly drawn commenter to a question posed in Friday's final Blog Hop post
&
* access to the Draw Yourself Back to Nature and Connecting with Color eCourse Bundle to a person who comments on every post in the Blog Hop! I will look at the comments, and out of the people who comment on every post I will draw one lucky winner (or really random.org will draw one).
Winners will be announced in the Tuesday 6/30 blog post.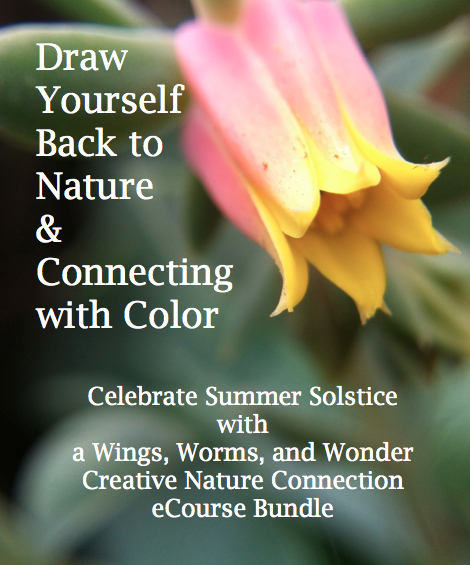 Meet the Bundle Up for Summer Blog Hoppers!
Tuesday June 23 – Dawn Smith
Hop with Dawn on her blog Mud Puddles to Meteors here!
Dawn Smith is a homeschooling mama of two curious nature lovers, a self-taught naturalist, an environmental educator, and is passionate about connecting families with nature. Her home is filled with rocks, shells, insect specimens, microscopes, and magnifying glasses. In her former life, she was a high school health teacher and swimming coach.
She has contributed to various online and print media over the years and keeps her personal internet home over at Dawn Suzette Smith. She is a water lover who feels most complete when by the sea and moved with her family from the warm coast of California to the beautifully rugged coast of Nova Scotia in 2008. Since that move she has been learning about a whole new environment and loving every new detail and discovery nature has to offer.
—————————————————————–
Wednesday June 24 – Seemi Abdullah
Hop with Seemi on her blog Trillium Montessori here!
Seemi has over fifteen years of experience in Montessori as a teacher and school administrator. In addition to an Early Childhood credential from the American Montessori Society (AMS) she holds a Master's in Education from Harvard University and a Bachelor's in Neurobiology from Cornell University.
Seemi has been an adviser to Montessori teachers-in-training and consulted at various schools around the country. She is also the founder of a company specializing in classroom materials for Montessori teachers.
——————————————————————
Thursday June 25 – Rob Terry
Hop with Rob on his The Garden at Oswegatchie School Blog here!
I grew up living next to my grandparents, who were a huge part of my daily life. I would help my grandfather, Bepa, work in the gardens and start seedlings in the greenhouse, and  I would work with my grandmother, Mema, in the kitchen making pierrogies and handmade egg drop noodles for homemade chicken soup. My grandparents both taught me a lot and I will cherish those memories for ever…
I live in CT, in a suburban neighborhood, with my beautiful wife, two beautiful daughters, two dogs, four cats, a rabbit and two ducks. I run the Garden at Oswegatchie School, a sustainable organic garden where children get a hands on experience learning where their food comes from while developing an appreciation and respect for nature with my wife and dream of someday moving to Vermont and starting a small organic farm, where I can trade my home office and computers for a barn and a tractor!
Get more great tips and garden inspiration from Rob on his personal organic gardening blog Bepa's Garden.
—————————————————————–
Friday June 26 – Me again
Head back here to Wings, Worms, and Wonder for the Bundle Up for Summer blog hop wrap up.
Be sure to comment on Friday's post for your chance to win FREE admission to Connecting with Color!!
How about the color of that spring? I sure could connect with some cool clear aqua water on these hot days lately!!
And remember, to win the Draw Yourself Back to Nature and Connecting with Color self paced course bundle, be sure to comment everyday on every post! Starting today!
What type of colors in your nearby nature would you like to learn to paint in your nature journal?
Lizard skin green, coneflower fuchsia, robin egg blue, soil brown?
Let us know in the comments below to be entered to win! 
Seeds to Sprout:
Learn more about the Draw Yourself Back to Nature eCourse here!
Learn more about the Connecting with Color eCourse here!
The self paced version of Draw Yourself Back to Nature is $45
The self paced Connecting with Color eCourse is $27
Get the bundle of the 2 courses for $67! So cheap for so much great information!! But you don't have to take my word for it!
Here's what a couple of participants said about Draw Yourself Back to Nature…
"This course is an amazing delight! You've put so much detail and information into it and I'm enjoying connecting to nature in new and creative ways." HM
"You will get way more than expected from this course. Kelly is a wonderful and inspiring teacher who will teach you how to reconnect with nature and give you the tools to adopt a daily art journaling routine. This course is well worth the investment!" R & CT