Welcome to Day 5 of the blog hop!!!
It's the final day and Registration is open for the self paced versions of Draw Yourself Back to Nature, Connecting with Color, and the Bundle special!!!
Kelly here! Haven't the hoppers been wonderful? I find each of them very inspiring and I love how they each express the concept of creative nature connection in different ways.
From all weather outdoor exploration, to holistic education, to bountiful school gardening, each of these blog hoppers are really making the world a better place. I am so happy to be able to showcase their work and hope you found something that spoke to you in each of them like I do.
Today, I offer you a few more techniques that you may have missed or simply not had time to jump into during the school year. Well, it's summer now, so let these give you an excuse to slow things down and get creative to relax, to connect, and to grow!!
Try this Nature Connection Treasure Hunt fun sheet from the Draw Yourself Back to Nature Blog Hop!
Or try this Wonder Wednesday 7 Day Sketch activity and fun sheet to get into a time for nature everyday routine!
Why nature journal anyway? Discover why in this post. Or what is it about observation that is so important anyway? Find out in this post.
What's keeping you from joining the fun? Grow closer to the nature outside your door!!! Let's get outside, get connecting, and play with paint!!
I'm here to guide you and Dawn, Rob, and many more wonderful people of all ages from around the world embarking on the journey of creative nature connection are waiting to get to know you in the online course community! It is so fun!!! Jump in with us!!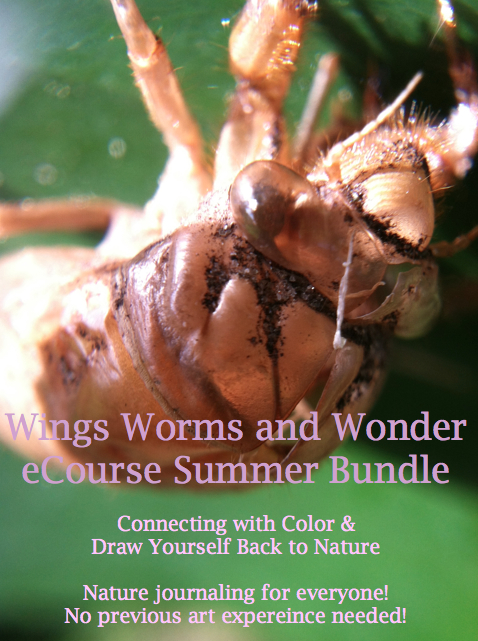 So now that you have hopped into each of their worlds, what spoke most deeply to you?
What ideas did you take from each of their experiences? How do you feel inspired to creatively connect to your natural world or help your students and family connect?
How can you slow down and make room for nature everyday?
Share in the comments here to be entered to win a spot in Connecting with Color and to be entered into the Bundle drawing too!!!
Seeds to Sprout:
Register here for the self paced version of Draw Yourself Back to Nature!!!
Register here for the self paced Connecting with Color eCourse!!!
Register here for the bundle of both self paced eCourses!!!
Learn more about the Draw Yourself Back to Nature eCourse here!
Learn more about the Connecting with Color eCourse here!
& remember to Comment to win……
Admission to the Connecting with Color eCourse will be awarded to a randomly drawn commenter to a question posed in Friday's final Blog Hop post. THAT IS THIS POST!!!
&
Access to the Draw Yourself Back to Nature and Connecting with Color eCourse Bundle will be awarded to a person who comments on every post in the Blog Hop! I will look at the comments on the posts here at Wings, Worms, and Wonder and the hoppers blogs, and out of the people who comment on every post I will draw one lucky winner (or really random.org will draw one).
Winners will be announced in the Tuesday 6/30 blog post!!!