Welcome to Day 3 of the Blog Hop!!
Today we hop over to the Trillium Montessori Blog by Seemi Abdullah! I am completely thrilled to introduce Seemi because she is a true powerhouse of action.
From running a school, to creating an amazing line of Montessori Primary 3 part card materials on every subject you can imagine (with some really great nature inspired cards!!), to writing and facilitating a blog that is an invaluable resource for any progressive educator, to being a really really really super nice person, Seemi is someone to get on your radar for sure!!!
And in the spirit of all her amazing resources, I made you a printable for today!! But you have to  go to her blog to get it!!
Use this printable fun sheet with your children, students, or just yourself to get observing and creatively connecting with nature's colors!!
Hop over to the Trillium Montessori Blog now for the printable and more ideas on summer nature fun that you can use in camps, the classroom, or the backyard with your own family!!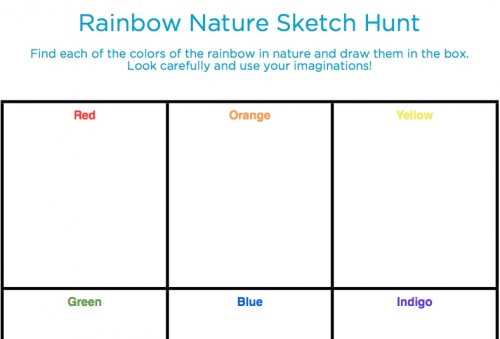 Like Seemi, how do you inspire others to learn about their rainbow filled natural world?
Or what inspires you to learn about nature's rainbow of colors, textures, and life in your backyard?
Share in the comments here or on Seemi's blog to win!!
Seeds to Sprout:
It's also Wonder Wednesday, hooray!! Check out this month's Wonder Wednesday #34: Nature Bracelets activity here!
Learn more about the Draw Yourself Back to Nature eCourse here!
Learn more about the Connecting with Color eCourse here!
The self paced version of Draw Yourself Back to Nature is $45
The self paced Connecting with Color eCourse is $27
Get the bundle of the 2 courses for $67! So cheap for so much great information and a super excuse to make time for art and nature!!
& Comment to win……
Admission to the Connecting with Color eCourse will be awarded to a randomly drawn commenter to a question posed in Friday's final Blog Hop post
&
Access to the Draw Yourself Back to Nature and Connecting with Color eCourse Bundlewill be awarded to a person who comments on every post in the Blog Hop! I will look at the comments, and out of the people who comment on every post I will draw one lucky winner (or really random.org will draw one).
Winners will be announced in the Tuesday 6/30 blog post.