What does modern architecture have to do with a bird's skull you ask?
Well let me introduce you to Frei Otto!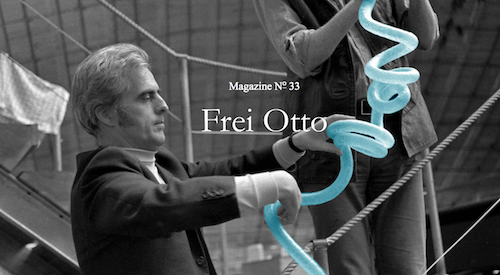 Otto circa 1970s (Photo Credit)
Otto was German architect and engineer of seemingly gravity defying minimal lightweight, but incredibly strong, structures who took not only his inspiration, but his actual building techniques from structures he played with and observed in nature.
In my opinion, Frei Otto is an excellent example of ecological literacy in action. He takes his deep experiential understanding of the natural world, applies it with his understanding of modern technology through experiential play, and creates in a way that is in harmony with both people and planet.
Perhaps most famous for his discoveries regarding the strength and design of soap bubbles, Otto "turned a creative obsession with the techniques of lightweight, minimal construction into high art," said Ada Louise Huxtable, New York Times architecture critic, 1971 (NYT).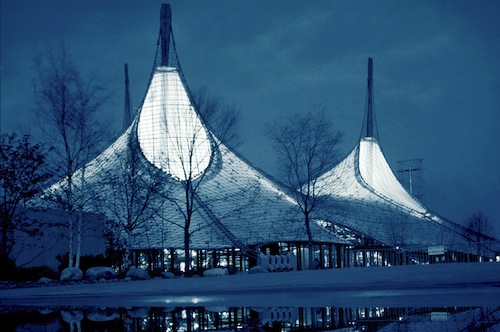 See how light and airy these 1967 structures form the International and Universal Exposition are? You'll notice this exact design in the bubbles if you watch the video below. & How about the way the light glows?! (Photo Credit)
It was during the early 1970s that Otto began combining natural forms with economical use of materials in minimalist building techniques and even computer logistics. He even wrote a series of books on the way that the natural "construction" of bird skulls and spiderwebs could be applied to architecture called Biology and Building.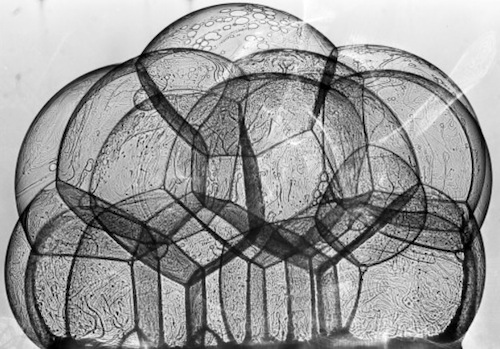 Frei Otto, Seifenlaugenversuch (Photo Credit)
"Otto observed that given a set of fixed points, soap film will spread naturally between them to offer the smallest achievable surface area." This is something many children explore while playing with bubbles in the bathtub.
Otto took it to the next level though. He played with bubbles, learned how they worked and the ways in which they were the strongest, and then built huge architectural structures mimicking their components of minimal structural form, strength, and light weight.
Otto researched birds, plants, crabs, and bubbles, as well as styles of tents, tepees, yurts, sail boats, balloons, kites throughout the ages.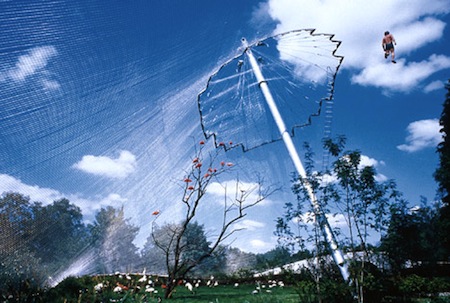 This is an aviary at the Munich Zoo. Do you see the little person walking on it at the top right?! (Photo Credit)
On a quest to discover the lightest, strongest, most responsive, and minimally elegant structures for buildings, Otto's imagination adventured through history – and nature and for this he is considered one of the greatest architects of all time.
Frei Otto was able to create his greatest works, structures and forms that were believed to be impossible to build, because he played. He experimented, built models, and PLAYED!!!!
"The computer can only calculate what is already conceptually inside of it; you can only find what you look for in computers. Nevertheless, you can find what you haven't searched for with free experimentation. Now it can be calculated, but for more than 40 years it was impossible to calculate it. I have not waited for it to be calculated in order to build it."
– From A Conversation with Frei Otto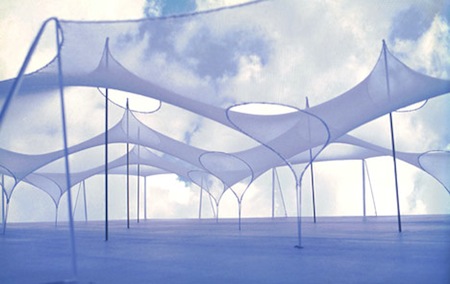 This is a study using nets and textile membranes (Photo Credit)
Break out the bubbles and play! Go find spider webs and bird skulls in the woods and check them out! Head to the beaches and rivers and dig up some crabs and smash some seashells.
What can you learn about their structure? What will you discover about the ways their forms are composed? And how could you apply that design and inspiration to a creative project you are working on?
Take what you discover, combine it with what you know, then teach someone else! Grow your own ecological literacy and that of your community while you have creative nature fun!
Share your answers to these questions
& what you learn from play in the comments below!
Share pics of your discoveries and creations on Instagram #wingswormsandwonder
Seeds to Sprout:
Frei Otto just died in March 2015, was working up to his death, and was about to receive architecture's most prestigious award the Pritzker Prize the next day. Learn more about how he made tents amazing here & watch a BBC interview video with Otto on this idea and quite a few more videos of Otto and his work.
Watch Otto play with bubbles and see some of the structures they inspired in this video