Recently, I was just sitting on the floor, shelling a nice late harvest of black eyed peas from the community children's garden, when I began to notice some powder coming from some of the more dried pods. I didn't pay much attention at first and just brushed it away. No biggie.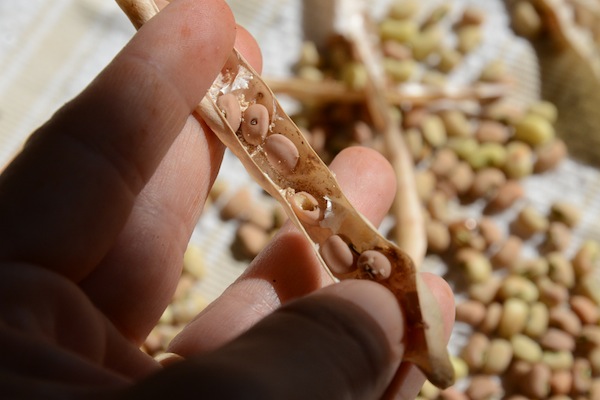 Then when it kept coming out of the pods I thought this is weird and took a closer look, only to find… you guessed it… bugs in the beans!!! Grubs technically. Ugh!!!!!!! My heart dropped. These little grubs were eating the beans from the inside out!! They squirmed in the sunlight as I opened pod after pod to find them popping out of dried beans in dried pods. Is that what I get for being a lazy harvester? I should have gotten out there faster and gotten the pods off the vine!! Bad gardener!
After a little research, I have deduced that these critters are the larva stage of the cowpea curculio. A nasty little insect that is the prime destroyer of legumes in the south from Virginia to Florida.
A key sign of the presence of this pest is brown wart-ish/blister like spots on the hulls. I can't say I remember seeing these at the time, but then again, the pods that had the powder and worms were much more dried, so the spots may not have been as noticeable.
Upon second look, the brown spot in the hull just to the right of my middle finger could be the spot, and I definitely see one in that bean. Maybe the adults inserted the egg through the hull spot and right into the bean.
According to the Florida and South Carolina Extension agencies, the best method of dealing with these rascals is prevention. They don't fly, so crop rotation works well, as does keeping soil flora healthy, weeds down, and destroying weeds and crop residues of infected crops. My infested pods were planted on an outer edge of the garden by weedy grass. Next year I won't be planting there!
UGH!!! The adult is more evil looking than the grubs! I should have posted this to scare you on Halloween! (Photo Credit: UF/IFAS)
Have you ever had these rascals invade your garden?
Share your solution in the comments below, please!
Let me see your garden pest pics! Share on Instagram #wingswormsandwonder
Seeds to Sprout:
Get more info on cowpea curculio from the University of Florida IFAS
See what Clemson Cooperative Extension has to say on cowpea curculio as well as a host of other southern garden invaders!
Thursday is the November full moon! This month's moon was called the full beaver moon because it was the time to set traps before the swamps froze or the frost moon. I'm going with this name because it's animal friendly and after last weekend's cold snap I bet you can guess why!!
You can run grub, but you can't hide! Or, I guess you can hide in the pod…