---
"We are experiencing sublime conditions of horror, you know?"
~Erica Moiah James, an assistant professor in the Department of Art and Art History at the University of Miami, founding director and chief curator of the National Art Gallery of the Bahamas. (citation)
In light of the past week, this quote, and last month's blog series on Schopenhauer's sublime, I felt strongly to continue this month to explore this idea of finding beauty within the most terrifying aspects of nature. And Hurricane Dorian definitely fits the bill as some dang terrifying nature.
Are you thinking, what does this have to do with children's connection with nature or with creative connections?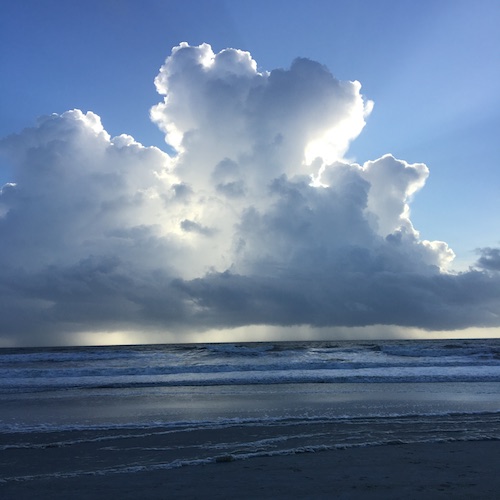 9/2/19, The first bands of Dorian approach days before the storm passed.
A lot, in my opinion.
There are a lot of economically powerful people in the world denying climate change for their own selfish interests of profit. (& denying Bahamians aid as we speak.) And there are regular people who vote these powerful people into office because it's all so overwhelming and frightening and ecophobia inducing, so it's just easier to turn an eye and pretend it's not happening.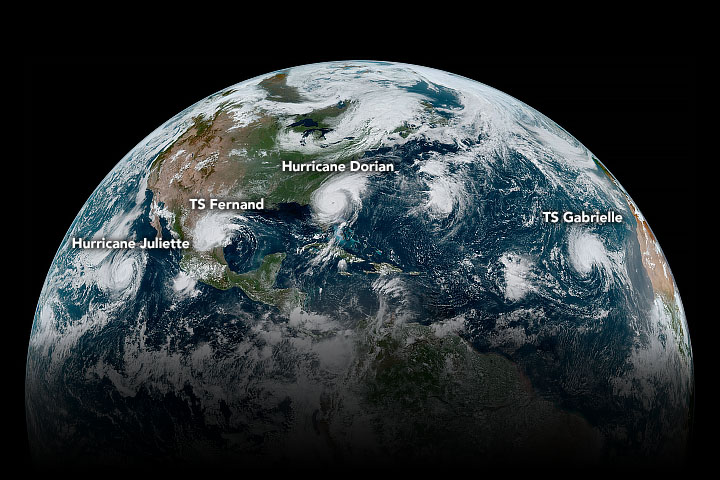 September 4, 2019. The storm is right over my house here. (source, NASA)
But when that happens, who gets hurt?
The powerful? The large nations and multinational corporations? The extremely wealthy? The older generations holding on to power?
No.
It is the vulnerable smaller nations, the poorer people and countries, and our children and grandchildren that bear, and will bear, the devastating brunt of present decisions on climate.
As Erica Moiah James states,
"In terms of climate, the Bahamas… we have a very small footprint in the world, but we have been experiencing the impact of climate change for the last 40 years…I can tell you personal stories about the ways in which rising sea levels and changing environments has affected my life personally and the way that we live in the Bahamas.
So, we know that we are on the frontline. And we know, according to the latest U.N. climate change report, that we are ground zero for the effects of global warming in the world. And though we're a small footprint, it's moments like these that really brings this reality home to us." (citation)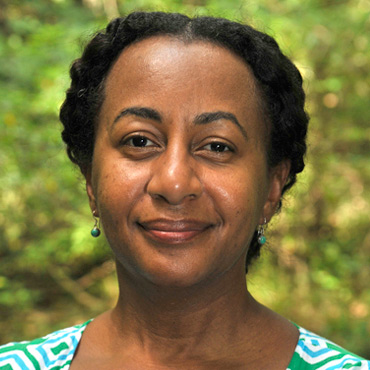 Erica Moiah James
The powerful people in the countries with the largest carbon footprints, receive the smallest effects from climate change. It's the small places with small footprints that get pounded with the largest impacts – like the Bahamas, Haiti, Dominica, Puerto Rico, Virgin Islands, & others in the Caribbean. (And this is not even touching on typhoons in the Pacific!)
That just isn't fair.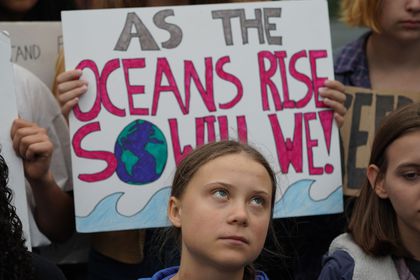 Cue Greta Thunberg to symbolize my own early developmental sensitive period for justice! (Montessori discovered the first emergence of this period begins at about age 6.)
But what do we do?
How do we talk to children (and ourselves) about these natural disasters and overwhelming issues without inducing massive ecophobia?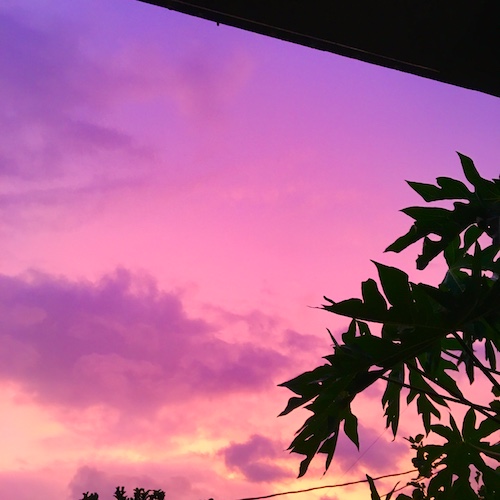 9/4/19 Post Dorian sunset out my west facing window.
We use beauty and love, even when it's scary.
We offer role models making a difference and engage small actions to be done daily. We work everyday to build strong creative, loving, bonds with nature in childhood that result in adults who will fiercely protect people and planet over profit.
(And we do this with adults too! We're never too old to connect with nature and start making choices in nature's favor!)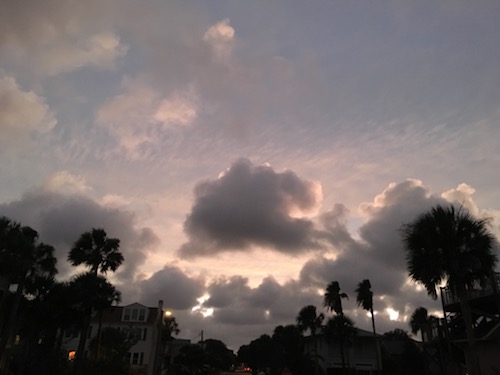 9/3/19 Pre Dorian sunset down my street
That is why I teach children's nature workshops, make nature journal classes for adults and nature connection activities, curricula, and books for adults to use with children to spark these bonds.
It's why I have a Masters dissertation full of research on the importance of human connection with nature in modern life and fill an Instagram feed with pretty pictures of nature. All connections to nature matter for today and tomorrow.

9/4/19, 2pm, Footage we took of Dorian during lulls in between torrential bands as it passed our coast at high tide.
I know I got really lucky last week.
Mega storm Dorian left the Florida coast unscathed for the most part. But many others were not so lucky. Every year it's a game of life roulette for people in coastal towns, the subtropics, and tropics.
I have a family friend who rode out Cat. 5 Hurricane Irma on St. John with a 2 year old hiding in a shower hoping not to die. Family friends in the Bahamas have now lost everything but their lives, and many others there were not even that lucky. And friends in New Orleans who continue to be effected by the 2005 effects of Katrina and daily by sea level rise.
The effects of climate change are very real for a lot of people everyday.
Unbelievably, I know firsthand people who continue to deny climate change. If for no other reason than their own fear is all I can deduce. I feel only love and connection will help them gain the confidence to stop hiding from the facts stand up and fight.

The bands roll in and the winds pick up on September 4…
But how do we see the sublime? Where is the beauty in all this horror?
The beauty is in the community.
It's in how people come together and help each other in any and every way possible during times of disaster.
Strangers and enemies become friends – if only for the storm time. (I made friends with 2 more great neighbors last week myself). I touched on this community building in a light way when I wrote about "Hurricane Parties" in the last post. In reality, the community that builds during storm time is so much more than than a "party".
"Party" is a light way of saying I have your back and we are in this together, all differences aside. After all, humor is a time tested human tool for dealing with hard times.

Dorian's rains fueled the butterfly ginger's bloom
Beauty is in replanting and rebuilding together.
It's in electing and supporting people in power who will defend human and natural life over industrial and personal profit. We find sublime beauty in youth like Greta Thunberg's fierce stare standing up for the Earth with every ounce of her being. Take lessons from great educators like David Sobel and Anna Botsford Comstock.
Find inspiration from science and nature writers like Rachel Carson and Christian Campbell a Bahamian poet, scholar, and essayist. There are so many more and we each have someone who speaks to us personally.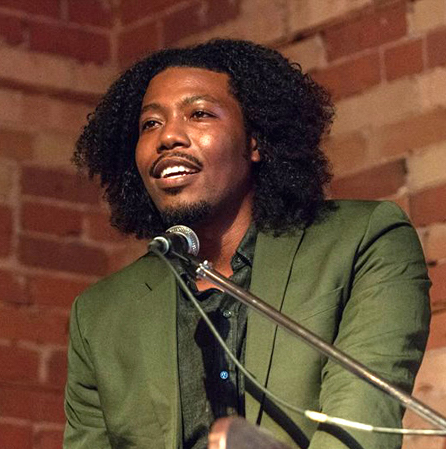 Christian Campbell, Bahamian Poet.
Turn to artists, musicians, elders, park rangers, or whoever offers you what you need to draw strength and confidence to not fear, but to empower you and those you love. Then make the small daily action steps to stay connected and to support those who will fight tooth and nail for our planet – for this generation and 7 more to come.
That is not just seeing sublime beauty in the scary aspects of our natural world, but turning Schopenhauer's natural sublime philosophy into practical action. 
"…If you want to go far, go together."
~African Proverb.
---
Want to Help the Bahamas Directly?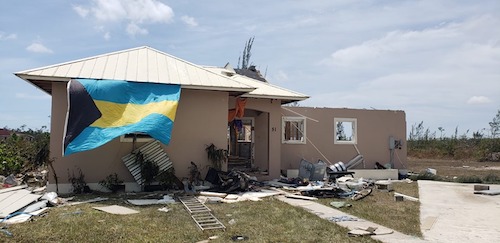 If you want to help someone in the Bahamas directly through a trusted source, but aren't sure how, 100% of profits from sales in my Etsy shop all September go to support our Bahamian family friend Nicole and her 2 children who lost it all to the storm. (above)
(**Edited – Thank you to all who purchased items in the Etsy shop in September! I sent a donation 10/1 through paypal to Nicole:)
Donate directly to Nicole Sweeting and family through PayPal –  ndsweeting@gmail.com or through this Facebook donation page.
As I write this today, Nicole posts: "No words can express the gratitude and love we feel for everyone amazing support..It fulls our hearts with joy knowing friends, family and new friends have banded together to help us. We are remaining strong and taking one day at a time❤❤❤" And within the rubble she found this treasure –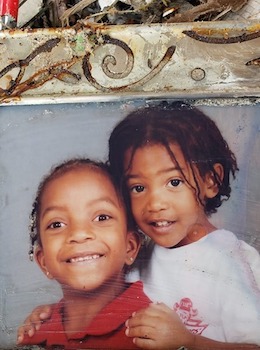 (How do I know this connection? My sister used to live on Grand Bahama and her husband is from there. That is why we have so many direct connections.)
---
What or who are your favorite nature education people, artists, scientists, or organizations?
Share in the comments below!
Share pictures of your gardens, wild nature experiences, and nature inspired art on Instagram #wingswormsandwonder!
---
Seeds to Sprout:
Check out the other posts in this series about Nature's Sublime:
Listen to a Democracy Now interview with artist Erica Moiah James on why the Bahamas is ground zero for the Climate Crisis. 
Listen to a Democracy Now interview with poet Christian Campbell on the impacts of Hurricane Dorian on the Bahamas 
Click here to learn more about how Greta Thunberg is inspiring teens in NYC & the United States.
Get education resources from NASA for teaching climate science to kids here.
Watch footage of an actual family caught in the flood and hiding in an attic be rescued by brave heroic strangers on Grand Bahama here. (We have other family friends who hid in the attic of their flooded house for 3 days until their son could get to them to rescue them. This happened to so many people on the north end of the island.)