To celebrate the last week of Honeybee month I have quite a treat for you! No it's not fresh honey, it's better!  Today I am excited to introduce you to Jamie Pawelek, bee researcher, photographer, and nature lover! This week's posts are a celebration of bees of all types! In this interview (and in her gorgeous photos and guest post on Thursday) Jamie will inspire you to create spaces and initiate behaviors that help not only the honeybees in your garden, but the many native bees you will find–and which are her specialty.
This is bee researcher and expert Jamie Pawelek!
(photo credit: http://www.helpabee.org/researcher-biographies.html)
Jamie and I first met a few years ago at her and her partner's awesome bicycle powered all vegan popsicle and sorbet farmer's market stand. With flavors like basil cucumber and peach datil pepper my insatiable sweet tooth was an instant die hard fan. When we got to know each other beyond sweet treats and realized we had a lot in common in other areas of life such as organic gardening and ecological literacy I knew I had found a brilliant and unique advocate for the natural world. So I am so happy for you to get to know Jamie and her work this week too! Let's get into it!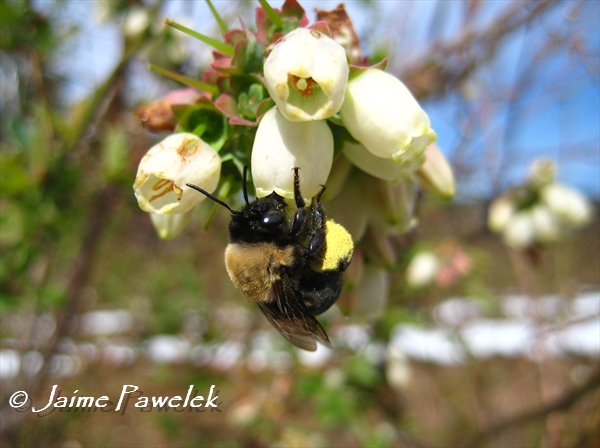 When we met, you were working with the the bees (and more) at the Guana Tolomata Matanzas National Estuarine Research Reserve here in north FL. How did your interest to work with and for the bees develop and how does working with bees in CA vs. FL differ?
I first became interested in working with native bees when I was an undergrad at the University of California, Berkeley.  My major advisor's (Dr. Gordon Frankie) area of research was on native bees in urban areas throughout California and after a few weeks of harassing him in his office, then finally asking for a job, he hired me part-time as a research assistant.  I worked for him during my last 2 years of college, then was hired full-time after graduating.  His enthusiasm for bees and spreading the word about their importance was contagious!  I couldn't get enough and even after moving home to Florida I was determined to continue with my bee work.  In California all my work was done in urban gardens, but in Florida I studied bees at the Guana Tolomato Matanzas National Estuarine Research Reserve and all my study sites were in wildland habitats.  Field work in Florida was a lot more difficult than in CA because I had to deal with high temperatures and humidity and insane amounts of bugs that wanted to eat me (you know, ticks, chiggers, and mosquitos)! One other difference between CA and FL is that there are many more species of bees in CA (~1,600) than in FL (~330).  I also started doing some taxonomic work in FL, which wasn't anything I had been interested in before.  Taxonomic work involves looking at bees under a microscope and looking at certain body parts to help tell them apart and identify them.  I found this work to be extremely interesting, every bee was like a puzzle that I had to solve!  Now, I'm back in CA working for Dr. Frankie in the Urban Bee Lab once again, but now I'm doing a lot more taxonomic work with the CA bees, as well as designing the new website (www.helpabee.org) and keeping up with social media, educational outreach, and field work to new cities of CA.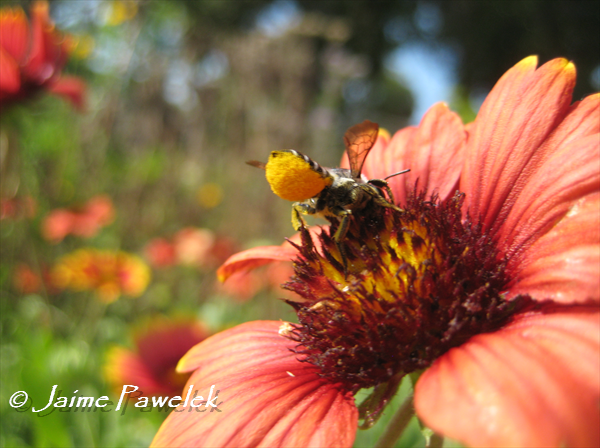 What are the most important things that home, community, and school gardeners can do to make life easier on the native bees?
Gardeners are some of the most important advocates that bees have!!  Planting gardens that include bee-attractive plants to provide food for adults and their offspring is something that all gardeners can do.  By learning a little about bee biology and ecology and learning what they require for survival, then transferring that knowledge into careful plant selections, a garden can be transformed to be an important habitat for all pollinators, not just bees, but butterflies, hummingbirds, and bats too!  Even existing gardens can be modified to include more bee-friendly plants, which will help encourage them to visit, then maybe stay and nest in your garden.  Visit my website (http://www.floridasnativebees.com/gardening-for-bees.html) for more information on gardening to attract bees.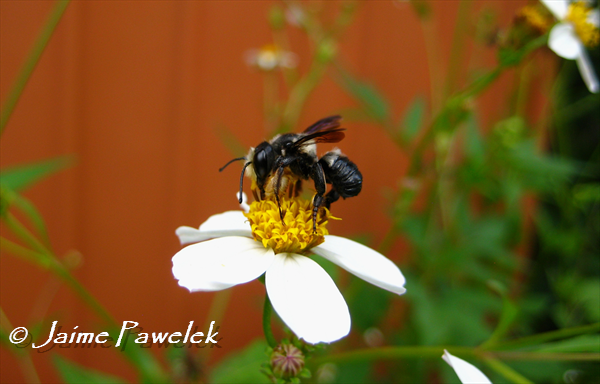 In a time where bee populations are threatened like never before, how do you suggest we work to alter the psychology surrounding society's "sting fear" and "Kill it!" attitude toward bees in order to create a culture that values bees and the life supporting work they do for us?
Education, Education, Education!!  Armed with a little knowledge about bees, we find that people start to overcome their previous fears and misrepresentations of bees.  For instance, did you know that only female bees can sting?  And, only honey bees die after they sting, native bees don't.  Most bees only sting if they feel threatened.  A bees' first line of defense is to just fly away!  If somehow you did get too close, a bee would then buzz you to let you know that you should back off.  I rarely ever get stung on the job, and it's usually from me mishandling bees in the net.  Bees don't really have time to mess with us, they have important jobs to do, and most are very docile.  We should really appreciate all their hard work, as without them our world would be very bland.  Almost every 3rd bite of food we take is the result of bee pollination.  A world without bees would be a world without almonds, peaches, watermelon, apples, pumpkins, and beautiful wildflower scenes, and that's not a world I look forward to living in.  Teaching people about bees and their important role in the ecosystem is the best way to advocate for them.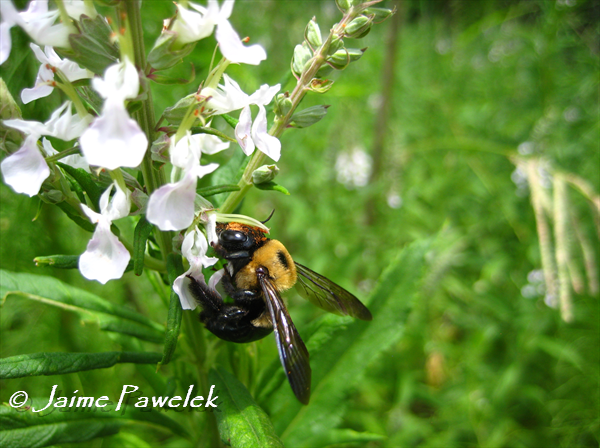 As someone who has focused their education on Restoration Ecology with a degree in Conservation and Resource Studies, can you share a particular childhood nature experience that sparked your sense of wonder and helped form your adult environmental ethic and career path?
As a child one of my favorite things to do was to work with my Nana in her huge vegetable garden.  I'd help harvest things like green beans, lettuce, tomatoes, squash, and greens.  My grandparents had a huge yard with giant pine trees and I would collect pine cones and play in the grass.  There was also an old dairy behind their house and I could hear the cows mooing in the distance.  I just loved being outside as a kid, whether I was collecting shark teeth on the beach, or building forts in the woods, I was happiest to be outdoors.  I always knew growing up that I would do something "environmental" with my life, although I had no idea that I'd be where I was today, learning about the wonders of bees, but I knew I had to do something to help the planet.
My favorite smell is that of a Jeffrey pine!  Jeffrey pines grow in California in mixed conifer forests up in the mountains.  When you find a Jeffrey pine that has been sitting in the sun, the bark smells like vanilla or butterscotch!!  I love to hike up in the Sierra Nevada foothills and these trees are so inviting…you'll find me hugging them and drinking in their sweet scent!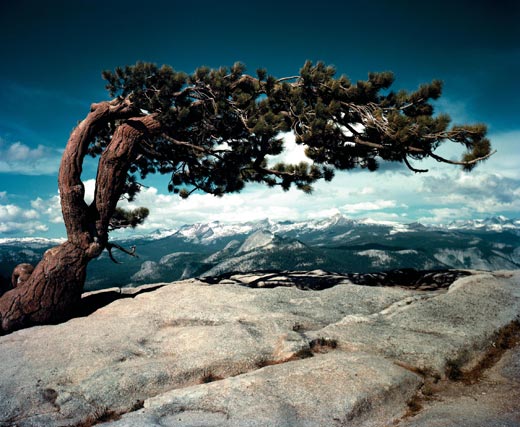 This is a Jeffery Pine. Beautiful! (Photo credit: Ansel Adams/Smithsonian.com)
BIO: Jamie Pawelek, UC, Berkeley Urban Nee Lab Project Manager- "Jaime has a B.S. from UC Berkeley in Conservation and Resource Studies with a focus on Restoration Ecology. She worked in the urban bee lab for 2 years after graduating, then worked in Florida studying native bees, gopher tortoises, and beach mice for 3 years.  She is now back with the bee lab assisting with bee identification, field sampling in urban and farm sites, and enjoys working in the experimental bee garden at the Oxford Tract.  She also enjoys cooking with her husband and hiking with their dog, Bandit.  To find out more about her bee work in Florida, visit www.floridasnativebees.com." (http://www.helpabee.org/researcher-biographies.html)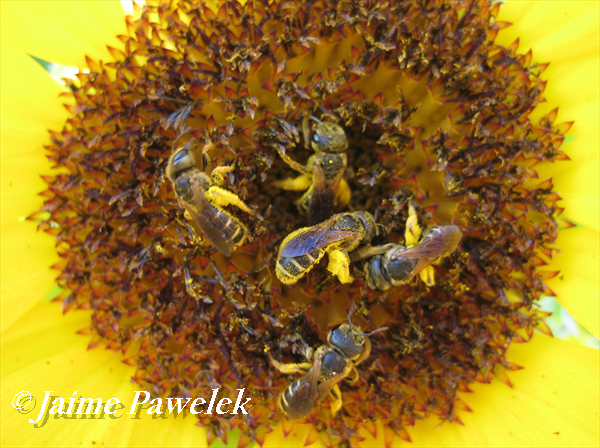 Seeds to Sprout:
Check out the Urban Bee lab's site Help a Bee!
Check out GTMNERR (Guana is the name of the surf spot there and what we all call it for short) where Jamie was working when she was in Florida. If you visit you'll find good surf and sharks teeth on the beach and lots of diverse botanical and zoological nature on in the maritime hammock along the banks of the Guana river.
See more of Jamie's bee photography and Learn more about Florida Native bees at her site www.floridasnativebees.com
And the winner of the Autumn Newsletter Giveaway is: Catherine Carey!!! Congratulations! Check your email for details!