I am back! Briefly before I head out on the next adventure, but home and happy to catch up and get a little post out. I hope you have all been busy on explorations and adventures of your own, or catching up on some natural down time if that is what is most needed.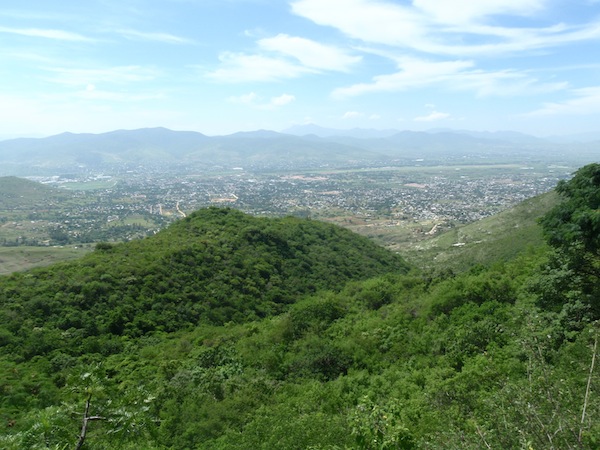 The view of Ciudad Oaxaca from high up on Monte Alban
I just returned from Oaxaca, Mexico, a place I have wanted to visit for probably 15 years and it was as amazing as I had envisioned. It is a town full of art and color, historic architecture and radical ideas, and definitely wonderful foods.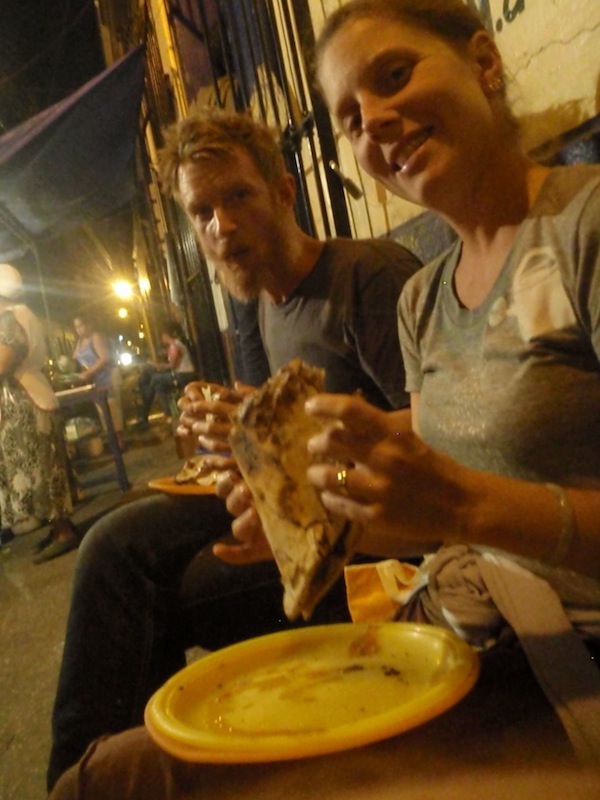 MOMO and I enjoying some late night tlyudas con frijoles
I mentioned before that we were helping a friend create art work as part of an exhibition at a museum there, but because I didn't really know what we were doing I didn't tell you too much, but it was great!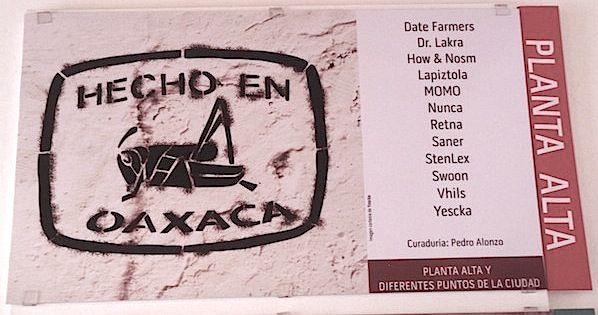 The exhibition- Check out that line-up!!
We met and worked with wonderful curators and artists from 10 countries, including Mexico and, of course, our good friend MOMO. If you like art, check out the link to the show below, it's in Spanish, but you can enjoy the photos if your Spanish is rusty!
MOMO's museum piece
Every night as we walked around the city, I would catch drifts of the most wonderful smell. At first I couldn't figure out what it was and would look for trees in bloom. Then, I realized that it was the large bouquets that indigenous women were selling on the streets or sprigs that people had purchased from these women. Still not knowing anything about this euphoric smelling flower, I bought 2 sprigs for 10 Pesos (a little less than $1).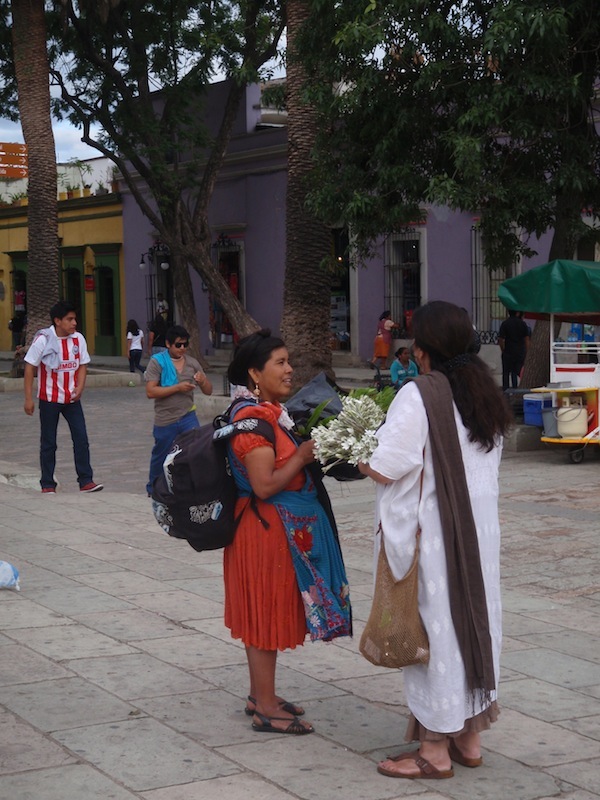 The wonderful women selling azucena on the street. Check out their giant bouquets!
In an effort to figure out more about this dreamy smell, I asked one of the men from the museum that was helping us with mural logistics what it was called and he told me that the flower was called azucena and that it only smelled sweet at night. I didn't get many pictures of this particular variety, but I think the one above says it all.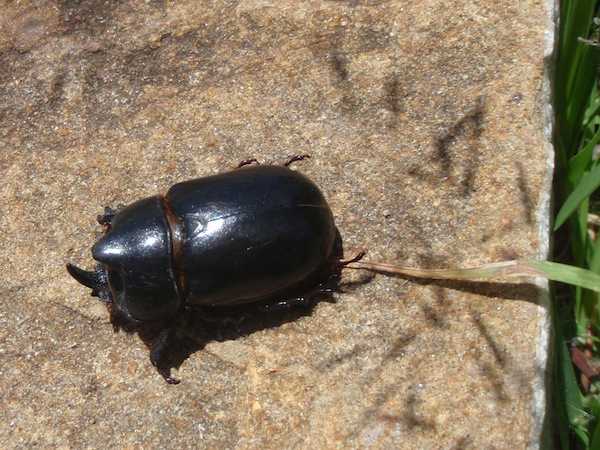 These guys were everywhere at night. We'll save his details for another post!
Upon returning home, and trying to not be exhausted or skipping town again after returning for only 36 hours to go to Salt Springs (more on that soon), I did a bit of research on the azucena flower and discovered that in English it is called tuberose (Polianthes tuberosa). This plant is related to the agave, which makes even more sense that it would be native to, and abundant in, Mexico.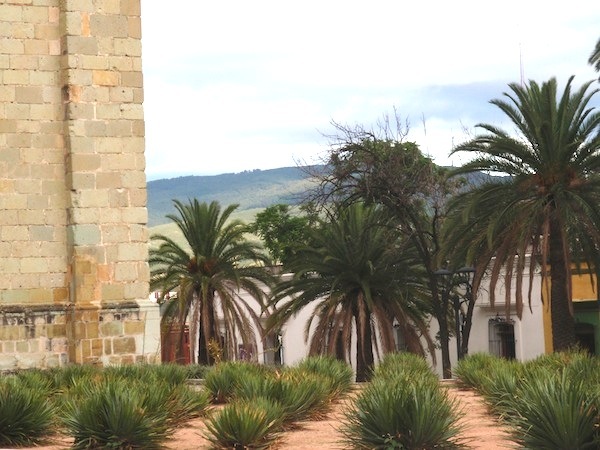 Agave and date palms on Calle Acala
Polianthes, in Greek, means many flowers and the Genus consists of approximately 12 species. The azucena specifically is a summertime night blooming perenial and is sometimes used in perfumes. I really wish that this was a scratch and sniff blog so you could smell the exquisite fragrance too! I hope that one day you too experience this sweet smelling flower, if you haven't already. It is not one to miss! If I discover where to find them in Los Estados Unidos I'll let you know, or if you know let me know! (I have a lead in CA.)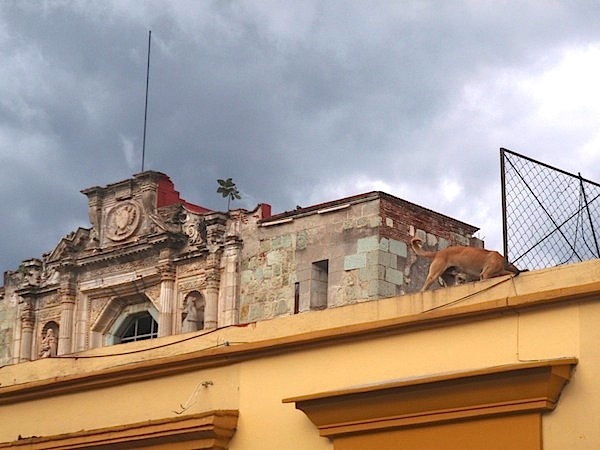 Natural and man made forms interact everywhere easily in Oaxaca
What new plants have you discovered on your summer adventures?
Seeds to Sprout:
Market Manila Azucena/Tuberoses
Azucena Growing Tips
Juxtapoz Latin America "Hecho En Oaxaca" article on the show Museo de Arte Contempraneo de Oaxaca,
In or near Philly? Come out to the Wooden Shoe July 28! I'll be speaking on progressive education and Nature-study and we will be doing some fun hands-on activities!
Thanks to all of you are making me closer to my goal everyday! Remember the "senseofwonder2013" sale! Now through August 21, get a discount when you enter senseofwonder2013 into the coupon code! Buy a copy now before the sale and the summer gets away from you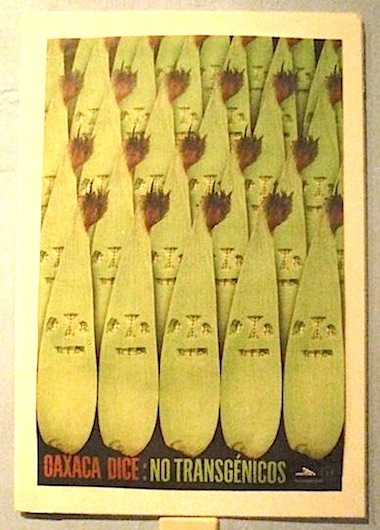 The fight against genetic modification, especially in corn, is fierce in Mexico. The general consensus is against it and willing to fight, thank goodness.