Well hello!! Feels like it's been a while! I hope y'all enjoyed the July interview and guest post series! I did! Has anyone made plans for making space for art on an upcoming vacation, created an herbal honey infusion, or looked into becoming a backyard beekeeper? Let me know what inspired you most about the July Series in the comments!
Speaking of getting inspiration on vacations, I am going on Blog-cation and vacation too! I'll be in Virginia and North Carolina visiting family, friends, mountains, and rivers, SO this will be the last blog post until the August 26 Wonder Wednesday post. I'll still be on social media though with all my wonder sparking finds for you, never fear!
Since I'll be blog-cation-ing, today's post is CHOCK full of all kinds of things from big sales to a special birthday GIFT for YOU so stay with me to the end, okay? It will be worth it!! Also, any links you may want or need will be in Seeds to Sprout. Ready? Let's GO!!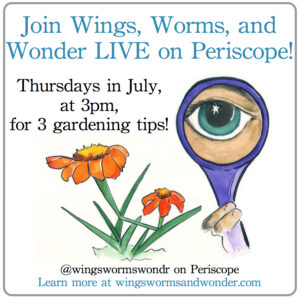 July brought me into the world of Periscope
It's the newest social media platform, a live stream space created by Twitter. (Ugh, another!!? I know right?!! hehee),  All July, Thursdays at 3 I went live for a "3 at 3" little chat about various gardening topics. It was great because people could ask me their gardening questions and get answers in real time – like a free mini consultation!
I am going to do 1 live "scope" this month this Thursday at 3, so follow me on Twitter or Instagram to get the update. I am just experimenting with Periscope, and am not totally committed yet, so if you like the idea of getting these free live mini consultations, comment and let me know! Maybe we could have a set date once or twice a month. Also, you can watch the video recordings on You Tube. The video is glitchy, but the audio is good and that's where the info is.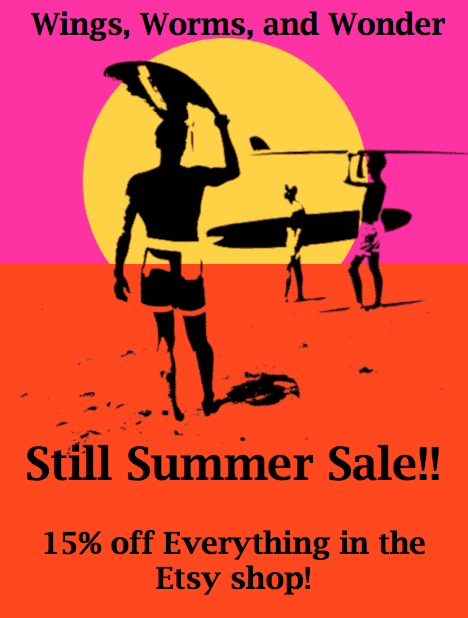 Still Summer Sale!!
I know it's the beginning of August, but just a quick heads up to mark your calendars. September 1-7 I'll be having a "Still Summer Sale", because I love summer, and even though it'll be September, it's technically still summer until the 23!
I'll send you email reminders too, so be sure your subscribed to the newsletter! Check out the Etsy shop early and make your shopping list! There are some 1 of a kind items in there!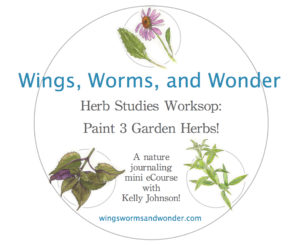 Everything in the Etsy shop will be 15% off – including my brand new upcoming self paced mini eCourse: Herb Studies Workshop: Paint 3 Garden Herbs. What herbs? Lemon Verbena, Echinacea, and Shiso! Oh yeah!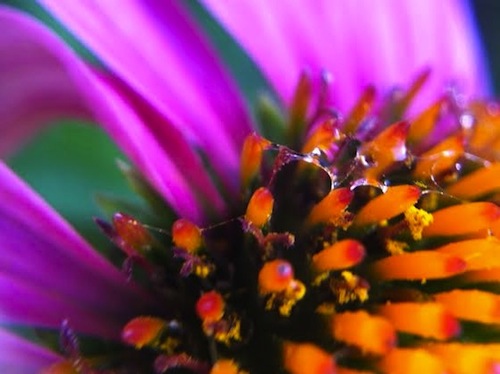 In the Herb Studies Workshop eCourse you'll learn:
How to draw and paint each of the 3 herbs, as well as some ethnobotany, growing tips, and culinary ideas for each herb! Video, photos, and more will be included, stay tuned for more details! You'll also get access to the private Wings, Worms, and Wonder Facebook group to share your drawings, paintings, ideas, and more!!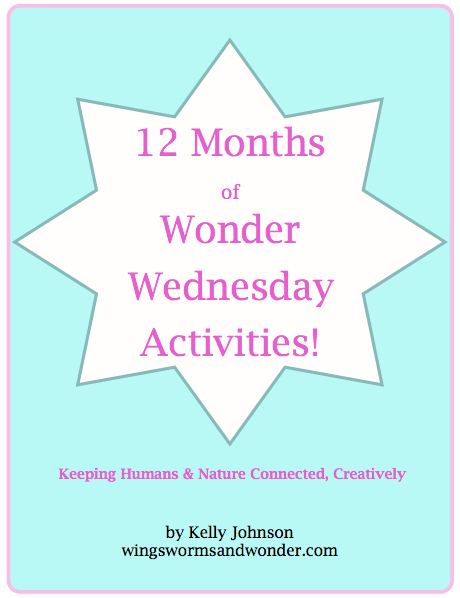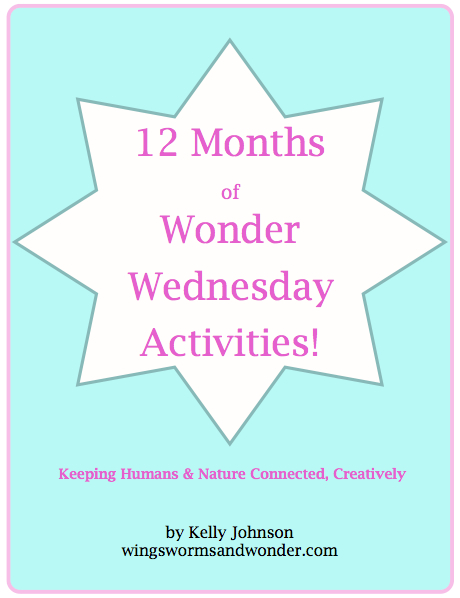 Are you subscribed?
Have you subscribed to the Wings, Worms, and Wonder newsletter yet? Don't you want the monthly Wonder Wednesday lessons delivered right to your inbox? If you haven't subscribed yet, now is a great time! Why? Because I have a NEW OPT-IN GIFT!!!!! Yahoo!!! It's about time right?!! I know, sorry for my delay!!
Subscribe today and get a free copy of my new eBook: 12 Months of Wonder Wednesday Activities! You'll get 12 of my favorite Wonder Wednesday activities complied in a wonder sparking and easy to access PDF eBook format.
This eBook will give you everything you need to create monthly Wonder Wednesday celebrations with the children in your life for a full calendar year. Each activity is great for the public or private school classroom, the home school, the backyard, or grandma's house!!
Already subscribed? Don't worry!! Of course I will give it to you too! Just check the next newsletter for the easy details!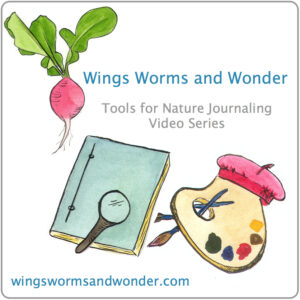 Nature Journal Tools Videos
Have you had a minute to check out the new Nature Journal Tools free video series I made last month? If not, the blog-cation could be the perfect time to catch up!
From paper to paint to pens & pencils to brushes, I help you navigate the shelves to choose your nature journaling supplies, discover which brands are trustworthy, and how to save money on supplies in the long run. PLUS there is a bonus Brush Care video to help you keep your brush investments performing for a very LONG time!!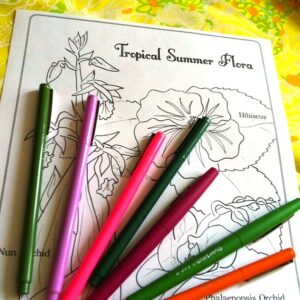 Finally your Birthday Gift!!!
Did you know that August 23 is Wings, Worms, and Wonder's 3rd Birthday?!! I can hardly believe my book has been out 3 years! What an awesome time it's been getting to know all of you, touring with the book, presenting workshops at conferences and schools, publishing magazine articles, helping you get your gardens growing, and making all these fun online resources for you!!!
To thank you for all your amazing support, I'll be giving out birthday treats all month – starting with this Tropical Summer Flora coloring page I drew for you! Yay!! Nature inspired relaxing coloring fun!!
You have no idea how much I appreciate you. Sharing your thoughts and comments, your nature journal drawings, pics of your students doing activities form the book, and the fact that you invite me into your wonder filled lives whether in person or online. You are the best!!!
You are the sun and the rains that inspire my seeds to sprout!! I look forward to the next 3 years of sharing the wonders of nature, art , and gardening with you, your families, your students, and the nature in your backyard!!! Click here to download your tropical summer flora coloring page pdf !!
* THANK YOU * THANK YOU * THANK YOU * !!!!!! *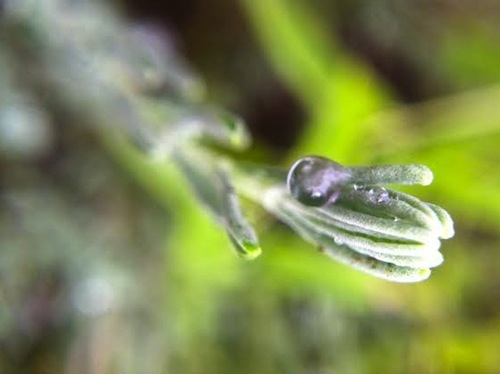 Okay!! I think that's it! Have an awesome August!! Enjoy the Coloring page, and be sure to subscribe to the newsletter because there may or may not be more coming in the next one (hint hint!)
I'll see you on social media and back here on the blog August 26! Happy Birthday Blog-cation! And in the mean time, be sure to:
Share what most inspired you most about the July Series in the comments below!
Comment and let me know if you would like me to keep going live on Periscope! Be sure to say what time works best for you.
Subscribe to the newsletter to get the new FREE eBook (or get a friend to subscribe so you can get it!)
Share your August natural Wonders and nature journal pages on Instagram #wingswormsandwonder
Seeds to Sprout:
Find me on Twitter and Periscope @wingswormswondr
Check the Etsy shop and make a list of what you want to get when the sale starts.
Subscribe to the newsletter in the side bar of this page, right under my face! Or get a friend to subscribe and email me here so I can send you the new eBook!
Check out the Nature Journal Tools videos, Periscope 3 at 3 replays, and any other fun nature and art videos you find on the Wings, Worms, and Wonder You Tube channel. You may even want to subscribe to that so you don't miss a free video!