---
It's a bizarre, fragile, and disturbing political time engulfing us here in the states. I don't know about y'all, but I roller coaster through the gamut of emotions on a daily basis. One minute I'm like it will be okay. It surely will…right? And the next I'm in a quick sell everything and get out while we still can panic.
Regardless of what insane authoritarian rule is announced or ridiculous statement is overstated, it's important to remember we do have art. Even if the only art you can handle on a trying day is a binge watch! Artists are still the ones writing, designing, and acting in your favorite goofy comedy.
We can use our own art making to explore and express our feelings and ideas. We can observe the art of others (past and present) to learn how they responded to their times' issues. We can use art to engage and to escape.
Most of all we can use art (and nature) to stay in touch with reality, when all swirling around us seems like anything but.
When we keep our wonder, creativity, and connection, we win. Don't let them drain it. The more we creatively connect the stronger we get!
I pose we stop focusing on dystopic ideas programmed into us from movies and media, and stop normalizing speaking in dystopic future affirmatives, like saying – when the zombie apocalypse happens, etc. We must have a clear vision of a healthy, peaceful, green future so we can achieve it! Let art hone that vision and lead the way!
In what ways do you use art to engage with the world around you? Performance art, street art, private journals, music…?
Share in the comments below!
Share the art you make on Instagram #wingswormsandwonder so we can all see and be inspired!
Seeds to Sprout:
Need a last minute gift and there's no time to get to the store or ship? How about giving an online class? Giving an experience, rather than stuff, will create great memories and also hone a skill. Check out all my nature art journaling classes here geared at many price points and experiences levels.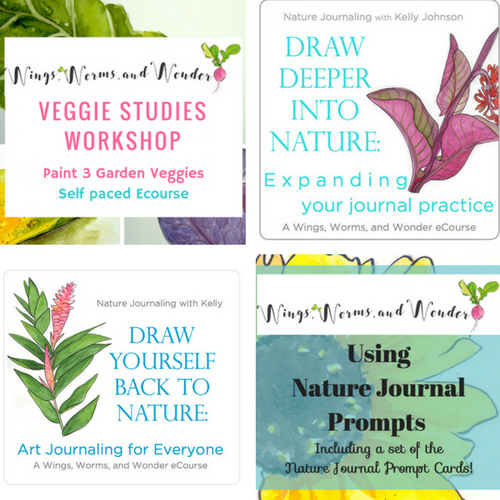 Want some ideas on using your art as activism? Check out this amazing book Arts for Change: Teaching Outside the Frame by Beverly Naidus. It definitely influenced me to get my art out there and it's one reason I teach online classes to help connect humans and nature.
Winter Solstice is Thursday! Click here to get some ideas to celebrate in this month's Wonder Wednesday activity.