This past weekend we were in NYC for an exhibit opening my partner had 3 paintings in and were lucky enough that the opening fell within the dates of the exhibit Frida Kahlo: Art, Garden, Life at the New York Botanical Garden.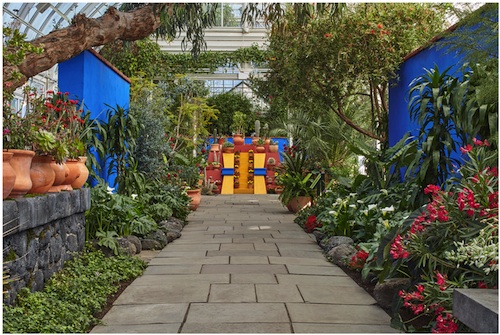 The main entry into the greenhouse exhibit. (photo credit NY Botanical Garden)
I have been meaning to get up to the NY Botanical Garden for quite a while, but the long trip up to the Bronx made it tough to choose over the quick trip to the Brooklyn Botanical Garden, so this superb exhibit was a great excuse. Now, I can confidently say the trek north is well worth it. This garden is really wonderful and in 3.5 hours I didn't even get to explore half of it it's so big!
If you live in or near the city, or are going to be visiting, I highly recommend checking out this exhibit, whether you know much about Frida Kahlo's art or not. It is a delight of color, just like Frida herself.
I have always been a fan of Frida and her work because she was a feminist, a political radical, and loved to study and paint her natural world as it influenced daily life and culture. Her philosophical approach to art is very similar to mine in that she surrounded herself with the natural beauty that she loved and then expressed it in her paintings.
This exhibit Art, Garden, Life, is unlike any other Frida Kahlo exhibit I've seen because it displayed specifically her plants and paintings that put her beloved central Mexican flora as the focal points. And, being at a botanical garden, the main part of the exhibit actually turned the conservatory into a space fully inspired by the tropical garden courtyards at Casa Azul, her home and studio!!!
The painting exhibit gallery (photo credit NY Botanical Garden)
It is gorgeous and not to be missed. Then, in the museum library, 14 original works are on exhibit ranging from sketches and studies to full paintings. While flora was always an integral part of Frida's work and dress, in the 1940s and 50s, she began to focus more on flowers, fruits, and vegetables as focal points. The attention to detail and the creativity put into the curation of this exhibit rivals any I've seen in the Western world.
So I will leave you with this visual tropical treat and hope that you get a chance to see Frida Kahlo: Art, Garden, Life for yourself!
Outrageous color!!! You can see how botany influenced Mexican culture in shots like this!
The original pyramid was built at Casa Azul as an homage to pre Columbian Mexican architecture as a place to house Diego Rivera's (Frida's husband and international muralist himself) collection of pre Hispanic archeological sculptures and treasures. At the garden exhibit, the pyramid showcases many of the plants that grow surrounding the actual pyramid at Casa Azul.
There were so many gorgeous succulents in bloom surrounding the pyramid!
The recreation would never be complete without a replica of Frida's garden view workspace.
Frida mixed her own pigments, many created from plants she actually grew!
Crazy cacti flowers abound!
Art-worthy colors and shapes were at every turn!
Nature as arts muse.
How does the flora in your world influence your life?
Share in the comments below!
Share pics of the flora that inspires you on Instagram #wingswormsandwonder
Seeds to Sprout:
Get the details on the Frida Kahlo: Art, Garden, Life exhibit at the New York Botanical Garden up through 11/1/15.
Learn more about the life and work of Frida Kahlo.
While some of Frida's work is not appropriate for exploring with children, there are a lot of great children's books available for discovering the world of Frida Kahlo with young artists. When I taught art, we always did a unit on her and Diego's work. Here is a bio and lesson plan art activity from KidWorldCitizen. Just remember to work in the garden aspect in a way that fits with your local flora and fauna!
Get to know your local flora through art like Frida and join me in one of my nature journaling workshops this summer!!!